Woodstock 50 Finally Gets Canceled After Months of Drama
It's over.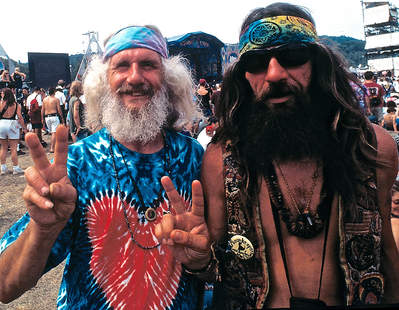 Woodstock is one of the most iconic music festivals in history, if not the most iconic. The original 1969 event drew 400,000 hippies to Upstate New York for a weekend of peace and love and the likes of Joan Baez, Jimi Hendrix, Grateful Dead, and many more on its legendary lineup. Now, 50 years later in a saturated market of corporatized music festivals, a revival of the historical event -- what became the appropriately titled Woodstock 50, taking place from August 16-18 at the NY racetrack Watkins Glen International -- at first sounded like a very exciting idea. Organized by the original fest's co-founder Michael Lang, Woodstock 50 was supposed to be both a commemoration and contemporary event featuring legacy and current acts, in the place that started it all. Unfortunately, after months of turmoil, Woodstock 50 won't happen at all.
Today is also the age of insane music festival disasters, like the many false promises and scandals of 2017's Fyre Festival. Where uncooked cheese sandwiches and makeshift tents could have been sufficient for flower children looking to have a good time in the '60s, if that's where circumstances led, the disappointments and major organizational flaws of recent events won't cut it for audiences today, and simply aren't a good look for promoters. So, best to avoid disaster altogether, right? That's in part how Woodstock 50 ended up one month out with zero tickets sold, no confirmed venue, and silence from the 80+ artists billed to perform -- until they ultimately canceled the event.  
It was like a bad psychedelic trip trying to follow what the hell was going on with Woodstock 50 in the six short months since Lang first announced his plans to throw the fest back in March. At first, excitement was swirling with JAY-Z, Miley Cyrus, The Killers, Robert Plant, Santana, and more filling out the lineup, but things quickly got confusing with ticket sales postponed and investors backing out -- and not without Lang and his team insisting the fest is still on at every step along the way.
In mid-June, there was no official site for Woodstock 50. Watkins Glen International issued a statement that they "terminated the site license for Woodstock pursuant to provisions of the contract," and within the hour that news broke, Billboard reported the NY Department of Health rescinded the fest's permit application, and CID Entertainment, who would have been the event's primary producer providing accommodations, also backed out. And all of this comes after the majority of funding for the event was pulled, starting with primary investor Dentsu Aegis Network, who in April claimed the event was canceled when Woodstock 50 failed to meet permit applications. That then spiraled into a legal battle, ultimately resulting in Woodstock 50 not getting the money they were promised from Dentsu Aegis Network, and having to seek other investors.
Even without a venue and being forced to seek alternative financiers, Woodstock 50 went great lengths to try to hold onto their promise to hold the event... before backing out of plans altogether just several weeks before it was supposed to commence. In early July, they sought Vernon Downs (a significantly smaller Upstate New York casino, hotel, and race track with no camping facilities) as their next best option to host, until their permit was denied because it failed to meet a 120-day-out deadline and lacked "many of the requirements," according to Variety. The Oneida County Head of Emergency Services Kevin Revere went so far to call the festival a "recipe for disaster," which prompted Woodstock 50 to claim that it was not their last minute planning at fault, but rather "certain political forces may be working against the resurrection of the Festival," as if there were conspiracies at play and not the fact that their permit was incomplete. 
In order for the event to have been approved, organizers were going to have to come up with more thorough emergency relief and increased traffic plans -- but basically because there were too many roadblocks in such a short period of time, the Associated Press reported that Woodstock 50 had to officially put a cap on their dreams of relieving the summer of '69. On July 31, any and all plans to see the festival through were announced as squashed, and Lang said in a statement, "We are saddened that a series of unforeseen setbacks has made it impossible to put on the festival we imagined with the great lineup we had booked and the social engagement we were anticipating."
While they briefly arrived at the last-minute decision to throw a free benefit concert at the Merriweather Post Pavilion in Columbia, Maryland, even that plan was a long shot, considering most artists were beholden to various radius clauses preventing them from performing in the area. Had they not canceled, with zero artists potentially showing, they could've unintentionally gone down in history as the Fyre Fest of Upstate New York.
But… if you are so inclined to still hitch a ride or pile in the back of your VW van because you're dying for some sort of anniversary event, there will be a concert featuring Ringo Starr and others held at the original site, Bethel Woods Center for the Arts. That show is in no way associated with Woodstock 50, so (probably) don't worry about any shoddy logistics. Lang said, "We thank the artists, fans and partners who stood by us even in the face of adversity. My thoughts turn to Bethel and its celebration of our 50th Anniversary to reinforce the values of compassion, human dignity, and the beauty of our differences embraced by Woodstock." Peace and love, baby!
This story has been updated throughout.
Sadie Bell is the entertainment editorial assistant at Thrillist.