The 28-Year-Old Director of 'It Comes at Night' Is as Scared of the Unknown as You Are
"I never want to sacrifice the movies."
Director Trey Edward Shults suffers from millennial paranoia. At 28, his two films, the masterful Krisha, a SXSW surprise that took home an Indie Spirit Award in 2016, and his follow-up, the grim, post-apocalyptic thriller It Comes at Night, now out in 2,500 theaters, have earned him critical praise and devotees.
Today, Shults is part of a small group of under-30 directors -- along with Xavier Dolan (Mommy), Gia Coppola (Palo Alto), J.D. Dillard (Sleight), and Daniel Scheinert and Daniel Kwan (Swiss Army Man) -- keeping the personal language of filmmaking alive for a new generation. He's got vision, directorial prowess, and, in the case of It Comes at Night, the interest of financial backers. But a few days before the movie opens, while nursing an IPA in the kind of New York City beer sanctuary where the real world should fall away, he's envisioning a dark future, with little solace from me.
"I'm worried about just being able to financially sustain myself," he tells me. "I don't ever want to do a movie to make money or with ulterior intentions. I only want to do stuff I really believe in. But sometimes there's not a lot of money for that kind [of film]. Not that I need a lot of money -- just enough to live on."
Shults says life's unknowns are his biggest fears. They certainly lurk around the corners of It Comes at Night, and propagate like weeds through the entangled family drama of Krisha -- a movie he shot for $30,000 with his real-life family (including his aunt, Krisha) as the cast. Does the fate of his directing career, which might lead to his having to "sacrifice the movies," rest on It Comes at Night? It's certainly on his mind. But like most of the under-30 crowd, how he got here says everything about his future.
As a kid, Shults jumped around Texas, clocking time with his divorced parents. To Houston to Austin to Houston to Austin and now... Orlando, Florida, 2,515 miles from Hollywood, California, where most people in his position reside. It's hard for him to say with a straight face. "It's sort of like a... tropical Texas?" he rationalizes.
Unlike most show-business hopefuls, Shults never journeyed to Los Angeles to strike creative gold, nor was making movies in his cards -- he attended Texas State University to earn business degree, before dropping out. "My biggest fear was that I was going to stay in business school, get a degree, get a job, and regret the rest of my life. I always told my parents, 'I think it's got to be one or the other.'"
But he had trouble concentrating. He was diagnosed with ADD and took Adderall. The business school pre-reqs still ate him alive. "I would tell my mom I have these movies in my head. It's what I loved and I needed to be doing that. She always believed in me, but she wanted me to be realistic and get a job and stuff first."
The summer after his freshman year, Shults retreated to Hawaii for an extended stay with his mother's sister, Krisha Farichild, an actress who, after a bevy of rejections and stints as an assistant in LA, moved to Seattle, then Hawaii (she now lives in Mexico -- "classic Krisha," adds Shults).
Krisha, an aging actress who drifted away from the competitive LA audition life, was tapped into the local Hawaiian filmmaking scene, and hooked her nephew up as an intern on a small nature film shoot. Fate intervened. When a camera guy suddenly departed the four-person film crew, Shults, a total newbie, became the "film loader" (digital camera kids: That's the guy who threads actual reels of film through camera "magazines"). Except Shults was loading enormous IMAX film magazines that weighed a ton, and running them around a set just off the base of nearby volcano bursting with lava and smoke. The footage would later appear in Terrence Malick's acclaimed films Tree of Life and Voyage of Time.
Shults, hauling cumbersome 500-foot magazines to and from shooting locations, impressed his elders. He continued on with the Tree of Life shoot to Utah. Then to Iceland. Then to Chile. Shults finally met Malick at a shoot among the California redwoods, his blood, sweat, and tears impressed the enigmatic director, which for a film buff like Shults was the greatest endorsement imaginable.
"The way Terry shoots, he just rolls a mag," Shuts explains. "I don't have that many magazines, but I also never want Terry to not be ready to shoot. So I'm busting ass -- changing, changing, fast, fast, fast. Running out of film, sprinting up a beach to the truck, getting film, running back and Paul said Terry had noticed. Oh, look at Trey go or something. He... noticed how much I cared. Just working on his movie changed the entire course of my life."
Storm chasers could not do Shults' whirlwind return home justice. Back in Texas, the ex-college student was ready to work (he was on camera crews for last year's Midnight Special, from director Jeff Nichols, and Malick's Song to Song) and ready to write. He toiled away in his free time writing short films, including a truncated version of Krisha. A short film led to him to secure the money to shoot a feature version. At the age of 25, Shults rounded up his family (including himself in a minor role) and shot Krisha in nine days. The film debuted late in the 2015 SXSW Film Festival, after many critics, hype-makers, and distributors, who could potentially pick up the movie for release, went home. Shults had modest expectations for his micro-indie's prospects. Krisha wound up with the festival's Grand Jury prize and Audience Award, and later, a spot at the prestigious Cannes Film Festival, where the boutique distributor A24 bought the movie -- and offered to produce his next one.
"They were like, we're not quite sure how to put [Krisha] out, but we love it and what are you doing next?'" Shults recalls. "I remember drinking rosé in Cannes with A24 like yeah, we're going to make your next movie. Let's make a deal. We'll release Krisha and make this one. Crazy. But it kept happening."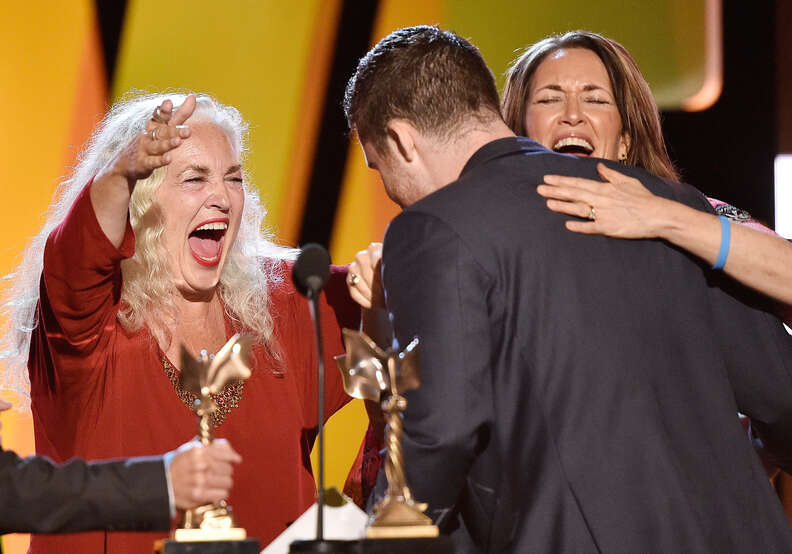 Luckily, Shults came prepared. In early 2014, before he'd even shot the short film version of Krisha, the filmmaker completed the script for It Comes at Night, a dramatic autopsy of his decade-long estrangement from his father, an off-and-on addict, that moves like Ingmar Bergman's take on Z for Zachariah. Shults would sit down to write it two months after reuniting with his dad and watching him pass away from pancreatic cancer. His dad died in a state of confession. "I had elements of [It Comes at Night] in my head, but it took [his death] to make it click... thinking about that regret, thinking about how there are worse things than death in humans, and how we've been on this earth."
The writing process pushed Shults from a dark, emotional state into pitch blackness. The meditation reminded him of "some violent stuff with my dad, buried stuff" and led him to researching genocide -- everything from Columbus's campaign against the New World natives, as detailed in David E. Stannard's American Holocaust and the Indonesian killings of the 1960s, deconstructed in a film Shults cites as a favorite, The Act of Killing. The director found himself drawing a line between one man's impact and an entire nation's.
"I'm drawn to families, and I thought about how they're tribes. Our tribe is our family. Tribal mentality is what we've been on this earth as the most and it's still ingrained in us. I think if all things fall apart we'll go further into that." From there, the central conflict of It Comes at Night, post-apocalyptic survivors taking each other in, despite never fully trusting one another, emerged. "I love the idea of these two tribes trying to coexist in this house and seeing if they could or if this fear would infiltrate and destroy them."
A24 wanted to make that movie? Hell yes it did.
"I told them: this movie matters to me," Shults remembers with slight disbelief. "I care about it. I believe in it and I want to make this and luckily they wanted to make it. So I sent it to them and they seemed to love it. Then, I remember just talking in person. I was still like unsure, Are we going to do this thing? They were like, Yeah, we're going to do it."
Even on a meager budget, shooting It Comes at Night sounds like the least stressful stretch of the young man's life. The prospect of working with high-profile actor like Joel Edgerton? Less intimidating than running film magazines around a volcano. According to Shults, Edgerton read the script, watched Krisha, and by the next week booked a meeting (in Los Angeles, not Orlando) to talk about making the movie.
"We hit it off and he was like 'My friend, Chris [Abbott], is around the corner do you care if he comes?' He loves Chris and he has always wanted to work... with him. We were all sitting there... like this is too good."
With cast in tow, Shults set off to find the perfect house in which to stage his psychological terror. This was clear in his mind, too: It needed to feel timeless, like his grandparent's ranch house. "My grandfather was a prisoner of war in World War II and he escaped and a family hid him out... I loved my grandpa so much, but he wasn't like a very emotional man. But his walls in that house, he had war paraphernalia, weapons from different decades, family photos, and paintings above the fireplaces. I was 100% drawing on that." A shack tucked away near Woodstock, New York became his post-apocalyptic proxy.
Shults analytical, borderline obsessive attention to detail (you can take the student out of business school, but you can't take the business school out of the student) made the actual shoot a breeze. Any trepidation Edgerton had over working with a young director were quelled by Shults confidence. The hard part, it seems, is living with the creation. Now the movie out in the world. Millions more people will see It Comes at Night than Krisha. That sends a chill down his spine.
"I just watched the movie for the first time all the way through since it's been finished and it was not enjoyable," Shults admits. "It was also in room full of it strangers and I have a weird relationship with it. It puts me back to where my head was when I made it. I think it's gonna probably be polarizing and hit people in totally different ways, but I know all of me and what's in it, so it's really weird and I don't like watching it."
His audience may feel equally unnerved. It Comes at Night makes bold story choices, introducing a viral mystery that ends with a cliffhanger. The great unknown remains the great unknown. Shults knows it will polarize the audience. He's disappointed that trailers sell the movie as a "horror movie" but is thankful the tactic will get butts in the seats. What worries him are misreadings, or mistrust of his intentions. One review he read praised the craft, but called the movie utterly pointless.
"It hurts to know that a lot of people will just probably shit on the movie," he says. "I really believe in the movie. Even if you don't like it, it sticks with you and it makes you think." This is the risk for Shults: He loves making movies, but each one puts his mind on the line. "My [mom and stepdad] are both therapists. I think I would be an utter disaster if they weren't therapists. I think a lot of therapy is bringing the stuff to light that you don't want to talk about and you don't want to confront. I think that's kind of the movies I'm making right now and it's what I believe in."
Regardless of how ItComes at Night plays in the long run -- and with more than $6 million at the box office and the kind of mixed reviews a risky, director-driven drama should provoke, it's a win for anyone in the art-as-commerce business -- Shults is going back to work. After Krisha blew up at SXSW, calls poured in from Hollywood. "What I didn't want was to get swallowed by that and fall into the bullshit. I was very paranoid about that." When it came time to pick an agent, he called friend and director David Lowery (Pete's Dragon), who encouraged him to sign at the major William Morris Entertainment agency, where Lowery and Shults' pal Robert Eggers (The Witch) both found representation after making the leap with indie hits.
Having friends by your side when you jump to the big leagues is great, but Hollywood's still Hollywood, even for filmmakers from Orlando. The first thing Shults heard from his agent is exactly what you think he heard from his agent. "They're like, 'We'll get you a Marvel movie. Let's do it.' It's like, no. He's like 'Star Wars would be amazing.' It's like, no, I don't think it would."
Everyone quickly got on the same page, Shults says, because he's a commercial artist who wants to make movies he deeply believes in. It's possible, he says, to make the shit you want to make, as long as you have the right people (he does now), you're willing to be vulnerable (have you seen his movies?), and know when to turn down the money. But he also needs money. He needs to survive. His place in Orlando won't pay for itself. He intends to make more movies. He could make someone else's movie. Hell, he could direct a television show -- it's all the rage.
"I'm open to whatever. My agent sent me a ton of scripts. I'm reading scripts, like interested in TV or whatever. Directing is fun. If I get a script that I love and I believe in and I can stay behind the camera, stay fresh and use my craft and hopefully make a story."
To be 28 and hungry and thoughtful and wounded and driven and troubled and empathetic to a colossally screwed up world and hopeful that art can make a difference to someone, somewhere is a load to bear. Shults believes he can get it done, and if he gave me reason to follow into whatever murky territory he's willing to venture, it was his mantra-like reminder that movies like Krisha, It Comes at Night, and whatever else he sets out to do need to be authentic, paycheck be damned.
"I've got to believe in it and believe I need to do this," he says, "because our world doesn't need more shit."
Sign up here for our daily Thrillist email and subscribe here for our YouTube channel to get your fix of the best in food/drink/fun.
Matt Patches is the Executive Entertainment Editor of Thrillist. He previously wrote for Grantland, Esquire.com, and Vulture. Find him on Twitter @misterpatches.