Stanley From 'IT' Reveals What He Thinks Really Happened in the End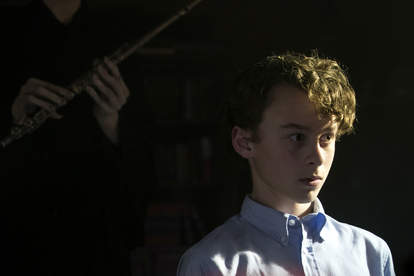 The following post contains major spoilers for the new IT adaptation.
IT director Andrés Muschietti may have added personal touches to his adaptation of Stephen King's classic novel, but he ultimately stayed true to the spirit of the source material. The result plays like a movie that's equal parts horror and coming-of-age story, a revamped version of King's book that capitalizes on Reagan-era nostalgia while letting its seven preadolescent heroes band together to stand up to a nefarious entity.
One of those young heroes is Wyatt Oleff, the 14-year-old talent behind the prim Stanley Uris. You might already know Oleff as Guardian of the Galaxy's young Peter Quill, or from his guest spots on Scorpion and Once Upon a Time. If you don't, you will. With his star on the rise, we called Oleff to talk clowns, bikes, and IT sequel hopes.
Wyatt Oleff

| Brandon Showers
Thrillist: I heard that Andy was big on making you guys bond before production started -- it looks like it worked! What were some of the things he had you do to get to know each other?
Wyatt Oleff: Andy was huge about getting us close together, because that's an essential part of the movie. We actually had the first two weeks on set to just bond: acting exercises, trust falls, all types of different things to get us to know each other as fast as possible. It really worked. It felt like we'd known each other for years.
We did a lot of riding around on bikes too. To be honest with you, my bike was not the best. It was a little small for me, and it wasn't working that well. I had a couple bad accidents, and people like to say I'm not good at riding bikes -- I am, by the way; it was just that my bike was too small for me and it was slow. But yeah, when we all got to see our bikes for the first time I was really excited, and then bad things happened, and I realized I hated that bike [laughs].
Oddly enough, you have the best bike scene -- when you take your sweet time to kick out the kickstand. Was that in the script, or did you improvise that?
Oleff: The end of that scene was supposed to just cut to the next one, instead of us dropping our bikes and running. But at the end of it, Andy was like, Drop your bikes! Go! And everyone dropped their bikes, but in my head, I was like, Wait, Stanley wouldn't drop his bike. So I put up the kickstand, kind of like an instinct. And Andy was like, I love that! So he had me do that for all the other takes, and I was really happy because I felt like I was able to contribute to the character and I really knew the character.
New Line Cinema
What else did you and Andy do to develop Stanley, and what do you think separates him from the other kids in The Losers' Club?
Oleff: I would ask him about certain character traits, and he would respond to me very well. I also tried to keep my back straight for a lot of the movie. I usually do have good posture in real life, but I tried to have Stanley up it a little. That was an essential thing I thought Stanley would do, because he wants to be all proper and neat.
What sets Stanley apart is he's the most scared of IT in general. He's also the only one who really, really does not want to do what they're doing. That's laced throughout the film, like when he's constantly not trying to go to Neibolt. He's the voice of reason who no one listens to. He's always trying to tell everyone, Hey, maybe we shouldn't do this because, you know, we could die? And everyone's like, No, we gotta do this! They kind of push him through, and bad things happen.
What does the woman in the painting represent for Stanley?
Oleff: I'm not 100% sure on where Andy got the concept for the painting, but he kinda masked it for me, which kind of made it more mysterious. During filming I didn't see the woman on the painting at all. It was just a blank canvas. So having no idea of what she was gonna look like kind of freaked me out. He hasn't really told me a lot of what it means, but I think it was from one of his own childhood fears. I think he had a fear of this painting, and he's kind of translating that into Stanley, because it's definitely something he would be afraid of. Just her, in general, is terrifying to him. And IT as a concept. Stanley wants everything in line, and IT just throws everything off track. That's why he's the most scared of IT: He doesn't know how to react to IT, he doesn't know how to handle IT.
New Line Cinema
I heard Andy was keeping Bill Skarsgård (Pennywise) away from you guys so it was scarier when you actually encountered him on set. What was it like seeing him in costume for the first time?
Oleff: The first time I saw him in full costume he was -- ugh -- he was in full clown makeup, and he had his clown pants on and a white tank top. He was holding coffee and having a chat with Andy. I kind of wanted to say hi, but at the same time I didn't think I should. When we actually went into that scene, I remember seeing his 6-foot-4 stature leaning over him, and he put his hand on me and said, "Hey, nice to see you again." Because we'd met during table reads, but we didn't really talk. And I was like, Yeah, hi... nice to see you. That was kinda everyone's reaction: This was not what we expected at all. In a creepy sense. Andy kept him away for, like, the whole summer. The only images we saw of him were the ones that were released to the public. So seeing him in full costume... agh! It was just terrifying.
Are you scared of clowns?
Oleff: I wouldn't say I'm afraid of clowns. The only one I'm really afraid of is Pennywise. I respect clowns and how hard they have to work. They get a bad rap, and they really shouldn't because they just want to make people happy, and I think that's great. After seeing this movie people will hopefully realize that Pennywise isn't a clown as much as he is basically a demon. So that kind of makes a difference.
New Line Cinema
What was the scariest scene in the movie for you?
Oleff: I'd say for me the scariest one might have been my second scene with the lady in the painting, because it was a very intense scene and it was very emotional. It did bring [The Losers' Club] closer together, but it was definitely really hard to do for three days. Especially with the first shot, I was all alone and didn't really have anybody to fall back on.
Are you referring to the scene where you're basically getting your face eaten?
Oleff: Yeah, that one. I was not expecting that to happen. I was on the floor and the woman who plays [the lady from the painting], Tatum Lee, had to just stand over me with her mouth open over my nose. It was a little weird, but it looks awesome and was definitely worth it. Seeing it in its final form is a lot scarier [laughs].
The projection attack is also a close call.
Oleff: That was the first time we saw any Pennywise stuff for a scene. We didn't really see him in person, but I think that was our first time seeing his full face. When they played it for the first take, we were all freaking out, like, That is scary! That is not OK! I remember seeing that for the first time and being like, I don't wanna meet this guy in person. Bill Skarsgård is a great guy, but that costume is just too much.
New Line Cinema
You all eventually had to come face-to-face with IT at the end, though. What was the vibe like on set for that sequence?
Oleff: The final fight scene was really fun to shoot because we were all together and we got to fight Bill. It took a lot of coordination, but it paid off and looks really cool. It's like a culmination of all our hatred toward IT, and I think that's one of the coolest parts. We were all just riled up during that scene, and we all had our moments of finally standing up for ourselves and each other.
We had all these big weapon props, so I had a pipe that was made of foam. We would just kinda mess around in between takes and try out each other's weapons. They changed the choreography at the last minute so we had to learn a -- I don't know, I don't want to call it a dance routine, but I am -- a whole new dance routine. It was hard, but fun. Bill was incredible. He worked with us so well, and he didn't mind [getting clobbered] at all. He was more asking if we were OK, and we were like, Yeah, we're fine. Are you? It also wasn't just Bill, because he would sometimes transform into different creatures, which meant there would be different actors in his costume.
Like little Georgie at the end, when he gets stun-bolted in the head? He kind of turns into a little Pennywise. [Jackson Robert Scott] was wearing that around set, and we were like, That's adorable [laughs]!
What do you think happens to IT at the end? Did Andy talk to you guys about what's happening to Pennywise when he falls into the pit?
Oleff: I think Pennywise either fakes them out or is seriously injured and needs to pretend like he's going to die. So that's why he fell when Bill threatened him with the pipe. I think that's why he let go [of the ledge] -- to hide and regenerate and rest. Maybe he went back to his place of existence.
New Line Cinema
As you hinted earlier, Stanley seems upset with his friends for making him endure this traumatic experience, especially the face-eating. And at the end of the movie, he tells Bill, "I hate you." How did you interpret his final line?
Oleff: I think Stanley has that moment after he almost dies where he just can't take it anymore. He lashes out at his friends, like, You left me to die! All these different things to make him feel like he's been abandoned, and everyone tries to reassure him he's not. But he just doesn't believe them, and that's something that stays with him. The permanent scars on his face probably don't help.
With Bill, I think he has a lot of hatred toward Bill, even after the ending. He kind of has that forgiving moment when he passes Bill the pipe, but I don't exactly think he's completely forgiven him. Because it was Bill who dragged him into this. Maybe he meant for "I hate you" to be a joke, but I think he still definitely has some doubts, like whether they're actually his real friends or not. We'll have to wait till part two to see.
Andy and Barbara told me they would want the sequel to tackle the adult portions of King's book, picking up 27 years in the future. Who's your choice for older Stanley, and why?
Oleff: Yeah, I don't know exactly what they're doing for the second one -- I just know it focuses more on the adults. I think a good candidate would be Joseph Gordon-Levitt. If he grew out his hair, he could probably play a good Stanley. Just a thought.
This interview has been edited and condensed for clarity.
Sign up here for our daily Thrillist email and subscribe here for our YouTube channel to get your fix of the best in food/drink/fun.
Sean Fitz-Gerald is a staff writer at Thrillist Entertainment. Find him on Twitter: @srkfitzgerald.