First Trailer for Stephen King's 'IT' Movie Looks Terrifying As Hell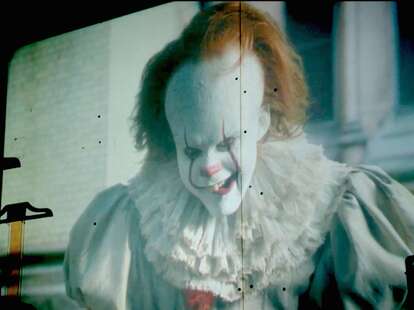 New Line Cinema
New Line Cinema
Buckle up, coulrophobes. The first trailer for the remake of Stephen King's IT is here, and let me tell you: Pennywise is going to send you on a roller coaster of reactions.
You'll audibly yelp the first time you see the killer peek his head out of a storm drain. You'll shriek again when that same hideous face creeps into an old-fashioned slideshow. And you'll gasp, laugh, and cry as you watch Raincoat Kid steal Nolan Gould's stunt crown with this world-class head BONK.
Looking terrifying as hell, Andrés Muschietti's take on IT tears into theaters September 8, with Bill Skarsgård starring as the nefarious entity and Jaeden Lieberher, Jeremy Ray Taylor, Sophia Lillis, Finn Wolfhard (Stranger Things alert!), Wyatt Oleff, Chosen Jacobs, Jack Dylan Grazer, and Nicholas Hamilton helping you scream your face off.
Sign up here for our daily Thrillist email, and get your fix of the best in food/drink/fun.
Sean Fitz-Gerald is a staff writer at Thrillist Entertainment. Find him on Twitter: @srkfitzgerald.