Jack Quaid Gets Comfortable in His Own Skin
Walking through Manhattan with the star of 'The Boys' as he reflects on his past and future.
Published on 6/29/2022 at 12:00 PM
Published on 6/29/2022 at 12:00 PM
Jack Quaid stands out even during a typically hectic June afternoon in Washington Square Park, where a man is selling glow-in-the-dark ashtrays, dogs are napping, and people are taking lunch break calls. "You're so much taller in real life," a stranger calls out to him approvingly. "I know, it's weird, right?" Quaid responds. "You're the man," the dude calls back. Quaid gets height comments a lot. At 6'3", he's used to disguising just how tall he is both on-screen and in real life, assuming a wide squat in scenes with love interests so he fits into frame, which he demonstrates for me while he gets a final touch-up before posing for Thrillist's cameras.
In the third season of The Boys, currently airing on Amazon Prime, his lanky physique gets a lot of airtime. Quaid, 30, plays Hughie, an average guy drawn into the world of superheroes ("supes" in the show's shorthand) when one accidentally murders his girlfriend in the pilot. Hughie, who loves Billy Joel and has an endless supply of dad-rock T-shirts, joins forces with Billy Butcher (Karl Urban) and his anti-supe effort to try to bring down Vought, the corporation that makes and markets supes, and its psychopathic, Trumpian Captain America figurehead called Homelander (Antony Starr). Since it debuted in 2019, the excessively violent satire of capitalism and power has become one of Amazon's biggest hits, producing two spinoffs, one animated and another set at a supe college.
During the series' latest drop, Hughie experiments with a drug that gives him temporary powers at the expense of his clothing. He can teleport, but loses his shirt—literally. He's running around scenes of violent mayhem—and one very ridiculous orgy called "Herogasm"—hunched over and grabbing his junk. "There's a sock, and that's weirder than being naked," Quaid explains. "Everyone is clothed besides you. The human brain is not really equipped to deal with that situation."
Hughie's butt-forward plot has been developing as some of the show's more misguided fans have been decrying the amount of male nudity featured in this season—which opens with a scenario where a shrunken supe enters a human penis—by leaving negative reviews on Amazon. Quaid, for one, is proud. "I'm glad that I'm offending people with my ass," he says. "That's awesome."
Photo by Cole Saladino for Thrillist
It's easy to start talking about fans and fandom with Quaid. Not only did he play a—spoiler alert—extremely toxic fan in the newest Scream movie, but other people's obsessions are something he's had to deal with his whole life. He heard that when he was born to movie stars Dennis Quaid and Meg Ryan, paparazzi crowded on the roof of the hospital. He remembers being driven in his mom's car and followed by a random person for hours when his parents were getting divorced.
Outside of the online edgelords slamming The Boys for being too progressive, Quaid's interactions with followers are mostly nice these days. That much is evident as we hang out in East Village comic-book shop Forbidden Planet, on a block of Broadway near Union Square, for the first leg of our photo shoot. His presence causes titters among the browsers checking out panels and action figures. One woman stops him to ask for a photo. She's in town from Canada and loves The Boys, based on a comic series co-created by Garth Ennis and Darick Robertson, but hasn't started the new season yet. "It's so fucked up," he tells her encouragingly. Over the past couple of years, Quaid has carved out a niche for himself as an ascending nerd icon. In addition to Scream and The Boys, he's also voicing a new cartoon version of Superman and is the animated star of Star Trek: Lower Decks.
"I'm glad that I'm offending people with my ass. That's awesome."
Photo by Cole Saladino for Thrillist
On this unseasonably cool and overcast June day, Quaid is taking me on a walk down memory lane, pointing out spots where he used to do sketch-comedy shows when he was a student at NYU's Tisch School of the Arts and part of Hammerkatz, the troupe made famous by Donald Glover. "Oh my god, Soup & Burger is still there," he says in disbelief as we make our way farther downtown in a car packed with his publicist, stylist, and groomer.
After the photo shoot is over, we head to Eva's Kitchen to grab lunch. It's an unassuming spot on West 8th Street, with a hodgepodge of a menu featuring wraps, smoothies, and plates full of meat and rice. It's so dark inside we think it might be closed when we walk up. The name, hilariously, stands for Energy, Vitality, Athleticism and Strength. Quaid used to come here when he was a freshman who had just gotten cast in his first major role: a sneering villain in the first Hunger Games movie. The studio set him up with a trainer, which he thought was weird since he never appeared shirtless in the movie. After his workouts, the trainer suggested he bulk up on protein at Eva's. "It's a restaurant for bodybuilders, and it's just all bodybuilders and then freshman-year me having a ball," he says. Eventually, when he was featured in the short-lived HBO series Vinyl, the owners put his photo up on the wall. "I was the most honored I've ever been," he says. It's still there, faded but prominent. He orders a plate with chicken and broccoli with tahini and hot sauce on the side but has no idea if the food is going to hold up to his teenage expectations. (It does.)
Quaid first knew he wanted to go into what is essentially the family business when he did a middle-school production of A Midsummer's Night's Dream, playing Bottom, an actor who literally is turned into an ass by mischievous fairies. "I had a blast," he says. "I loved when I got a laugh." He began watching classic movies that captivated him. On one vacation, his mom decided to check out a bunch of VHS tapes from a hotel lobby, when that was still a possibility, to show him Blazing Saddles, Die Hard, and Alien. He had nightmares for weeks after watching Ridley Scott's sci-fi masterpiece, but the film obsession stuck. Shortly after his brush with Shakespeare, he made a feature-length movie with his friends called Bicycle Cops, which was shot in sequence and features them unintentionally aging over the 50-minute-long narrative. ("It's terrible," Quaid says.) In his estimation, he avoided the traps of a stereotypical Hollywood-kid existence largely because of who surrounded him. "I had great friends growing up who are not what you would think of a typical LA kid, where they're all about status or popularity," he explains. "My friends were the nerds."
Photo by Cole Saladino for Thrillist
When it came time to start his own career, he tried to eschew the help of his famous family. He considered changing his last name but couldn't figure out what his new one would be, and he declined when his dad offered to let him use his agent. "I knew that people would constantly say, 'Oh, I know how he got that job,'" he says as we wait for our food at Eva's. "And they're still going to say that. It's fine. But as long as I knew how I got there, that would be enough." In one of his first auditions, he remembered that a casting director was shocked that he was "actually really good." Her expectation was that he was just another nepotism case. A kid with some of the most famous parents on Earth would phone it in, assume the part was his by default, and "be a real asshole."
Jack Quaid is not an asshole, as basically anyone who works with him can attest. "The thing that I'm really always taken with is how unbelievably down-to-earth that kid is," The Boys showrunner Eric Kripke says. "He shouldn't be." His Scream team agrees. "He's one of those people that when you talk to him for five minutes, you're like, 'I just want to give this guy a hug,'" says Matt Bettinelli-Olpin, one of the co-directors of the newest Scream. That good-guy demeanor actually worked against him when Bettinelli-Olpin and Tyler Gillett were trying to cast him as a maniacal killer who would ultimately don the Ghostface mask. "A lot of people were not convinced that Jack had that gear," Bettinelli-Olpin says. "When he was auditioning, we got some pushback, and we had to point-blank ask, 'Hey, would you just do a read where you're just fucking evil? Just go full-tilt evil because you just need to prove to people that you can.' And Jack just fucking hit it out of the park. I mean, he was terrifying, genuinely terrifying."
This ability to tap into a darkness behind his jovial facade has served Quaid well on The Boys, where every character is easily corruptible. Quaid was Kripke's first choice for Hughie, a "John Cusack" type who, in the comics, was based on Simon Pegg. (Pegg now plays Hughie's dad.) Even though Kripke knew Quaid was perfect after seeing him opposite Glenn Close in a pilot for a quirky zombie show that Amazon never picked up, the studio wanted to consider more options. But Kripke always came back to Quaid. "I think it's his lightness that makes his darkness interesting. It's because it comes out of him so unexpectedly," Kripke says. "If he's going to punch the wall as Hughie, he's going to bruise his hand. He goes for it. Seeing somebody who shouldn't be freaking out at that level freaking out is unsettling to people."
Quaid was a little hesitant to lean into Hughie's third-season turn, where his desire to "save" his superpowered girlfriend Starlight (Erin Moriarty) leads to him going against her wishes and shooting up with supe juice, despite the fact it makes him vomit a green substance. In his quest to be a hero, he becomes toxic masculinity personified. "It's interesting because he wants to save her, but I don't know if he really believes that," Quaid says. "I think ultimately he just wants to feel better about himself and feel powerful because he is a character that never feels like he is powerful." At the same time, Quaid was also thrilled to be able to have powers that resembled one of his favorite X-Men, Nightcrawler, the teleporting beast mutant, even if that meant stripping down. "If I have to be naked to have Nightcrawler powers, I'll do it," he says.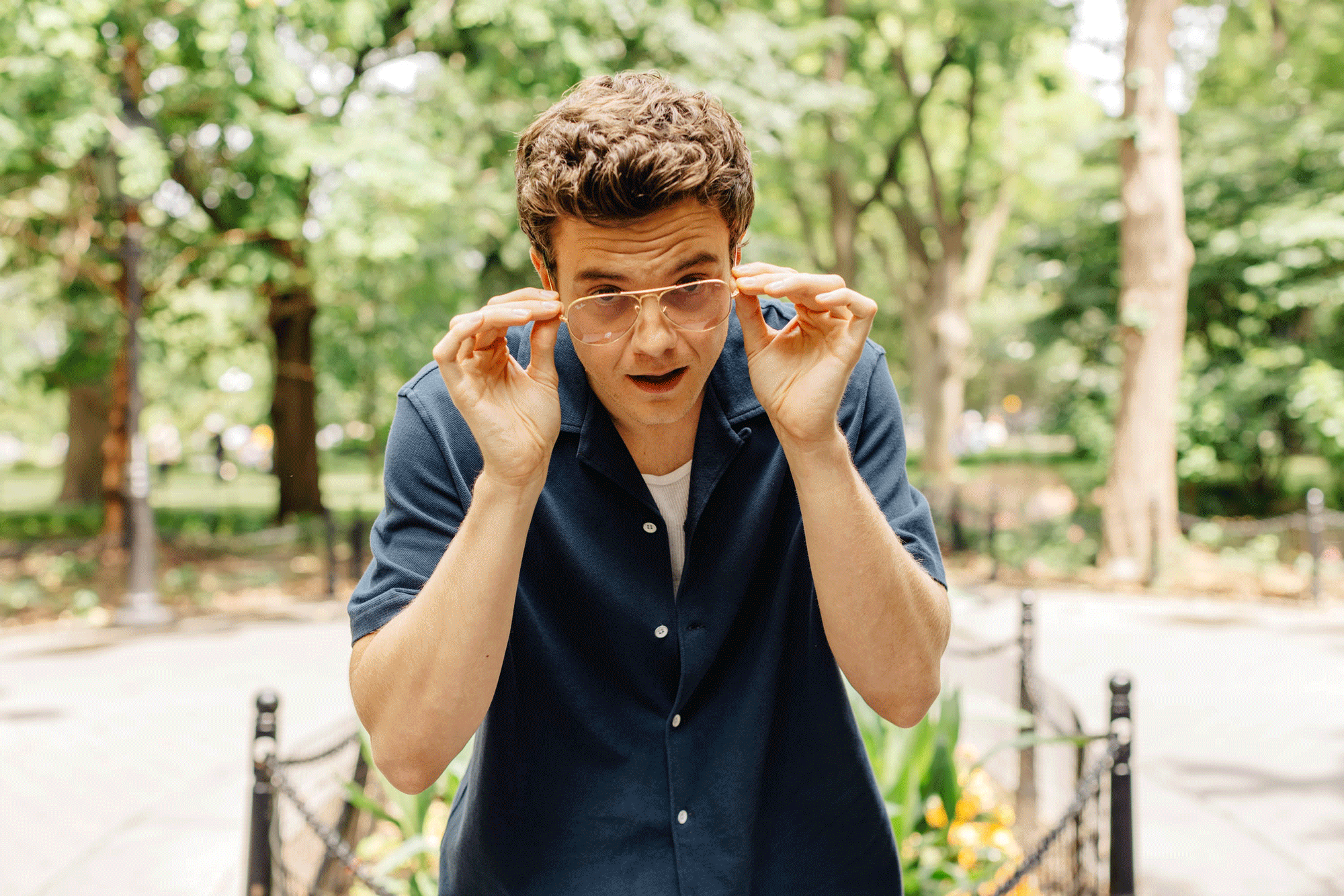 Photo by Cole Saladino for Thrillist
"I had great friends growing up who are not what you would think of a typical LA kid. My friends were the nerds."
"Because you're only going to do this once. It's cool that I get to be in things that I genuinely would like to watch if I wasn't in them."
Quaid can easily connect with fanboys/girls because, at heart, that's him, too. It jumped out recently when he was filming a role in Christopher Nolan's upcoming historical drama Oppenheimer along with what feels like half of young Hollywood. (He can't really divulge his role because, despite the fact that the film is about the construction of the atom bomb and based on real events, Nolan's secrecy takes precedent.) One day, star Cillian Murphy, whose collaborations with Nolan include the Dark Knight trilogy, approached Quaid and some others on set and asked if they wanted to go see The Batman starring Robert Pattinson. "I'm like, 'Cool. I get to see Batman with Cillian Murphy,'" he remembers. "But then it dawned on me. Scarecrow just asked me if I wanted to see Batman."
Oppenheimer won't come out until 2023, and for now, following this whirlwind press trip to New York, Quaid plans to lay low at home in Los Angeles in preparation to head back to Toronto to film The Boys Season 4. But relaxing isn't exactly in his blood, and he's working on pitching a series with some friends. "The big dream for me is to be in something that I had at hand in writing," he says. "I have a few things that could go in that direction, and that's the path that I'm trying to get on right now." It's perhaps why this part of New York we've been wandering through is so potent for him, even though he dropped out of NYU after his third year. He still craves that "let's put on a show" energy of college and does regular performances with a group called Sasquatch Sketch Comedy. After all, his childhood idol was Jim Carrey. "I would love to be in more things that just give me the opportunity to be a straight-up goof," he says. A recent Sasquatch gig at Dynasty Typewriter in Los Angeles was the beneficiary of Quaid's higher profile. "People came out who were fans of Scream and fans of The Boys," he says. "And that had never really hit us. I was signing autographs outside of the theater. It was very weird, but we drew in a crowd."
Fame is different for Quaid than it was for his parents when he was a kid. "I think they were famous in a time where it was scarier to be famous," he says. His biggest brush with the voyeuristic side of the business, arguably, has been the notorious Instagram account DeuxMoi's obsession with him, posting reports sent in about his whereabouts and detailing fan interactions. "I didn't know it existed," he says.
Quaid used to go to Forbidden Planet when he was in college, picking up Scott Pilgrim vs. The World. Now he's leafing through an edition of The Boys with his face on the cover, peeking over the top to pose for the camera. There's a tiny hint of discomfort present when he's handed the book—"Oh, well, cool," he says—but, generally, he relishes that he's in projects that make people excited. That is, when they aren't condemning his bare butt.
"I'm a very anxious person," Quaid says. "I think in the beginning, I was like, 'Oh, do people like me? Do they think that I'm just riding my parents' coattails?' and all this stuff. Then lately, I've been making an effort to focus on that less and just really trying to embrace this. Because you're only going to do this once. It's cool that I get to be in things that I genuinely would like to watch if I wasn't in them."
Want more Thrillist? Follow us on Instagram, Twitter, Pinterest, YouTube, TikTok, and Snapchat.
Esther Zuckerman is a senior entertainment writer at Thrillist. Follow her on Twitter @ezwrites.
Editorial Director, Entertainment: Kerensa Cadenas
Senior Entertainment Editor: Leanne Butkovic
Associate Entertainment Editor: Sadie Bell
Entertainment Editor: Matthew Jacobs
Senior Entertainment Writer: Esther Zuckerman
Production: Pete Dombrosky
Special Thanks:
Senior Entertainment Writer: Daniel Jackson
Staff Entertainment Writer: Emma Stefansky
Look 1
Tombolo shirt
Levi's jeans
Golden Goose sneakers
Ray-Ban sunglasses
Creative Director: Audra V Pace
Art Director: Manali Doshi
Photography Director: Drew Swantak
Senior Designer: Maggie Rossetti
Project Manager: Morgan Fowler
Photographer: Cole Saladino
Photo Assistant: Victor Riccio
DP: Zach Goldstein
Stylist: Evan Simonitsch with The Wall Group
Stylist Assistant: Emily Schor
Groomer: Jessica Ortiz
Look 2
Rag & Bone shirt
Todd Snyder trousers
Vans sneakers