As 'Jack Ryan,' John Krasinski Is America's Next Big Action Hero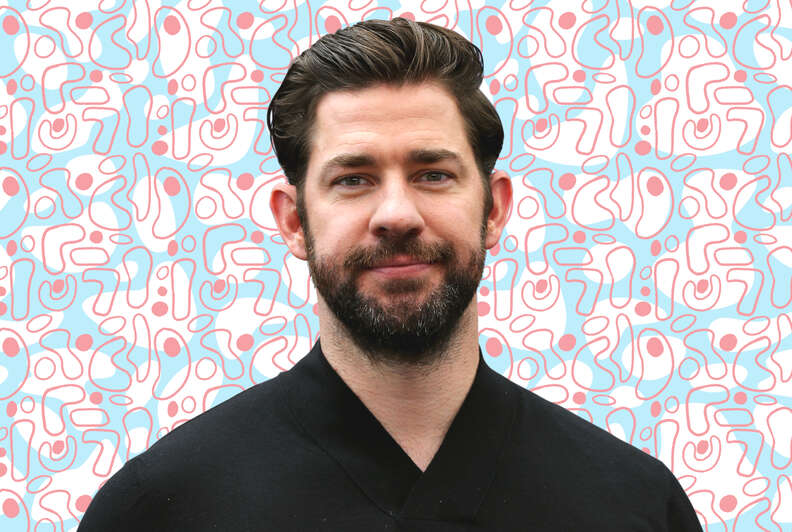 Jason Hoffman/Thrillist
Jason Hoffman/Thrillist
John Krasinski is having one hell of a good year. A Quiet Place, the slow-burn apocalyptic horror movie he wrote, directed, and starred in opposite his wife, Emily Blunt, arrived in the spring to impressive box office returns and overwhelmingly positive reviews, and it was just confirmed for a 2020 sequel. And his new series Jack Ryan, a blockbuster adaptation of several Tom Clancy novels helmed by writer/producer Graham Roland and prolific TV showrunner Carlton Cuse (LOST, Bates Motel), seems poised to be another likable, intense, and dad-friendly Amazon Prime hit.
But you wouldn't know Krasinski is having a superstar year just from talking to him. The stratospheric success he's been enjoying over the last several months, not to mention the creative carte blanche he's effectively earned for whatever he'd like to do next, somehow hasn't gone to his head -- the former The Office star remains endearing and humble. He's a keen listener who seems genuinely interested in what you have to say, and he sometimes looks like he's as nervous to be talking to you as the other way around. He's an inveterate dork. That aw-shucks grin just doesn't go away.
We caught up with Krasinski in London to talk about relatable heroes, his relationship with the military community, and why Michael Bay, of all people, is actually a visionary genius.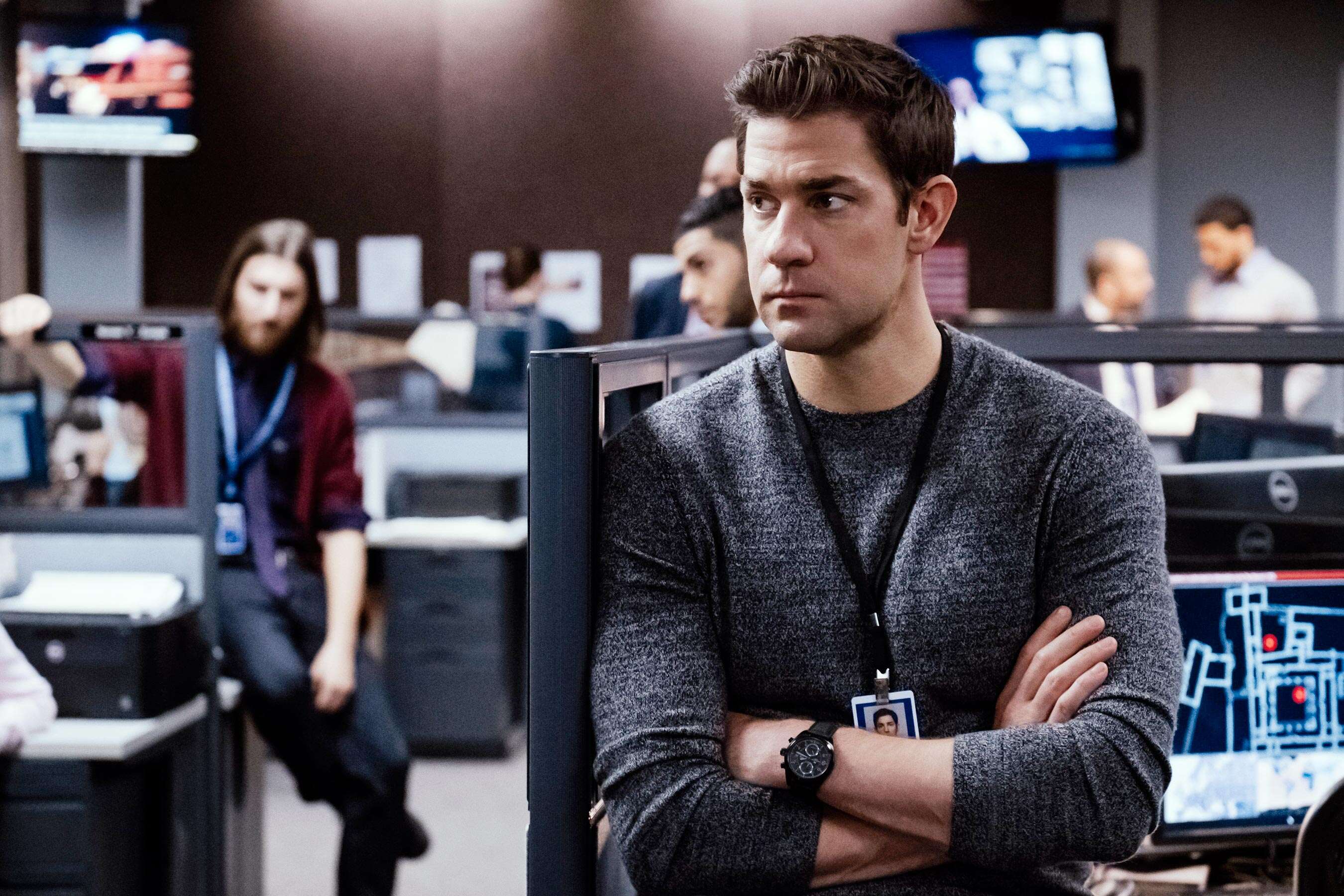 Thrillist: Let me start with a comparison. A Quiet Place is a genre movie, but it also has a very rich allegorical dimension. That's what makes the movie work: the emotional core. Jack Ryan is a genre show. So what, for you, is the equivalent core?
John Krasinski: My own movies are extremely personal to me, and anything I write or produce or direct has to have this incredibly deep DNA. On this one I have the luxury of just being an actor. But at the same time, it does have a core: the character. I signed on for [Jack Ryan] and the character himself. He's someone I grew up loving -- he's like the American James Bond, you know? A lot less sex [laughs], but our James Bond nonetheless.
What about him is relevant in 2018?
Krasinski: Well, I loved the idea of someone like Jack Ryan being introduced at the time we're in now. Not only politically, but more importantly in terms of culture. We have so many superheroes right now who wear capes and fly around and shoot things out of their hands, and it's really nice, and really refreshing, to have a hero who just uses his brain and his instincts. Maybe I'm taking it a bit far. But when I was a kid, I thought I could be Jack Ryan. It seemed possible. Maybe I can't be Iron Man -- but I can be Jack Ryan.
The show, too, is commendably… dry. It's not simplified.
Krasinski: Thank you! That's awesome. That is the Tom Clancy influence. I didn't have much to do with the creative development of the show, but for Carlton Cuse and Graham Roland, the showrunners, I think it was really important to make it like the books. That's how they pitched it to me: They wanted to feel like a Tom Clancy book. Of course, the books are starting to feel a little dated because Tom Clancy's superpower was writing such incredibly specific stuff to a time, and that time has passed. Their theory was they could take the tools he uses and apply them to the modern day, but still be as rigorous with detail. It's authentic. The way to make it feel authentic is to not give the audience too much.
Was that your strategy on A Quiet Place as well?
Krasinski: Certainly on A Quiet Place, that was our theory. You don't want to just blow through it. The more we can have you feeling like you're keeping up, the more invested in the movie you'll be. And hopefully that's where the show will go.
You compared Jack Ryan to James Bond. But Bond, like a lot of famous pop culture icons, is a big, larger-than-life personality. Ryan's the most ordinary guy.
Krasinski: Totally ordinary. Which I think is cool.
What makes it interesting to you?
Krasinski: One of the things they pitched me on was that this would be the beginning of the Jack Ryan story. He wouldn't be that interesting. He's an analyst. He falls into an incredibly intense experience. And not only does he fall into it -- he tries several times to get out of it. He'd rather pass people a piece of paper and have them catch the bad guy. I like the idea of being sucked in. For me, fish out of water stories are always exciting. It makes the story universal: Anybody could have found their way into this situation. We're not kept at an arm's length away from the material, as we would have been if he was The Rock. You'd think, well, that's not me, clearly, so I'll just go along for the ride.
Well, I identify with The Rock, but I know what you mean.
Krasinski: Well, sure. Taking a look at you I can understand why. [Editor's Note: Interviewer is approximately the size of The Rock's left arm.]
What are your impressions of the television landscape right now?
Krasinski: TV to me is like the wild west right now. It doesn't matter where your show lives; it matters who's watching it. It's great quality control, because it has to be good. There's so much on TV that you have to do something great, or something different. Personally, I'm a big Game of Thrones fan. But there's also more risk-taking television, such as The Night Of or Handmaid's Tale. I think Jack Ryan falls on the former side -- commercial event television.
I wanted to ask you about directing. You've recently had so much success as a director. On a project like this, do you feel stuck just working as an actor? Are you aching to get back behind the camera?
Krasinski: I actually directed A Quiet Place in between shooting the two seasons of Jack Ryan. In fact I shot the first season, had five days off, and then went right into production on the film. So I'll continue to do my own stuff working around this. I can't wait to jump back in and write and direct -- I've got some stuff I'm ready to do. It's a matter of shifting gears. I've got my own stuff, which is so personally satisfying, and then I've got this, which is just a really cool character I get to play.
You have this kind of bookish intellectual side, having done something like the David Foster Wallace adaptation, and this hardcore army side, from Jack Ryan back to movies like Aloha and 13 Hours. Is that the Krasinski divide?
Krasinski: That's interesting. See, I come from a huge military family. Growing up, respect for the military was a really big deal -- I think I have 11 aunts and uncles in my family who have served, and some of them are still serving now. I've never known any differently from being a strong supporter of the military. 13 Hours was something I always wanted to do, partly for my family, but also to pay a little respect and do it right and tell these stories about people I admire so much. I know I had done it in Aloha, but 13 Hours was a whole different thing. I had no idea what I'd be getting into.
What were you getting into?
Krasinski: I was getting into a community. I could never have imagined my involvement in the military community now. I don't know if I have had a greater honor in my career than getting to be able to interact and interface with the military community now on a constant basis. It's so exciting.
Where does that put you politically? Does it oblige you to lean more right-wing?
Krasinski: No, not at all! The thing I always felt growing up was that the military should be universal, not political -- that supporting the military should be a universal ideal, not a political ideal. I think that it's unfortunate for either side of the aisle to claim military issues as their own or to head into military issues because they're political, because the truth is someone is putting their life on the line for all of us. I don't know why people don't see this as a hugely unifying topic rather than a polarizing one. But I don't understand a lot about politics.
How would you characterize the politics of Jack Ryan?
Krasinski: I see it as completely apolitical. It might just be my lens, but to me it's a celebration of our country, and I think that's really important. Politics come and go, but what our country is and what we stand for should maintain its integrity. Even in 13 Hours, the guys that we learned from and trained with for the movie, all the real military guys, one might think, oh, they're all completely right-leaning. But first of all, we never talked about politics, but we also were talking about the same things in the general sense: family, pride in freedom. It was never about candidates. These are the greatest, kindest, most honest people. That's what we should value about our country -- not arguing about politics.
You don't feel like these days especially those values have been politicized?
Krasinski: Well, that for me is one of those grey areas of politics. How can either side commandeer ideals? How can either side make family values fuel for your fire? It's weird. Being kind to one another should not be a political issue. It should be a foregone conclusion.
You've had an interesting relationship with Michael Bay. How did that come about?
Krasinski: It's really simple. He gave me a shot when nobody else would. This is a very conservative business, and nobody wants to be the first person to do anything -- I understand that it's a money-making business and you don't want to take a lot of chances. But he did. I went on tape for [13 Hours]. He saw the tape and he cast me. I could never thank him enough for giving me that opportunity -- not only to be in that movie but to be the type of artist I wanted to be in that moment. He's been extremely supportive of me. It sounds hokey, but on 13 Hours we got to know each other as artists. We understand each other's process.
What's he been like as a producer? How involved was he on A Quiet Place?
Krasinski: He understands how I like to write and how I work. He's only been supportive when I may or may not be pushed around by the studio. On A Quiet Place, we hardly interacted at all -- until the studio tried to take away my budget or tried to take away some of my days, and then he becomes an 800-pound gorilla who tells them to leave the kid alone. I have nothing but kind things to say about him because he's been incredibly supportive of me.
Sign up here for our daily Thrillist email and subscribe here for our YouTube channel to get your fix of the best in food/drink/fun.
Calum Marsh is a freelance writer born in Great Britain and based in Toronto. His writings have appeared in The Guardian, The New Yorker, and Playboy.