I Watched Every 'Jackass' Movie for the First Time, And Now I Love 'Jackass'
Until this past weekend, I hadn't seen a single sustained sequence from the seminal (lol) franchise Jackass. And then I watched all three movies back-to-back. In about four and a half hours, I was inducted into this fraternity of dudes who are best known for launching themselves into the sky, covering themselves in poop, sticking things up their butts, and drinking bodily fluids. I screamed. I laughed. I covered my eyes in horror, squishing myself into the couch cushions. I had a great time. I now love Jackass. 
Why did I embark on this journey? Well, I love correcting my cultural blindspots, for starters. But there was a more specific prompt. Turns out, a single quote in a New York Times story published on Saturday offered an opportunity for Twitter to hold a referendum on the legacy of Jackass. The article was not about Jackass, but relied on the notion that Jackass was puerile, unredeemable entertainment made for bros. Women, the speaker implied, "pretended that Jackass was funny back in the day, just so dudes wouldn't bully you about not liking it." 
If I held an opinion at all on Jackass when it was at the peak of its popularity, it would have probably sounded something close to that. When Jackass the TV show was airing in the early '00s on MTV, I was a 10-year-old who was afraid of boys and anything that could be perceived as gross. By the time the first movie was released in 2002, not much had changed. Even though my tastes eventually evolved, I somehow never had the moment where a friend turned to me and said, "Holy shit, you have to watch this dude snort wasabi." Or, "Your life will be changed if you see a man put a toy car up his rectum." Or, "You can't appreciate Adaptation unless you've seen Spike Jonze as an old lady."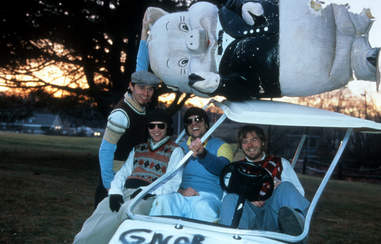 Paramount/Getty Images
It wasn't until recently that I started to hear that the Jackass movies are regarded by some to be cinematic masterpieces -- that's the phrase my friend Griffin Newman used to describe the first one in a recent episode (put out before the NYT story) of the movie podcast he co-hosts, Blank Check. The Times incident elicited a whole new wave of positive Jackass cultural criticism. New York magazine's Max Read tweeted: "the thing is that all the jackass guys were models of open-minded, emotionally available, body-positive, physically active, life-affirming masculinity, except for bam [margera]." Writer Caroline Moss replied to him, saying, "Every time I watch Jackass I am alarmed at how...joyful I feel watching them just live laugh love." Comedian Jaboukie Young-White wrote: "jackass is a docuseries about the cis, straight, white, american male id and how it coped with and responded to suburban ennui in the death throes of its cultural monopoly. it should be in the criterion collection." 
After reading some of this commentary out loud to my boyfriend this past extremely lazy Sunday, he suggested we actually put on Jackass: The Movie. I was nervous. "It'll be gross, right?" I asked. "You love gross stuff," he replied, making an accurate statement about my current self. (Sorry, poop is funny.) Renting it, I had another stupid query: "So, is there a plot?" Ha. 
With a cloud of smoke and the sounds of "O Fortuna," my Jackass journey began. As I watched I simultaneously learned about the origins of the show, the skater's manifesto that was Big Brother magazine (you can watch a documentary about it on Hulu), and how Steve-O actually trained at clown college. I reveled in the near-constant male nudity, which, frankly, still feels revolutionary. How likely is it, even in 2020, that you're going to find something that has essentially no objectification of naked women, but a ton of swinging dicks? I found the dangerous, chaotic energy bizarrely soothing. There's something artful about Jackass stunts, even at their most crude. They are poetically absurd, all little meta commentaries on the futility of human existence. There's also a lot of excrement. Of course, John Waters loves this shit. 
I'm not quite willing to say that the Jackass movies hold up entirely. Any time I watched the guys messing around in another country, I started to feel uncomfortable, as if the joke was suddenly becoming less about their own bodies and more about the havoc they were inflicting on others. A bit where Bam Margera orchestrates a prank in which Preston Lacy switches places with Margera's father, sidling up beside Margera's sleeping, unsuspecting mother, raises questions about consent. 
But those scenes were outliers. I was mostly struck by the warmness of these friends pushing their bodies to the limits. Moss's tweet kept popping into my head: They were living, laughing, and loving. The sequence that fully endeared me to the Jackass universe is the finale of Jackass Number Two, a song and dance to "The Best of Times Is Now," a Jerry Herman tune from La Cage Aux Folles, the musical version of the French film that would be remade into The Birdcage for American audiences. (The Jackass crew has maintained that their homoeroticism was never thinly veiled: What people may have read as subtext was intentional text.) The Jackass number was an overt homage to old Hollywood, and is indebted to the fourth wall-breaking conclusion of Mel Brooks' Blazing Saddles. Also, they get smacked in the head. It's completely earnest. How could this have ever been "not for me"? 
Spending an afternoon-to-evening in the company of the three Jackass films was a bit like fast-forwarding through people's lives. The first movie -- which we couldn't even rent in HD -- has a home video-like quality. The youthful antics are almost quaint. In the second installment, there's a sense of grandeur and excess that comes with fame and recognition, and with it a doubled budget. (Jackass: The Movie was made for $5 million, and did nearly $65 million at the box office; Jackass Number Two pulled in almost $85 million on an $11.5 million budget.) The third is almost mournful, the hedonism gone -- Steve-O had done a stint in rehab -- and the slow realization that they were not invincible creeping in. (Ryan Dunn would tragically die in a drunk driving accident not even a full year after Jackass 3D came out, sending the rest of the crew spiraling.)
When it was all done, I was both emotionally exhausted and obsessed. I chased the movies with some clips from the original series and the videos Steve-O recently posted about the street dog he rescued in Peru that has become his best friend. I'm ready for Jackass 4, which is apparently happening in March 2021. 
My boyfriend and I watched them back-to-back with only a break for dinner because I insisted that I could not watch and eat for fear of vomiting, which was a smart call. Our meal would have coincided with the infamous "Poo Cocktail Supreme," where Steve-O is strapped into a Port-a-Potty filled with dogshit and flung into the air via bungee cords attached to cranes, like the worst slingshot ride in the entire goddamn world.
Need help finding something to watch? Sign up here for our weekly Streamail newsletter to get streaming recommendations delivered straight to your inbox.