A Bostonian's Take on Jake Gyllenhaal's Boston Bombing Survivor Story, 'Stronger'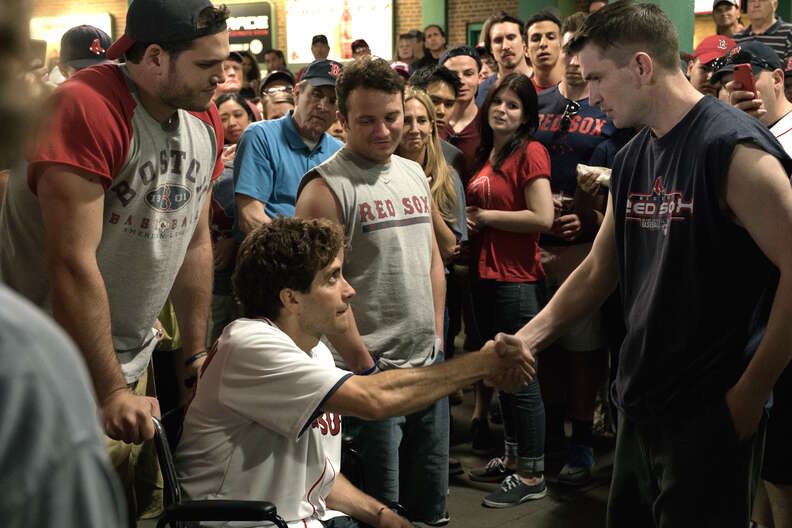 On April 15, 2013, I was at a desk, working my day job, when homemade pressure-cooker bombs went off by the finish line of the Boston Marathon. Like everyone else posted at my office, I was on tenterhooks, first waiting for confirmation of the cause of the blast, then to hear news of rescue and aid efforts, then for word on the culprits, who remained at large until April 19, when the chase ended in blood and gunfire. I remember the search for the perpetrators, and I remember the weeks and months following their capture, when Boston came together for healing and camaraderie in the wake of the unimaginable.
We were all "Boston strong." We were told as much by the media as by fellow Bostonians. That was the catchphrase, the invocation we all used to connect to each other's pain, and the slogan that corporate opportunists used to move merchandise. It's not that there isn't, or wasn't, truth to the words, or good reason to speak them. Bostonians are tough, seen as flinty, but our stern New England exteriors belie a heart and neighborly compassion unlike any I've encountered elsewhere in the United States. The city is full of good people with good intentions, and the Marathon bombing bore out that truth as we made it our business to care for each other. We never needed to be "Boston strong," just strong.
It's appropriate that David Gordon Green's new film, Stronger, which opens this week in theaters, should recall the language used in homage to Boston's post-Marathon show of resilience. Victims of the bombing, as well as their families, had to be more than strong, and that's where "Boston strong" failed us, and continues to fail us, as a rallying cry: It invited us to appropriate suffering most of us never knew and to see ourselves in tales of the bombing's aftermath at their subjects' expense.
Green, a director with an unfailingly poetic approach to making movies, keys into that in his interpretation of Chelmsford native Jeff Bauman's Marathon bombing memoir. You might not recognize Bauman's name at a glance, but you've probably seen his face: The photograph Charles Krupa took of Bauman, ashen and dazed, getting wheeled to safety by EMTs and his savior, good Samaritan Carlos Arredondo, is one of the enduring documents of the bombing's carnage.
If you've seen Bauman and his screen surrogate, Jake Gyllenhaal, doing press on shows like Today, you're likely under the assumption that Green has made something to inspire audiences and uplift the spirit. I'd be lying if I said the movie doesn't go there: At one point, Bauman is ushered away from the field at Fenway by friends after throwing out the ceremonial first pitch of the game (under the guidance of none other than Pedro Martínez). He is mobbed by well-wishers and supplicants who thank him for his bravery in facing adversity. The camera pulls back. We see Bauman at the crowd's center, a symbol of relief for strangers struggling through their own tragedies and ordeals. Green doesn't tip over into the grammar of religious motif, but you get the sense that the experience is, for the characters in the frame, spiritual in nature. Watching the scene unfold feels good.
Stronger isn't a feel-good movie, instead capturing the desperation that spurs proclamations of "Boston strong." Nobody here feels good. They want to feel good, so they throw out casual rah-rah bromides, beseech Oprah to grace them with her presence, and relentlessly pressure Bauman to appear in public, at hockey games, for their benefit and not his. Green portrays the Bauman clan and all hangers-on as a wake of vultures, eager for Jeff to leverage his status as a local and as a survivor so they can get box seats at the Garden, though he also identifies them as survivors in their own right. They do, after all, sit tight waiting for Jeff to wake up. They cheer more loudly at the end of a manhunt than they do at Red Sox games. They care about Jeff. They just care more about themselves than about him.
I get it. Truly, I do. When violence hits home, whether in the shape of hurricanes or terrorism, it affects us all. We each pay at least a psychological toll; the unfortunate among us pay physical tolls, too, as did Bauman, as did his fellow amputees, like Heather Abbott, Patrick Downes and Jessica Kensky, Marc Fucarile, Mery Daniel, and Celeste Corcoran, among many others; as did the dead, Krystle Campbell, Lu Lingzi, Martin Richard, Sean Collier, and Dennis Simmonds. Neither Green nor Stronger is without compassion for the living or the unharmed. They're mostly overlooked by the media and by authorities, who understandably are concerned more with victims than with their loved ones. But as they're overlooked, so too do they overlook Jeff. He almost becomes a prop, and not just to his parents and his buddies, but to Boston, too.
Stronger's grasp of the city's temperature as the dust settled on the bombing is correct. Boston never gave much thought to what Bauman and others crippled in the blasts went through while the rest of us got to stroll around town, caterwauling "Boston strong" as loudly as we croon "Sweet Caroline" while watching the Sox. We never really considered what those word actually meant because we never had to. What Boston saw and expressed as America recovered from the discombobulating horror of that day is community, the sublime ideal that at the worst of times, we forget about petty interpersonal bullshit, we dig in, and we unite over common hardship. It's the Boston way. It's also the American way, and the human way. But when we packed all of that communal grief and duty into three-syllable jingoism, we lost the path, and we never returned to it. Stronger demonstrates this through the burdens put on Bauman, who, apparently not having burden enough on his shoulders, had to mean something to the world. The rest of us were weak. He had to be, well, just refer to the title of the picture.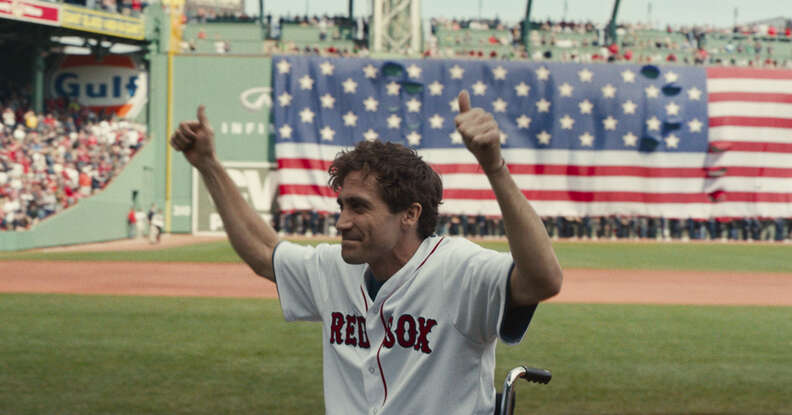 To watch Green's film as a Bostonian is to feel humbled, even shamed, for that weakness. We all needed to feel something good after the bombing. We all needed time to recuperate and reclaim the pieces of our identities we lost in 2013. (You don't live through a major terror threat in your hometown without having something taken away from you, after all.) But Stronger interrogates the myth of the "Boston strong" motto by laying bare an uncomfortable truth: The victims didn't mean anything to us beyond the emblematic. Boston, and America, treated them as props for the resumption of normalcy. When Bauman returns home in Stronger, his family throws a party; he shuts himself in the bathroom, blocking out the ruckus. The world has return to order. All is well with the cosmos again. But for Bauman, there is no return to order. His life has changed forever. Stronger makes that its thesis, trapping him with his trauma as others live through him.
There's a scene toward the end of the film's second act where Bauman's girlfriend, Erin (played by Tatiana Maslany), reaches her breaking point and has it out with his mother, Patty (played by Miranda Richardson); Erin accuses Patty of greed, castigating her for always trying to take from him. It's a moment of melodrama peppered by screams and cursing, because in Boston, "fuck" is its own form of punctuation, but it's also disconcertingly honest. Any time we trot out a survivor like Bauman on the public stage, we end up taking from them. We reduce them to victimhood all over again. That isn't the inevitable result of lending them celebrity, of course, but with Stronger Green forcefully reminds us how easily they're commodified instead of humanized.
Stronger opens in theaters on Friday, September 22.
Sign up here for our daily Boston email and be the first to get all the food/drink/fun the Hub has to offer.
Andy Crump is a contributor for Paste magazine, The Playlist, WBUR's The ARTery, Slant Magazine, The Hollywood Reporter, and Birth. Movies. Death., and is a member of the Online Film Critics Society and the Boston Online Film Critics Association. He is composed of roughly 65% craft beer. Follow him on Twitter @agracru.