James Scully's Gay Awakening Started with 'Cats' and Brad Pitt's Butt
The actor, best known for 'Fire Island' and 'You,' on the pop culture that influenced his coming-out journey.
Design by Maitane Romagosa for Thrillist
James Scully is one of the resident heartthrobs in Fire Island, the Joel Kim Booster-scripted movie about a group of gay friends searching for love, sex, and/or all-night ragers during a trip to New York's storied queer mecca. The comedy (now streaming on Hulu) puts a contemporary spin on Pride and Prejudice, which makes Scully the Charles Bingley to Bowen Yang's "terminally alone" Jane Bennett. It's a charming nice-guy turn that differs wildly from his more out-there performances in You and the Paramount Network's Heathers reboot.
The 30-year-old actor came of age in San Antonio and got his start off-Broadway before transitioning to the screen. (He will soon appear in Julio Torres' directorial debut, which also stars Tilda Swinton, Isabella Rossellini, and Greta Lee.) "When I was growing up, there wasn't a lot of explicitly queer stuff, so I do feel like I was just grabbing little breadcrumbs from movies and shows when I could," Scully says, mirroring the experience that most queer millennials and Gen X'ers had before films like Fire Island existed in the mainstream.
Scully talked to Thrillist about the movies, shows, and children's books that helped to spark his gay awakening.
When a Stranger Calls
Before I started watching actual stories about queer characters, I loved an empowered female narrative. In Texas, what I was getting at school was, "You talk like a girl, you act like a girl, you look like a girl." So when I watched movies, I especially loved a When a Stranger Calls moment—any of those horror movies where it was one woman facing off against an adversary. I was like, "Women are badass; why would I be bothered by being compared to them?"
This wasn't a queer awakening for me, but somebody who definitely did condition me as a person was Lisbeth Salander in The Girl with the Dragon Tattoo. I was like, "I want to be like that. She's got a good groove going on." Both [movie versions] are good, but the Noomi Rapace version, she was just not taking any shit from any of the other people in that movie. And I was just like, "Hell yeah."
The Sense and Sensibility score
My parents are, God bless their hearts, pretentious. We were not doing Top 40 in my house growing up. I missed a lot of the iconic pop music of all of the '90s and the early 2000s. It was a lot of listening to the soundtrack of Sense and Sensibility [composed by Patrick Doyle], staring out the window and feeling my ambiently queer, pastoral mood setting in. Or just sitting in my mom's minivan, staring out the window, pretending I was in the back of a carriage being taken to meet a man that I might have to marry whether I wanted to or not. And a lot of listening to Judy Garland. Even though I was an 8-year-old boy at the time, yes, my heart has also been shattered by the man who got away, even though I would not understand the significance of those lyrics until much later in my life. A lot of torch songs, a lot of pretending that I understood what heartbroken love ballads meant.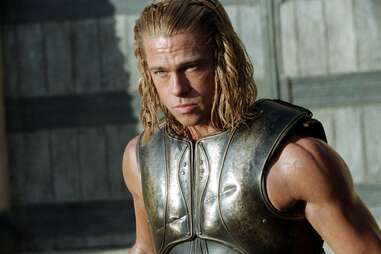 Brad Pitt in Troy
The feature film Troy, starring Brad Pitt, was a pretty big fixture. That was definitely a moment where I was like, "Yep. I am attracted to beautiful men, for sure. No more uncertainty about that." I guess you could argue that the abundance of mostly nude, hot men in that film makes it a little queer. How am I supposed to not be gay when this movie exists? What is my response to this scene with his naked butt supposed to be besides "I want to sleep with Brad Pitt"?
Cats
When I first got a hold of the Broadway cast recording of Cats, that was definitely a turning point for me. In retrospect, I think I knew, "Wow, this is really gay and I love it. I'm so Mr. Mistoffelees." I would like to be this fancy dancing cat that everybody gets excited about who gets his own number where he just spins around in a circle.
I first saw it at my high school. The young man who played Rum Tum Tugger, Zachary Wilhelm, he's from Texas, too. We still chat sometimes. I was like, "Uh-oh. Do I think this cat is sexy? What's going on?" That was definitely a moment for me. After experiencing it visually, I went home and obsessively listened to the soundtrack. The Macavity number, where all of the lady cats are singing together and dancing, I was like, "That's my track." That's who I wanted to be—a belting Broadway chorus girl—so badly when I was growing up. It didn't pan out that way, but I've made peace with it. I'm closer than I thought I would be, that's for sure.
That one gay plot on Rescue Me
Do you remember that show Rescue Me with Kevin Bacon, where he plays a fireman? There's a plot line with Michael Lombardi—god, he was so hot. He has a clumsy, sweet gay romance in the middle of a season. He's reading The Tao of Pooh and learning about himself, then just starts casually hooking up with one of his friends. At the time, I was like, "What?" Because it was so unexpected in this show that was packed scene-to-scene with the machismo of the firehouse and was all of these big, strong, straight, masculine personalities going head-to-head. Then out of nowhere there was this sweet, very real gay love story happening. It was funny because it was a show that we were watching together as a family—not age-appropriate at all—and in those scenes, a tense silence would fall over the room because I didn't want to respond in a way that would give me away. I think my parents were also side-eyeing me from across the living room.
Frog and Toad
My mother is an English professor, and her mother was a librarian, so they were definitely like, "You need to be reading all of the time. You should always have a book that you're reading." Do you know Frog and Toad? There's a lot of looking back and being like, "Oh, in retrospect, many of the characters that we loved as children are pretty queer-coded," just because so much children's entertainment is meant to be campy and over-the-top. Like, Ms. Frizzle [from The Magic School Bus]? Come on. I'm like, "Well, we've never met a Mr. Frizzle."
Matthew Jacobs is an entertainment editor at Thrillist. Follow him on Twitter @tarantallegra.