Mad Men's token Brit talks old fashioneds and new movie roles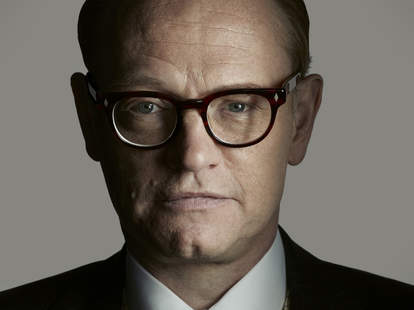 [Editor's Note: Major Mad Men Season 5 spoilers ahead. If you plan on watching the DVD skip to the photo of Lane looking introspective while sitting in a booth. You'll know it when you see it.
This past season, fans of Mad Men were thrilled to see its resident Briton, Lane Pryce, beat the white out of office weasel Pete Campbell... then they were bummed to find him hanging, dead, from his office door
Lane may have floated on up to that big ad agency in the sky -- just kidding, if you're in advertising, everyone knows you're going to hell -- but the actor who played him is doing just fine. Jared Harris' final season bagged him his first ever Emmy nomination, and in November he'll play Ulysses S. Grant in Steven Spielberg's star-studded Lincoln
In anticipation of the DVD release of Mad Men: Season Five, Harris talked to Thrillist about his drinks of choice, what he really thinks of his castmates, and two restaurants from his hometown that you shouldn't miss
Photo Credit: Ron Jaffe/AMC
If you're visiting London and want some pasta...There's a good Italian restaurant called Lucio. [Check it out here.]
Prefer a California roll?There's a great sushi place, Roka. [Book your spot now.]
The original cocktailI love an old fashioned. The best old fashioned I've had is at Seven Grand [in downtown Los Angeles]. They make all those classic cocktails in the original style and they don't shortcut any of the steps. I've also gotten very fond of the Hemingway, I have to say. There are a couple places in L.A. that do it very well. I love cocktails
Photo: Seven Grand
Emmy nomination day drink of choiceWe had a bottle of wine -- I was in Wales visiting a friend of my father's and I don't remember what it was, but it was red. It was a sunny afternoon and we sat outside and toasted my unexpected good fortune.
The Mad Men poker table hierarchyVinny [Vincent Kartheiser, who plays Pete Campbell] is the best, I would say. Like any poker player, they only ever tell you about their winnings, but I do okay. It's good-natured, it's good fun. The most that anyone ever loses is a couple hundred
Lane Pryce's defining momentsSending Joan the flowers meant for my wife. The fight with Pete. Getting clocked on the head by my dad. The Playboy bunny. The Jaguar
Photo Credit: Frank Ockenfels/AMC
Other Mad Men characters whose exits hit hardSuzanne, the schoolteacher [played by Abigail Spencer] who Don's about to run away with and he just leaves her in the car! I just can't imagine that poor girl waiting and waiting and never hearing from him again. But she's getting lots of work, so she's fine. I was sorry to see Michael Gladis [who played Kinsey] go because I really got on with him. Sal was a great character; I think everyone was surprised at the unexpected end of that storyline
Working on Lincoln with the ultimate method man, Daniel Day-LewisIn terms of how he chooses to work, he only asks that you don't pull him out of character. He doesn't insist you stay in character the whole time if you don't want to. I think the idea is when you interact with him, he asks that you respect the way he works and he'll respect the way you work. And you can't argue with it -- he's astonishing
Photo Credit: Ron Jaffe/AMC
Mad Men: Season Five is available on DVD and Blu-ray now. Lincoln hits theaters on Friday, November 9. Check out the trailer below: