Every Way Jared Leto Tormented His 'Suicide Squad' Co-Stars as Joker
Jared Leto is a "method actor." To better understand a character, he does everything in his power to become the character. In Chapter 27, he gained 60lbs to play John Lennon's murderer, Mark David Chapman. For his Oscar-winning role in Dallas Buyers Club, he lost 40lbs and shaved his entire body to play an HIV-positive trans woman. To play a drug addict in Requiem for a Dream, Leto hung out with New York City junkies and abstained from sex, an especially difficult task for the frontman of Thirty Seconds to Mars.
Leto transformed himself once again for this August's Batman v Superman spinoff, Suicide Squad. His immersion into "The Joker" may be his most devoted work yet. Reports from Will Smith, Margot Robbie, Viola Davis, and Leto's other co-stars detail a nightmarish experience full of pranks and near-psychopathy. For Leto, it was another day in the mental trenches. Here's exactly what went down on the set of Suicide Squad:
Leto avoided speaking to anyone out of character
"I've never actually met Jared Leto," Will Smith admitted on Apple Beats 1 Radio in October. "We worked together for six months and we've never exchanged a word outside of 'Action!' and 'Cut!'"
His day-to-day demeanor almost made Viola Davis resort to mace
Davis also never met the "real" Leto either. Instead, she met a guy she wanted to pepper spray in the face. "It got so crazy that there were times during filming that I had heart palpitations -- not only heart palpitations but at one point I said, 'Did I suffer from hearing loss?'" We can't even begin to understand what that means.
He couldn't stop laughing on set.
Karen Fukuhara, who plays Katana in Suicide Squad, claims that Leto never responded to her questions or greetings on set. "Everything [was] like, 'Ha. Ha. Ha. Ha. Hi, pretty.' I'd be like, 'Hi, I'm Karen,' and he'd be like, 'Haaaa.'"
He sent Smith a box of bullets and a letter
"Jared went 'full Joker,'" Smith told E!. "And the rule is never go 'full Joker.'"
He sent Margot Robbie a love letter and a rat
"At first I was like, 'This is disgusting,'" Robbie said on The Tonight Show. "It jumped out at me, so I got a fright and got off to a rough start." Despite co-stars urging her to dispose of the animal, Robbie gave it a home tricked out with a rat-sized playpen, slide, and hammock. She also bought a leash in order to walk the rat on set, which Jared Leto probably loved. The rat now lives with director Guillermo del Toro, apparently.
He sent Adewale Akinnuoye-Agbaje "sticky Playboy magazines"
Leto's gifts upset the "Killer Croc" actor in a unique way. "It just wasn't right!" Akinnuoye-Agbaje said. "If you're going to have that kind of party, at least invite the Croc! Don't send me dirty leftovers!" Someone grab Viola Davis' pepper spray.
Everyone received dirty condoms and anal beads
"I did a lot of things to create a dynamic, an element of surprise, spontaneity, to break down any walls that may be there," Leto told E!. "The Joker is someone who doesn't respect personal space or boundaries." Jared Leto was the Judge-Reinhold-on-Seinfeld of Suicide Squad.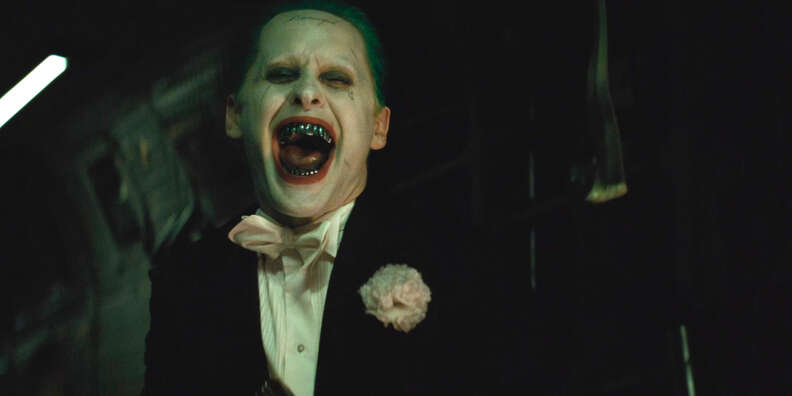 On his day off, Leto shipped a video message and a dead hog to set
"Basically, what he said was, 'Guys, I can't be there but I want you to know I'm doing my work as hard as you guys,'" recounted co-star Adam Beach. After the gang played the message, one of Leto's "henchmen" dropped a dead pig on a table. "It blew our minds away," Beach said. "We realized that day: this is real." Holy hell.
Leto met with psychiatrists and emulated their most damaged patients' quirks
"You don't know what the Joker is going to do next; you never do," he revealed to Entertainment Weekly. "It was intoxicating to have no rules." Jared Leto is not a guy you want to get stuck playing five hours of Monopoly with.
Leto gave everyone a dildo and a switchblade when they wrapped shooting
"The wrap gift was his fun way of getting back at all of us," Fukuhara toldEW. "I wanted to keep everything." Warning: Suicide Squad side effects may include an inclination to method act.
He constantly gave birth to himself
Hey, director David Ayer's words, not ours. "He constantly has to give birth to himself; he goes away, he comes back, he shoots, he goes away... The Joker is something you have to be, and you can see how exhausting and painful it is for him to be this character. But you can feel it when he comes to work, the crew feels it, everyone feels it. It's like the birds stop flying. He's fucking terrifying."
He acted like an animal in the dressing room
When Suicide Squad costume designer Rene Fontana first met Leto, he told her up front that he was going to "come in like the Joker." Incredibly, Fontana did not resort to violence. "Sometimes he tried to terrify us, but we're strong women. He was growling at us, and we'd play back."
Leto spooked random city folk with his Joker cackle
"I worked on the laugh walking around the streets of New York and Toronto, and I kinda would walk around the streets and see what laughs would get under people's skin," Leto toldSquawk Box. He's right, really -- if a maniacal laugh can freak out a New Yorker, it belongs in Suicide Squad.
Leto claimed responsibility for the cast's worst memories
During rehearsals, Ayer asked each actor to recall the dark moments in their lives. "We all shared really deep stories about ourselves and our pains and our triumphs," Smith said at Suicide Squad's San Diego Comic-Con panel. "And then on set you thought he was being a nice guy you were trying to share your life, and then in the middle of a scene he throws your childhood trauma back at you and says, 'Dude, the Joker did it.'"
Sign up here for our daily Thrillist email, and get your fix of the best in food/drink/fun.
Matt Patches is Thrillist's Entertainment Editor. He previously wrote for Grantland, Esquire.com, Vulture, The Hollywood Reporter, and The Guardian. He once went method to play Butler #2 in a production of
My Fair Lady
. Find him on Twitter @misterpatches.