Most serious movie buffs have heard of writer/director Jeff Nichols for his indie, critically acclaimed movies Shotgun Stories (2007), with the brilliant Michael Shannon, Take Shelter (2001), starring Jessica Chastain at the beginning of her peak, and Mud (2012), starring Matthew McConaughey at the height of his McConaissance. But those who haven't yet heard his name are about to. On March 18, his sci-fi thriller Midnight Special, about a boy with very special powers, begins its theatrical release. And while comparisons to Starman and ET are inevitable, they don't go much further than bright light coming out of body parts. The movie's a suspense/thriller with chase scenes and shootouts, but at its heart it's about what parents, particularly a father, will do for his child.


With Midnight Special, Nichols finds himself in an unfamiliar place. People may actually see this film, which is positioned to do well not only because of the acting (Michael Shannon stars, as he has in every one of Nichols' films, along with Joel Edgerton, Adam Driver and Kirsten Dunst), the directing, which is fast-paced and gripping, but most importantly, it's the first film for Nichols that has big studio backing. Warner Bros. has taken a chance on the 37-year-old Texan, and he's hoping it pays off. We talked to Nichols about why kids with super-powers are such a popular movie fodder, his "muse," Michael Shannon, what it was like to work with Adam Driver, and how Kirsten Dunst convinced him to hire her.
Thrillist: So what made you want to make this particular film now in your career?
Jeff Nichols: It felt like a natural progression, I had the original idea for the film around Take Shelter. Having made the three films previously, I realized that any success that was attributed to them was because of the personal connections these stories had to me, so I had a lot of this plot laid out, because it's a chase movie, you have point A to point B. But for me the turning point was when I started to understand thematically this relationship in my son and I, and what I wanted to say about it. I knew there was gonna be a father and a son.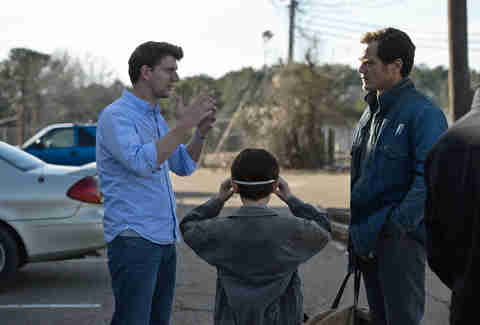 So the real connection for you was the relationship between you and your child?
What happened was when my son was about eight months old and he had febrile seizure. It was a really scary moment, and it definitely kind of shocked my senses in terms of how fragile this stuff is and the lack of control that I have over my son's personal safety and his physical well-being. But if you just start to take that on down the line, I have no real control over who he is as a person or who he's going to be or anything like that, and so if my job as a father isn't to simply protect him, why am I here and what am I doing and why do I feel so -- um, "tortured"'s the wrong word -- but you get up in the morning and you imagine something bad happening to him and it physically made me nauseous. How do you function? You just keep going and realize you have no control over anything.
But even before you had a kids, they were sort of the center of your movies, for example in Mud, Take Shelter, and even Shotgun Stories.
Well in my first film [Shotgun Stories], it was my brothers, because at that age, when I wrote it at 24, you know the most dear relationship in my life, other than my parents, was my brothers, and so I just kind of imagined if something happened to my brothers, and I exploited that in Shotgun Stories, and with Take Shelter, even though there's a child in it, that movie's really about marriage, because I was on the frontside of marriage, I'd just been married, and my wife was about to have a baby. And so there are all the anxieties of becoming a provider and a husband, and everything else. And Mud, that was me as a child.
Obviously there are lot of similarities in this movie, what are the main differences, besides obviously the big studio backing?
I actively tried to pace this movie differently. I don't follow a typical narrative trajectory, what's different to me is cross-cutting action, in Mud it was always from the boy's point of view, that was really important to me and informed my directing style. In [Special] I knew i wanted it to be a chase film so I knew I would be bouncing back and forth between these different parties that are involved in this journey, and also within the scenes themselves, there are shifting POVs. It was really interesting to me to play with POV in the scene, so you're never sure what the characters are doing.
How would you describe your directing style?
Very pragmatic. You know I'm more of a writer than a director, I do a lot of directing on the page, I take these scripts very seriously, I'm aware of changes on the fly, because of what the world gives you on the day of shooting, but if it's not in the script there has to be a very good reason to change it, I'm very pragmatic about the way I lay these things out, and directing seems to be such a hectic experience, that my soul is kind of taken back from going back to the script and saying "ok, pay a lot of attention to this."
I wasn't familiar with his [Adam Driver's] work... sometimes you just have a feeling about people. He's a very smart actor.
That was my other question, you always write and direct? Do you think you would ever do one or the other?
Anything's possible, but I think it would break my heart a bit to write a script and then give it away, they're kind of like my kids.
Let's talk about Michael Shannon, who has been in every movie you've ever made. Would you ever do a movie without him?
Oh sure, you know, but that doesn't mean I want to, I just think he's great.
I think I read him say he doesn't ever want to miss a movie of yours.
I'll say this too, I said this in the press conferences: I'm not shoehorning him into these parts, I really think they're right for him, and that's partly because I write these for him, but even in my next film he's got this smaller part.
You really can't take your eyes off of him, especially in Midnight Special.
He's got something that it's very hard to sum up or give an anecdote for -- the thing I've been saying is that he makes me a better writer, in that I can write less dialogue, if the characters are fully built, knowing he fills in everything that's not spoken
This is a terribly dorky question, but do you ever consider him to be your muse, similar to Uma Thurman and Quentin Tarantino?  
You know, I imagine all this when I'm writing, I imagine what it looks like what the car sounds like, what the clothes look like, I imagine what my character sound like, it's very easy for me to close my eyes and imagine Mike Shannon say these lines, because I know him so well.
How did you choose Adam Driver [who plays a slightly awkward NSA officer in the film]?
Adam, to be honest, came out of a suggestion from the studio. I hadn't watched Girls, and I wasn't familiar with his work, but I got in the phone with him, he was really sweet and he'd seen my films -- he'd even seen Shotgun Stories, and not a lot of people have seen that movie... sometimes you just have a feeling about people. I didn't really know what he was gonna do with the character, out of all the characters it could've been the most cliche, and I talked with him about that, I said I really needed this person to be a real person. There's this one the part of Adam, this very conscious fumbling he does... in the scene I worked with him on, he bumped into this chair and he dropped his book bag, and I yelled "cut" and I was like "ahh this is what he's doing" and it's extraordinarily energetic, none of it's crazy, but I was quite impressed. He's a very smart actor.
And what about Kirsten Dunst [who plays Shannon's wife and the boy's mother]?
We met through her boyfriend, Garrett, she'd gotten her hands on the script, and was kind of lobbying me for the part…. I hadn't seen it that way, with her in it. But she was like, "Let me just show you," and she put it on tape -- which is crazy because she's a movie star -- and she did a whole scene with makeup and her hair in this braid [she plays a former member of a religious cult] and I was very impressed with it. I knew I wanted someone slightly younger than Mike [Shannon], because that's the kind of the makeup of a lot of these South Texas religious ranches. I believed her.
How did you pick Alton's special powers?
That kind of developed organically, I started to think about the way we communicate with the universe is through light, the way we know about stars is because their light travels here, so it felt like an appropriate way to think about worlds, and the eyes are the gateway to the soul, so it seemed like an appropriate place to shoot light from, and I know we've seen it before in other movies, but that wasn't the inspiration for it, it was thinking about this connectivity to this other place, seeing light was an appropriate tool for that.
Alton has a feeling that someone or something is watching him -- without giving away too much of the movie, umm -- what, where, why, huh???
I leave the definitions very broad on purpose, because everyone walks in with their belief systems intact, they're gonna start to apply them to this film. I'll just tell you the story of how it came about: my son had come home from the hospital when he was born, and our house was tiny, but we still felt compelled as first-time parents to put a baby monitor in his room, and I was sitting in bed listening to him breathe, and make noises, and he had no concept that just outside of his conscious world there were two people listening to everything he was doing -- so the idea was that you don't really know what their purpose is, we hint at their benevolence, at least there's some kind of positive vibe coming out of them.
What movies inspired Midnight Special?
I'm a kid of the eighties, so I grew up on Spielberg films and movies like Starman, and it wasn't until I got older and went to film school that I revisited those movies, they're really masterfully constructed. But what really interested me was how it affected me as a kid, their sense of mystery that unspools to this sense of awe, I was really captivated by. I wanted to make a movie like that -- I didn't want to make those movies, but I wanted to make people feel like that.
Why do you think people are drawn to films about "special" or uniquely-gifted kids?
I dunno...it must be some archetype somewhere. It makes sense to me because when you watch a kid grow up, to go from two months old to two years old is an amazing thing, you watch a neurological system develop in front of you. It's an amazing thing to do, that's what I was writing about, this thing developing that you gave birth to.
Midnight Special wrapped in 2014, how does it feel to have it finally see the light of day?
Yeah, it's been sooo long, it feels like I'm taking a splinter out of my brain -- if people like it or don't like it, I just want the journey to be done, I just want people to see it.
This is the biggest budget you've worked with, did that make a difference?
It didn't make a difference really -- every movie I've made seems to cost more than we have. And like Mud, we had the big shootout at the end, and then we pulled it off at the end of filming. [With Special] I feel like there was a shootout every couple of days -- we were flipping a car, doing stuff technically I'd never done before as a director -- I was being kept on my toes. It felt like we were still trying to pull of a lot with not that much.
So, what's your next film, since you always have one in the hopper?
It's a film called Loving, it's set in the south, based on a real story, there's a documentary on HBO about the Loving couple, they're an interracial couple that was married in Virginia in the late 50s and were arrested as a result. It's about them struggling to get home.
Since we know you are loyal to your cast and crew, often calling them your family, are any of the cast from previous films in it?
Yep! Joel Edgerton is Richard Loving, Mike Shannon is Ray Golette, a magazine photographer, Bill Camp plays a lawyer, and another cast member from Special is in it as well.
Do you have any movies you're dying to make but aren't ready to yet? Any passion projects?
I've got about four ideas right now, I'm not sure what to do yet. This is the first time I haven't had the next one done and written yet, so I'm enjoying that. I'm gonna go to the beach this summer and just relax, kind of enjoy, read and fill up the well.