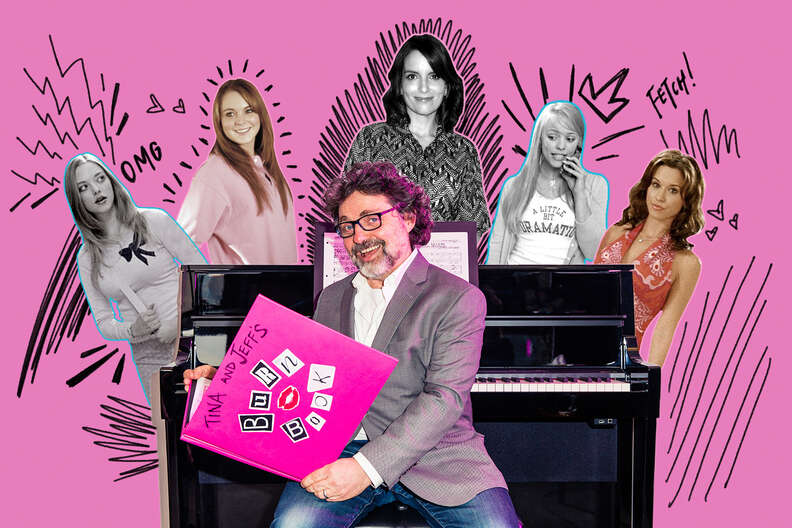 Cole Saladino & Megan Chong / Thrillist
Cole Saladino & Megan Chong / Thrillist
Jeff Richmond Writes the Songs
The hallway leading to Tina Fey's Manhattan production offices is barren, but inside it's a comedy nerd's paradise. In one conference room, the Unbreakable Kimmy Schmidt team is working on the Netflix sitcom's fourth and final season, the first half of which recently premiered. Memorabilia from 30 Rock adorns nearly every wall and, in an especially meta twist, the writers' den here displays the giant, wall-mounted fish seen in the TGS writers' den on that show. And hanging above a piano in some lucky soul's office is signed sheet music from "Just Give a Kidney," the celebrity-filled "We Are the World" send-up from Season 3 of 30 Rock.
The lucky soul is composer Jeff Richmond, a frequent collaborator of Fey who also happens to be her husband. Even if you can't place the name or his face, you've likely heard his music. Not only did he write the aforementioned parodic renal charity anthem and the jaunty theme songs for both 30 Rock and Unbreakable Kimmy Schmidt, he's responsible for such comedic earworms as "Peeno Noir," Titus Andromedon's suggestive would-be pop hit on Kimmy Schmidt; the jingle for the timeless Saturday Night Live fake ad "Mom Jeans"; and "Werewolf Bar Mitzvah," the 30 Rock novelty party song with the lyrics "Boys becoming men / Men becoming wolves" that delights Richmond when I gushingly bring it up. "Dude," he says, "That was a wonderful six seconds of television."
For the most part, Richmond's work has been defined by these blips, but that's changed in the past year. In April, the musical adaptation of Mean Girls, with a full score by Richmond and a book by Fey, opened on Broadway to positive reviews and spawned a very successful cast album. "We both come from a theater background and thought that we'd always kind of try to do this," says Richmond, lounging in a chair opposite a "Burn Book" pillow in Fey's adjacent office, about the decision to bring her oft-quoted 2004 movie comedy to the stage. They are now first-time Tony nominees and the show is up for 12 awards total, including Best Musical.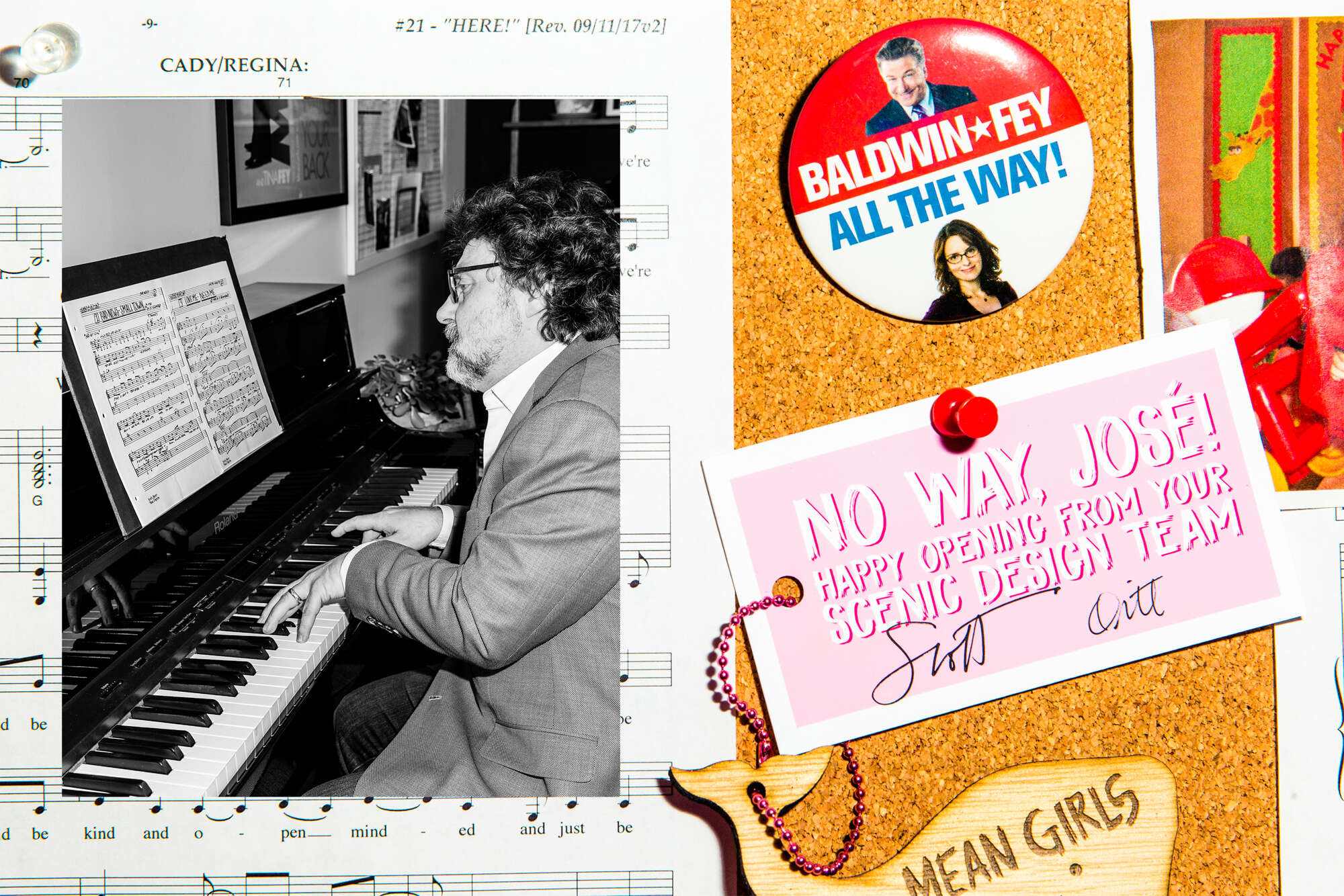 Fey and Richmond have been collaborating since the '90s, when he got a job as the piano player at ImprovOlympic in Chicago. He had moved to the city after graduating from Kent State with dreams of opening up a storefront theater and putting on his own shows, like Lobo-a-Go-Go, a retro werewolf musical he'd first staged in college and put up in Chicago to rave reviews. He divided time between a children's theater company -- where he devised an all-pig version of Hamlet that eventually evolved into an Off-Broadway show -- and the improv and sketch scenes, where he would accompany long-form teams. "[You're] underscoring scenes and transitioning them and helping them remember little themes that you set up to help call things back that they had set up earlier," Richmond explains.
During this time, Fey and Richmond, who had become mainstays at Second City, bonded over the Guys and Dolls and The Music Man cast recordings, as well as their love of the Jerky Boys. When Lorne Michaels and SNL came calling for Fey in 1997, Richmond initially stayed behind, continuing to direct at Second City, but he occasionally popped out to New York to visit and perhaps do a bit for Late Night With Conan O'Brien. When longtime SNL musical director Cheryl Hardwick left, Richmond saw an opportunity, one which he initially didn't get, but he was hired in 2001, the same year he and Fey married. "The replacement person had to go through this terrible eight-month transition where it did not work out," he says. "I looked like a ray of sunshine at that point."
SNL writers are quick to relay stories of the long nights spent revising sketches, and the scenario was similar for Richmond. He would be handed lyrics in the wee hours of the morning and asked to turn those into, say, a ballad for Jack Black about King Kong. "You're taking these words that don't scan and you're trying to shape them into being songs," Richmond remembers. "They say it's got to be this style and you go like, 'I've never even heard of that style.'" But even that pressure cooker could not prepare him for the experience of bringing Mean Girls to the stage.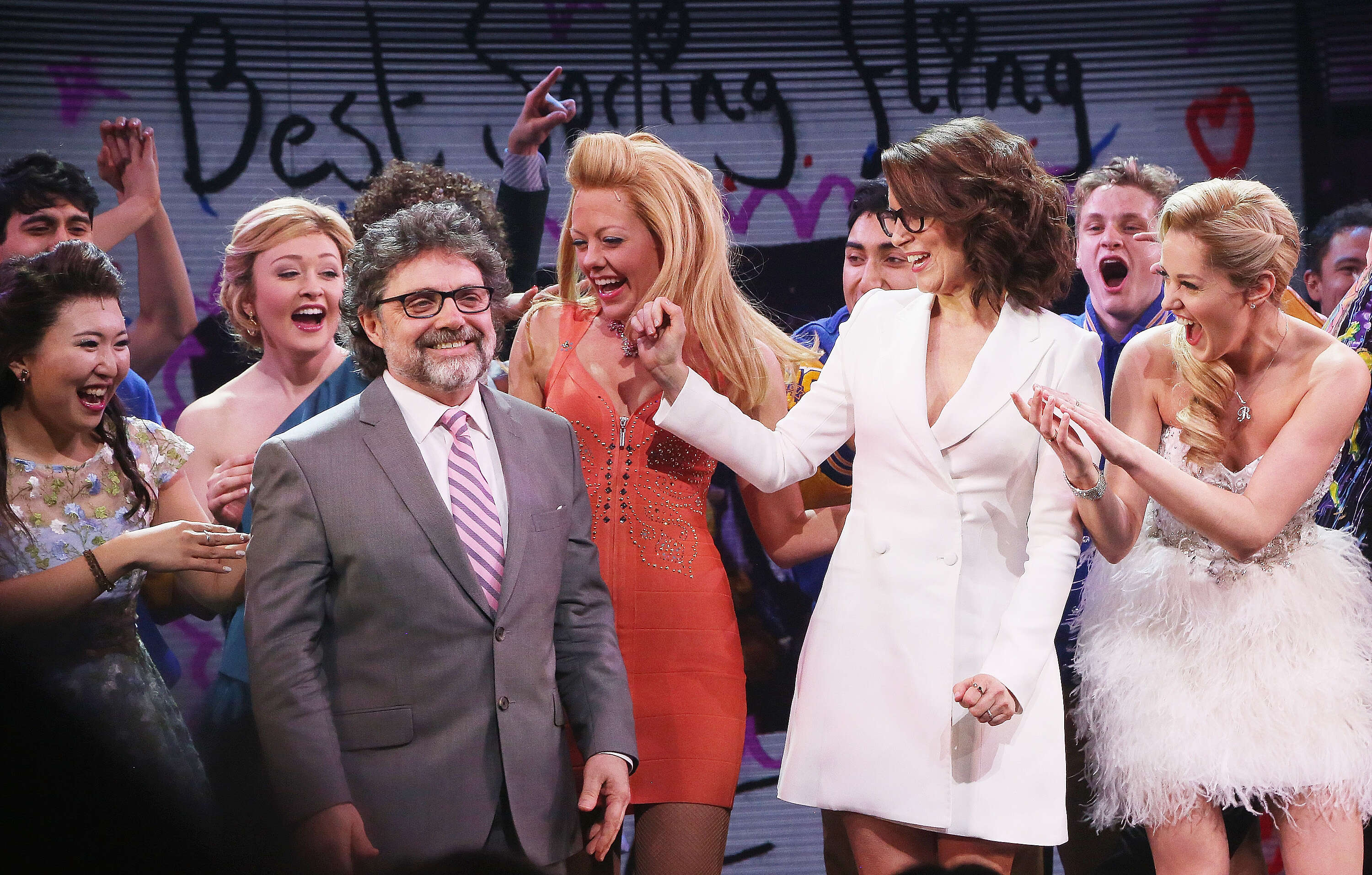 The musical version of Mean Girls is alternately silly and biting, its primary colors and big dance numbers often giving way to a hint of evil just beneath the surface, just the way Regina George, the catty alpha character played by Rachel McAdams in the movie and Taylor Louderman in the Broadway production, would like it. The songs add a buoyancy to Fey's narrative about previously homeschooled Cady Heron (Lindsay Lohan in the movie, Erika Henningsen on stage), who moves from Africa to suburban Illinois and learns about the nasty anthropology of high-school teen girl culture. When Richmond and Fey initially started meeting with the team they assembled -- including Book of Mormon director Casey Nicholaw and Legally Blonde lyricist Nell Benjamin -- the word that came up to describe the score's potential was "quirky."
Richmond isn't exactly sure what that meant, but he has a guess. "I write a lot of eclectic styles just because of my background and what I do [so] it was going to be a quirky grouping of styles," he says. "It was going to be whatever each character was going to need to voice their points of view." So that means Cady gets a lot of cheerful, earnest songs, like the opening number "It Roars"; Regina gets to purr and belt out her seduction ballad "Someone Gets Hurt" like Celine Dion with a bad side; and Janis -- the art freak (played by Lizzy Caplan in the movie and Barrett Wilbert Weed in the show) who befriends Cady and enlists her in a plot to take down Regina -- gets to rock out to a feminist anthem "I'd Rather Be Me." It's Richmond's adaptability that impressed Nicholaw, who, after South Park's Trey Parker and Matt Stone, is no stranger to working with TV interlopers. "What I love the most is that he was that he was able to create a different sound for each character," Nicholaw says. "And still make it feel like a whole."
Richmond wasn't attempting to make radio-ready pop. If anything, Mean Girls' sound is one of the most traditionally musical theater currently on Broadway, harkening back to Richmond and Fey's love of the classics. What he was doing wasn't simple, however, Benjamin notes. "Jeff put a kind of complexity and a very personal stance to his music that makes it more than just a take-off on a musical theater number," she explains. "It is as funny as can be but he's not relying on parody he really is making incredible tunes and incredible music." She praises Regina's sexy torch song, in which she goes after the object of Cady's affections, Aaron Samuels. "Jeff was like, 'She needs to be a Bond villain,'" Benjamin says. "Her song should not be pop, it should not be rock, it should have that symphonic danger." Richmond's concept: Adele singing "Skyfall."
That was one of the five songs put in the show in between Mean Girls' out-of-town tryout in Washington, DC, at the end of 2017 and the Broadway debut. Another was "Stop," now the second-act opener, a tap number for Damian, Cady's self-appointed spirit guide through high school (played by the Tony-nominated Grey Henson). "We knew that we wanted it to be something in musical theater and Tina and I with Nell really wanted it to be a true comedy song," says Richmond. For example, Damian references Cole Porter's Anything Goes -- both lyrically and musically -- as he coaches Cady to stop sending ill-advised texts.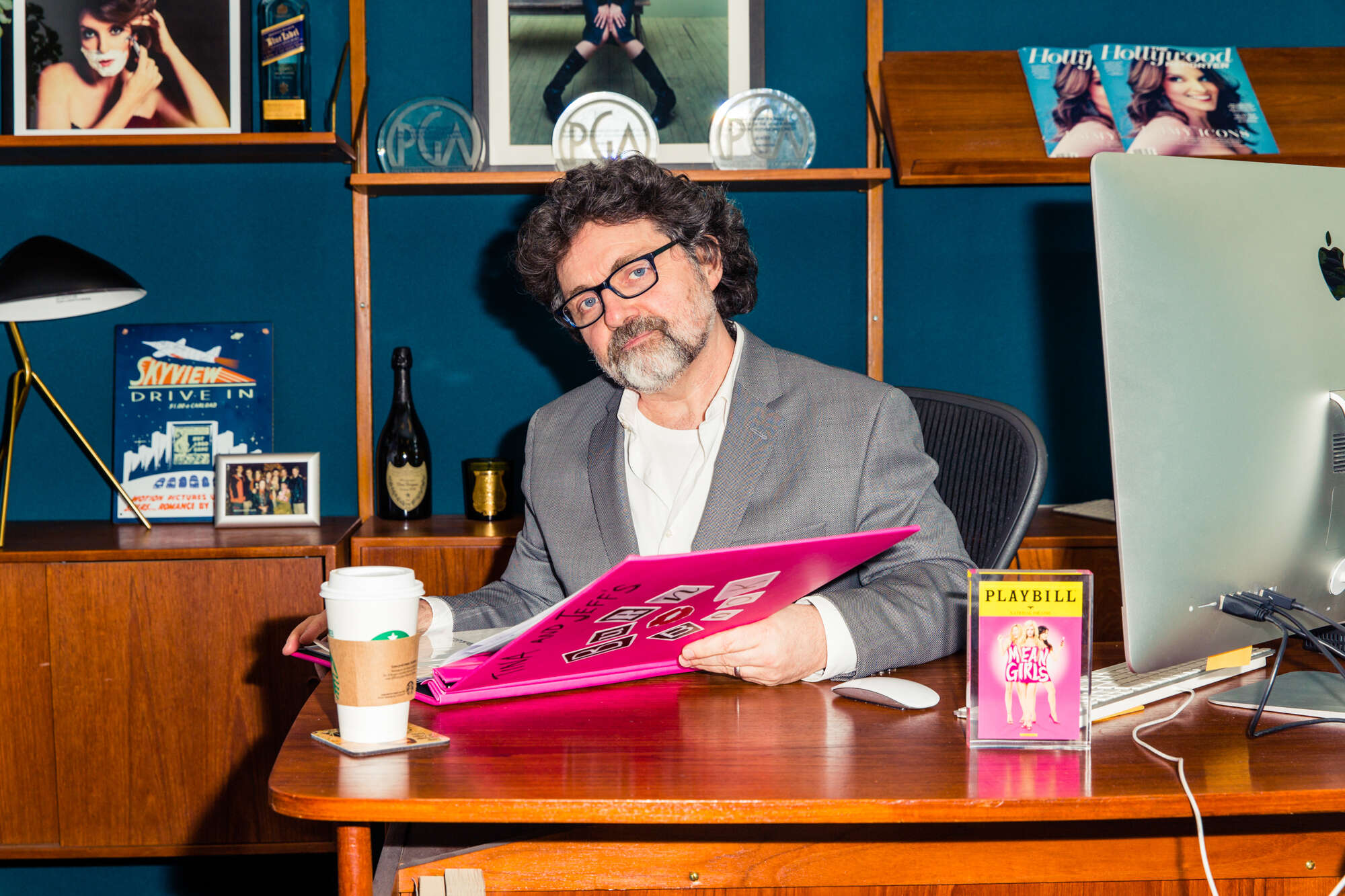 Richmond speaks in vague terms about how he and Fey work together, but in Benjamin's experience, they don't disagree all that much because their comic sensibilities are so similar. "The only sort of frustrating part is they are so funny and fast with each other," Benjamin adds. "You are sitting there unable to compete with the banter that's happening between them. It's literally being like plopped down at the Algonquin Round Table."
Richmond says he and Fey trust each other to tell the other when something isn't working or when something will certainly work. He remembers a moment of doubt in Mean Girls. Fey had in the script a moment where Regina is cheating on Aaron with the school's hot mascot Shane Oman in a lion mascot suit -- quite literally. The gag is that the actor playing Shane comes out on stage with an extra person hidden in the suit with him during the montage-like song "Revenge Party," in which Cady and Janis plot Regina's destruction. Suggestive thrusting ensues.
"The first time I saw it on stage I was like, 'Oh, this is not going to work,'" he says. "She said, 'No, it's going to work, it's going to work, it's going to work. 'Then in front of an audience it kills. That whole sequence kills. It kills enough that we can actually land a huge musical number around it to get to an end of a song. If we hadn't trusted that moment I don't know how that song would have ended." Now that's collaboration.
Sign up here for our daily Thrillist email and subscribe here for our YouTube channel to get your fix of the best in food/drink/fun.
Esther Zuckerman is a senior entertainment writer at Thrillist. Follow her on Twitter @ezwrites.