Jimmy Kimmel Delivers a Tear-Filled Monologue About His Newborn Son's Heart Surgery
Late night monologues don't typically make you cry. But last night, Jimmy Kimmel used the beginning of his show to tell a moving story about his son William, who was born on Friday, April 21 and underwent an emergency surgery to correct a dangerous heart condition. "I'm sorry, I try not to get emotional," he said at the beginning. "It was a scary story. But before I get into it I want you to know it has a happy ending."
Fighting back tears throughout the monologue, Kimmel explained to his audience that when his wife gave birth to the couple's second child they first thought everything was fine with the baby. But about three hours after the birth, while in a recovery room at the hospital, a nurse noticed that the baby had a heart murmur and that his color was off.
After a series of specialists examined William, they discovered he had a heart disease, and last Monday he underwent surgery at the Children's Hospital in Los Angeles. It was a success -- Kimmel showed a few pictures of his family as part of the monologue -- but it's also the first of multiple procedures he'll face in his life.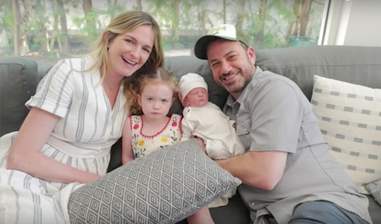 Jimmy Kimmel Live/YouTube
After thanking his family, friends, co-workers, and the medical staff at the hospital, Kimmel used the opportunity to make a broader political point about health care in America. He noted that President Trump recently proposed a $6 billion cut to the National Institute of Health, which would have hurt children like his son who suffer from pre-existing conditions. "Thank God that our Congressmen made a deal last night to not go along with that," he said, noting that they actually raised funding by $2 billion.
"We were brought up to believe that we live in the greatest country in the world," said Kimmell. "But until a few years ago, millions and millions of us had no access to health insurance at all. You know, before 2014, if you were born with congenital heart disease, like my son was, there's a good chance you'd never be able to get health insurance because you had a pre-existing condition."
"If your baby is going to die and it doesn't have to, it shouldn't matter how much money you make," he said as his voice broke. "If you're a Republican, a Democrat, or something else, we all agree on that, right?"
At the same time, this was still a late night monologue: there were jokes about his daughter, his band, and a reference to his long time Hollywood rival. ("Even that son of a bitch Matt Damon sent flowers," he quipped.)
As a host, part of Kimmel's appeal has always been that he draws you into his family -- making characters out of Cousin Sal, his Uncle Frank, and his doting mother -- and last night he once again used the giant entertainment apparatus of a talk show to provide an intimate glimpse into his life.
You can donate to Children's Hospital Los Angeles here.
Sign up here for our daily Thrillist email, and get your fix of the best in food/drink/fun.