Netflix's Supernatural Teen Drama 'Jinn' Is Like a Middle Eastern 'Twilight'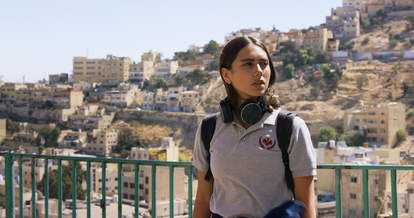 Preternaturally attractive teenagers and ancient powers collide in Jinn, the first Arabic-language series to premiere on Netflix. The five-episode show -- created by Mir-Jean Bou Chaaya, Elan Dassani, and Rajeev Dassani -- follows a group of Jordanian high school students whose lives are beset by the jinn, supernatural forces, after a school trip to Petra goes horribly wrong, leading to the mysterious fatal fall of one of their classmates. It's a tantalizing premise and Jinn could simply offer viewers a Middle Eastern spin on the tropes of teen supernatural dramas seen in the likes of Buffy the Vampire Slayer or Teen Wolf. Sadly, Jinn, which feels like it could have taken place anywhere, is so generic, it seems plausible that it was scripted by algorithms rather than humans.      
The concept of the jinn, spiritual beings that are a mainstay in both pre-Islamic folklore and Islamic mythology, present near-unlimited thematic opportunities for a TV show: the clash of the modern with ancient forces; the juxtaposition of pre-Islamic indigenous knowledge and Islamic doctrines; the idea of jinns possessing bodies as a very broad metaphor for puberty (always look to Buffy for ideas!); and the fears of historic evils coming back to haunt contemporary Jordan, for starters. Jinn unfortunately opts for a warmed-over version of Twilight, but in laying out the rules and limits of its supernatural universe, is even more confusing than the Stephanie Meyer series.   
In Jinn, the protagonist, reclusive cool girl Mira (Salma Malhas), unwittingly summons an other-worldly protector in the form of the smoldering Keras (Hamzeh Okab). He supplies her with Edward Cullen-esque platitudes about her ability to save everyone and believing in herself. Meanwhile, Mira's classmate, the troubled and bullied Yassin (Sultan Alkhail), has similarly attracted Vera (Aysha Shahaltough), a jinni with nefarious intentions. Unless they act immediately, evil jinn will be unleashed upon the world.
Netflix
The biggest question about Jinn is which audience it aims to serve. Non-Arab audiences already have a long list of supernatural teen dramas they can turn to for the reckless endangerment of teenagers. The first episode of Jinn plays out like a Petra travelogue for Westerners (although some of the show's panoramic shots are stunning), hawking the "exotic" Middle East while dropping in on our core group of teens behaving badly and tacitly promising that nothing is going to be that different from other TV teens. The Dassani brothers, who pitched the show's concept to Netflix, are Indian-Americans. Elan Dassani emphasizes that they were driven by a desire to show that "Arab teenagers are just like teens around the world."
If Jinn is meant for Middle Eastern audiences, it fares worse. There are no lead hijabi characters and religious identity is non-existent, which is strange for a show that tackles a supernatural creature omnipresent in Islamic texts. Worse, the show's dialogues are leaden and awkwardly translated from the English despite Lebanese director Mir-Jean Bou Chaaya's creative input (in addition to being a co-creator, he directed three of the show's episodes). In a telling comment about the show's muddled cultural lexicon, Rajeev Dassani noted the influence of the show's largely teen cast: "They're actually doing their own translations of the dialogue," he told Al Arabiya. While the word "authenticity" is fraught with contradictions, Jinn is shorn of almost any cultural specificity that might imbue it with some life. Its version of Jordan feels as imaginary as Agrabah.  
In the same way that the Mormon subtext in Twilight is buried, shows set in the Middle East shouldn't have the burden of overtly representing topical issues. Yet if Jinn's purpose was to humanize Arab teens, it needed to let us in on a diverse range of contemporary hopes and aspirations. Instead, all of its characters are ciphers in service of its plot rarely moving out of their one-dimensional American teen drama tropes. Even the deadbeat step-dad with his tattoo sleeve and copious alcohol consumption is a recognizable cliché. If Jinn was at least successful in its tropes, the threat of the jinn wresting control of these teenagers' bodies and replacing them with a malevolent new personality -- Invasion of the Body Snatchers style -- would be taken more seriously. Instead, you'll reckons that personality transplants are exactly what some of these characters need.
Netflix
In October last year, Netflix released Elite, a Spanish TV drama that follows a group of privileged and poor teenagers at an elite Spanish prep school. Elite has its fair share of cliched, albeit satisfying, soapy thrills, but it is also extremely astute in its handling of Palestinian-origin brother-sister pair, Nadia and Omar, played to great effect by Mina El Hammani and Omar Ayuso. The show emphasizes their distinct personalities, dual cultural struggles, and burgeoning sexuality without ever othering their parents as orientalist caricatures. It's strange that a show produced in Spain could be sincere about the conflicts that can arise between faith and teenage revelry. That said, even verisimilitude doesn't matter if a show is sure about what it wants to say. Consider Sex Education, another Netflix teen drama from Britain. Moordale High seems like a portal to the West, but the show uses its unrealistic school setting to illustrate bawdy and moving lessons about sex and bodily autonomy.             
All Jinn has is its 'Arab teens behaving badly' novelty, a contrast to the moralistic Arab soaps Middle-Eastern audiences are used to. The show has raked up controversy in Jordan with its depiction of teenage sexuality, drug and alcohol use, and coarse language. It even attracted the ire of Amman's public prosecutor who petitioned Jordan's national cybercrimes department to remove the series from Netflix due to its "immoral scenes." Many users on social media have similarly denounced the series for its brazen portrayal of sexuality, and the series has been heavily downvoted on IMDB with a 3.4 rating. At the same time, many in the government, including Ali Bin Hussein, the half-brother of King Abdullah II, have staunchly defended the show and Netflix's freedom of speech. Yet this level of public controversy is only a testament to Jinn acting as a cultural barometer of views on morality and women's sexuality. Its cultural cachet is starkly disproportionate to anything that happens on the show.
The show's only memorable exchange happens in Episode 3 when Vera narrates a tale to Yassin. "A long time ago, there was a girl. She had no friends. She was living in an unfair world and she couldn't fit into such a world where some individuals persecuted others and exploited them in the name of the law. And that was enough. She decided it was enough." For a brief moment, I was reminded of the pleasurable political acuity of folktales. But by Jinn's end, unraveling on a series of twists, my interest had vanished in a puff of smoke.