John Mulaney on How He Pulled Off His Zany Netflix Children's Special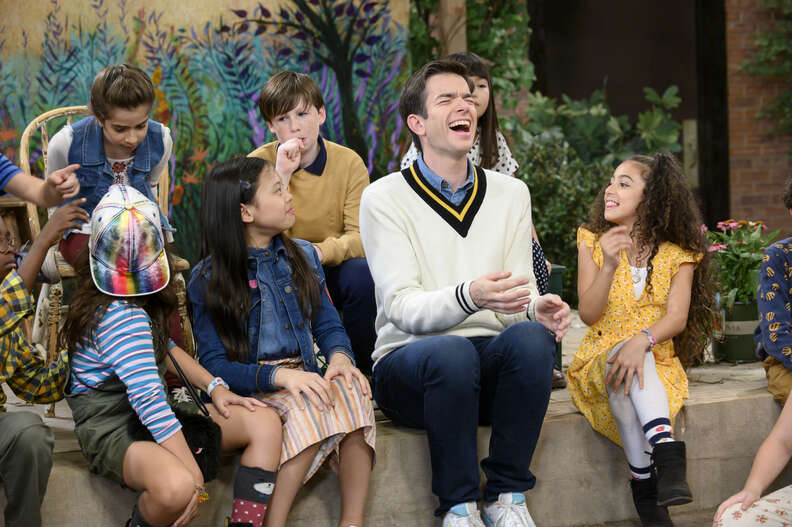 John Mulaney will readily admit that it's not easy to succinctly describe his new Netflix special, John Mulaney & The Sack Lunch Bunch, out December 24, but I'll give it a go. It's an homage to children's TV of yesteryear -- think early Sesame Street or Free to Be You and Me -- featuring Mulaney and a bunch of celebrity guests alongside a cast of singing and dancing kids. There are jokes about Fran Lebowitz and Larry Hagman, but the show is not ironic nor is it exclusively aimed at adult readers of the New Yorker. At one point, David Byrne makes a papier-mâché volcano. Richard Kind hosts a segment called "Girl Talk." Jake Gyllenhaal appears at the very end to have an onscreen breakdown. Mulaney and co-writer Marika Sawyer interview the kids (and adults) about their deepest fears, and somehow it all ends up being about mortality and the questions no one is ever really able to answer. Anyway, it's great.
It all makes sense if you've been following Mulaney's work for the past couple of years. In his stand-up, he's explored the mysteries and terrors of childhood. See, for instance, his bit about Detective J.J. Bittenbinder in Kid Gorgeous. He's made his obsession with musicals and New York ephemera known in bits like the "Diner Lobster" Saturday Night Live sketch and the "Original Cast Album: Co-op" episode of Documentary Now!
I got on the phone with Mulaney mainly to ask him "how" and "why" and we ended up talking about how the special is a kindred spirit with Cats.
Thrillist: That this special even exists feels like a miracle in a way.
John Mulaney: In more ways than one, yeah.
How did you get the idea for this?
Mulaney: I don't know if I had the idea to do the finished project. Or rather, I did, but I wouldn't have been able to sum it up as such. It turned out above and beyond what I'd hoped, and also what I had somehow envisioned but not been able to articulate. I take no credit for saying it went above and beyond. It really was a huge group effort between our director, Rhys Thomas, and Marika Sawyer, who co-wrote everything with me, and Eli Bolin, who did all the music. I would say I had an idea to do some kind of eclectic, I guess, variety show, though that term applies to so many things. I wanted to do something presentational but not a sketch show. I wanted to both interview kids a little but also have them perform things I had written exactly as I wrote them. A few times I've talked to kids around the age of 10 or 11, they are very matter of fact and they kind of talk like adults if you really listen to what they are saying. It wasn't like I was crotchety about this, but I thought that a lot of kids shows were written in an "oh, that's gross" kind of way. I thought across the board the tone would be a conversation among equals, me and a group of kids, and from there the influences of Sesame Street and Free to Be... Youand Me brought us to the music. I don't recall what came first. I do know that I thought, No one's done this, not as a parody. That's the slimmest sliver of articulation I can bring to this. It was a lot of telling people what it wasn't as we were making it. And that is an odd thing to say to a company when you are asking for money. But nevertheless, we made it.
Who is the intended audience? It feels like some of the jokes are made to go over kids' heads, like the pull-away reveal of a People magazine with Larry Hagman on it. I don't assume a 10-year-old would really get that joke. But it does feel like it is speaking to kids on other levels.
Mulaney: Well, it's possible no one will like the Larry Hagman joke. Marika and I were writing kind of for ourselves at age 11. We consumed a lot of kids entertainment and we consumed a lot of general entertainment. Like, The Princess Bride and Little Shop of Horrors and Clue were all movies we watched. I wouldn't say they were for kids. I would say there are references that I always thought were fun. Like [the line] in The Muppet Movie, "Have you tried Hare Krishna?" I thought that was funny as a kid. I didn't know what it meant, but I thought the words were funny. I really didn't want to do things that are this joke's for adults and this joke's for kids. I was hoping to have an even coat of, if you don't know what it means it's a funny picture of a guy in a cowboy hat. If you remember how Larry Hagman's health was constantly in the news, it has some extra resonance.
The special harkens back to New York in the '70s and '80s. One punchline is a kid recognizing the voice of Mandy Patinkin. The promo evoked All That Jazz. What is it about that era and the city?
Mulaney:Sesame Street was always either a West Village or uptown cul-de-sac that they never really identified. I was on the set of Sesame Street recently and in Alan's Store [a.k.a. Hooper's Store], I was looking around and I was like, "Oh, this is a bodega." Up close it was like every single item was a fictional item brand but also jam packed in -- rice, candles, lightbulbs, everything. My basic feeling was, "Who was in things when I was a kid?" And Mandy Patinkin was in Princess Bride. We kind of discussed it like things weren't as catered to us or we had no demands about star power. The sketch about animated movies is [about finding] it funny that they go to such lengths to have every voice done by a very, very big person. I mean, who did the voice of Ariel in The Little Mermaid?
Jodi Benson!
Mulaney: Oh really? Who's that?
Sorry.
Mulaney: I didn't mean it as a rhetorical. I was genuinely asking, but I was surprised that you knew that right away. Who's Jodi Benson?
She was a musical theater person. She had worked with Howard Ashman before.
Mulaney: I knew that. Exactly. Jodi Benson. There are couple moments discussing children's entertainment like that question I asked the group of, "Raise your hand if knowing that Benji the cockatiel is voiced by Mark Ruffalo enhances the movie," and they all raised their hand. Movies when I was younger or whatever, it was that we consumed for whatever reason had just a lot of interesting people in them. As a kid we're like, "Oh, that's Tim Curry, okay." That kind of a nod to the eclectic nature of the people we were familiar with when we were younger.
Did that also influence who you were getting to cameo on the show?
Mulaney: These people are such mega talents that they loom incredibly large in my mind. I also liked that many were from Broadway. Every generation discovers David Byrne again and again. Is this the first time they are seeing David Byrne? That's great. I reached out to Michael Dukakis. He's teaching in the Boston area. I think he might have asked for a script. And, you know, that was kind of dealbreaker for a while. Like, "Well, we have nine songs written and we're putting the through lines together. There's nothing I can send you." I didn't speak to him directly. I did want a moment where he comes over to give me a piece of mail that accidentally got delivered to him that's for me. And I say, "Hey, kids, it's Michael Dukakis." And they would just cheer for 20 to 30 seconds straight. The casting was informed by my life.
Why Michael Dukakis?
Mulaney: Well, I think a lot about him. When I was a kid, I thought, "Who's going to be the president in 1988? Oh my gosh, who is it going to be? These are the two most famous people in the world. And there will never be a time when people do not discuss both of them. And the people who want Dukakis to win love Dukakis so much that, obviously, for the rest of their lives and my life, they will talk about him constantly." I have not found that to be the case. I have a lot of respect for the former governor. I didn't mean it as like an ironic reference. It was just someone who couldn't loom larger in my mind from when I was a kid, and at the same time, as with all presidential candidates who are nonincumbents that lose, we just couldn't be done with them faster. The present time is an exception. But before that we would be like, "I love John Kerry so much. Oh my god, I think about him every day." And then he loses and we just could have moved on faster.
Did the performers have any say in the numbers they were going to be in? Say, for instance, Jake Gyllenhaal's breakdown as Mr. Music, who just cannot figure out how to make musical sounds out of household objects.
Mulaney: I think he only broke down twice in the script. When Jake Gyllenhaal amazingly agreed to do it and once we were on set, we allowed Mr. Music to have far more, uh, trouble. And thank god we did. I told David Byrne the idea for the song and he was like, "When should we meet?" And I was like, "Oh, what are you talking about?" He came over to my apartment. I bought all these snacks that no one ate, and I cleaned the apartment as if he'd be upset if it wasn't [clean] or something. Not that he would. He came over and we played the demo for him and we talked about the song. We talked with André De Shields a lot about his character, about who he was and what he was selling to this kid. I thought, "Well, this kid's never going to not think about algebra again after this." I remember André asking, "Is he a snake oil salesman?" And I said, "No, he's a false prophet who might accidentally save your soul." I pulled that out of nowhere. I had no idea what I was talking about and he nodded. I was like, "Okay, he nodded. That means I said something semi-intelligent." So yes, we worked with our guests. [As for the kids,] I didn't need to tell Orson Hong, who sings "Plain Plate of Noodles with a Little Bit of Butter," that this is an existential dilemma. This is a fun song, but you are terrified. And he just knew that instinctually from the beginning.
The whole special is pretty existential. You interview everyone about their fears.
Mulaney: I guess fears and things related to them, such as regret. I would say nagging, frustrating curiosities. Like, "Do Flowers Exist at Night?" was like, man, I still can't tell you for sure. I know they do. That song is 100 percent pulled from my exact thought process lying in bed as a kid. I remember lying in bed and thinking, "I forgot to check if they exist at night." And just sitting there trying to picture, like, a tulip in the middle of the night and I can't do it. I really did think, some night I'm going to go outside and check if they are there. It really weighed on me.
This is your thought process around what age?
Mulaney: Let's see. I didn't have my own room, but we had moved. So I was probably around 9. We had a little bit of grass and a flower bed in front of our house in the city in Chicago. We might have had tulips. I don't know. I just thought like, "Do they go away in the middle of the night?" I could picture one. I must admit that, at this moment -- other than in a very theatrical, lit, kind of David Lynch way -- I cannot picture a flower in the middle of the night.
I personally related to the song about the white lady crying on the streets of New York having been that white lady.
Mulaney: As have I cried on the streets of New York many times.
How did you come to that observation?
Mulaney: Marika and I talked for hours from March to June about what do you remember [from childhood]? We would talk about that parent that would drop their kids off at school and the car would explode with kids and the mom was really frazzled and the other moms would note that she was disorganized. And knowing as a kid like, "Oh, they think she doesn't have her stuff together." So we were trying to think of observed phenomenon from when we were kids. Not just like, "Oh, what's that?" But kind of, "I really want to know what's happening here." And seeing an adult standing on the street crying still packs a punch even now. That question of, "Why are you crying in a public place?" It's a thing kids certainly do, but when you see an adult not holding it together, it rocks your world in a certain way.
Did you pre-interview the kids? Or were you surprised by the answers they gave about their fears?
Mulaney: We did ask a couple in auditions. In the auditions, they would come and sing a piece of music. Once they had callbacks, they would sing something we wrote. Or we would ask them to sing something as we were working on it in the style. We didn't have that song, "Pay Attention," done yet. [Ed note: That's the number with David Byrne.] But we knew the energy, so we asked Lexi Perkel to sing "You Oughta Know" by Alanis Morissette so we could just get the rage. I remember she came in and she said, "I prepared the song that you asked me to, but just the appropriate parts." And I thought, "Oh my god. I had forgotten." I went, "Right. Of course. I had hoped."
We interviewed them for sometimes like a half an hour. I asked a couple kids about their fears. Then I knew we were going to have that as a spine for the special and talk to both kids and adults about that. So I only asked a couple and then I stopped. We asked them about their lives and their interests and kind of general conversation. There was one fill-in-the blank thing. I didn't want to prompt kids to say darndest things. There was one audition just to see what their spontaneity is, where I said, "Will you finish this sentence: American has a lot of blank?" Some kids said hamburgers and people. [One said] "work to do." It was like, "Wow."
A lot of your recent work has been indebted to musical theater. Why are you latching onto the medium at this point in time?
Mulaney: Well, some people just flat out don't like [musicals]. I actually always doubt that, too. I'm like, "Have you really seen them?" It's not that strange of a medium to me. It's a thing I really love. Our parents took us to most every show that came through Chicago. It was a common thing for me. As with live comedy, when it's good, it's better than anything, in my opinion. I can't think of a really unstoppably good musical I've seen live where the feeling in the room wasn't like, "That's the best thing we've ever seen, ever." Now, if you don't like musicals period, godspeed. I promise you, we're not trying to be niche. It's the most entertaining thing ever.
This is slightly off topic, but how do you feel about Cats? I've been thinking about it a lot.
Mulaney: About Cats? The movie or the musical?
The musical. Everything about Cats.
Mulaney: I think it's hilarious. The first musicals my wife saw were Cats and Tommy. She loved and loves Cats. I hadn't seen it until it came back to Broadway. It came to the Neil Simon a couple of years ago. I was like, "What's it about?" She was like, "I don't know." I've seen it once. If you haven't seen it and you think there's some story to it that you just haven't thought about it, you're wrong. What you see is what you get. It is cats singing about how they are cats. I know there's Macavity and there's the big tire and there are a few moves, but it's basically just cats singing about how they are Jellicle cats. For that reason alone, it's extremely funny to me. I was laughing the entire time I saw it because I remembered how world famous this had been when I was a kid. I'd never seen it but the logo and just the notion of Cats. Cats meant a hit. Maybe some part of my brain was inspired to make Sack Lunch Bunch. To be this committed to this idea is so funny. The amount of work Andrew Lloyd Webber, the amount of time he put into that, and what it is. Every day he got up to work on that. It's like, that alone is I think funnier than any comedy could be.
Thank you so much for all of this and answering my query about Cats.
Mulaney: No, I'm really interested in Cats because, you know, people roll their eyes at it like it's been around a lot. It's like, we've been there done that. It's like, "Have you? Did you see it?" I don't know how the front page of the paper when I was a kid was not "What Is This? What Is Cats?" Everyone acted like it was The Nutcracker. Like, "oh, that old thing." And then it's just pure cocaine.
I just saw the movie and it's the same thing.
Mulaney:Sack Lunch Bunch is an eclectic mix of things. There's a through line but we're not telling a story. And that's very hard to do. For me, it was very hard to every day reexplain to someone new what we're doing. Just the way that I couldn't sum it up in one line. That's a hard thing to do. They've been doing Cats for 30 years now. Doubling down again and again. It's stressful for me. And we had our premiere on the same night as Cats, which was very exciting.
Two wonderfully inexplicable things.
Mulaney: Two inexplicable things by two old friends, me and Andrew Lloyd Webber.
Need help finding something to watch? Sign up here for our weekly Streamail newsletter to get streaming recommendations delivered straight to your inbox.