Why 'Joker' Is the Most Controversial Oscar Nominee This Year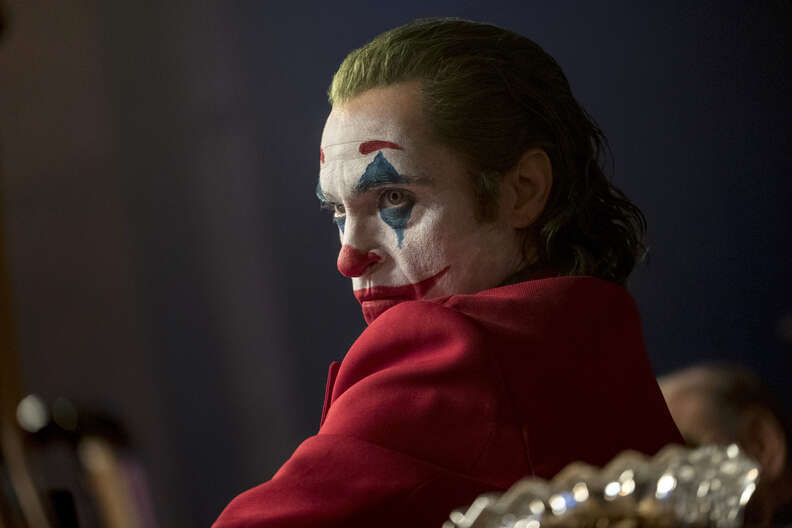 Warner Bros.
Warner Bros.
Prepare for an absolutely chaotic Oscar season. That's, naturally, what the Joker would want, and it figures the Clown Prince of Crime will likely play a crucial role in the race for Hollywood's most prestigious award thanks to Todd Phillips' Joker, an origin story for Batman's most famous foe starring Joaquin Phoenix in the role.
Of course, it's not like the character is a stranger to this scene: Heath Ledger famously and posthumously won a Supporting Actor trophy for his interpretation of the villain in The Dark Knight. But that doesn't make Joker's ascension in 2019 any less surprising. It's still rare that a movie based on a comic property breaks through in this hoity toity arena -- save for Black Panther's great Oscars night earlier this year -- and this one comes from a director not regarded for his, let's say, elevated material. (Phillips is best known as the director of The Hangover franchise.) And for reasons beyond even this, Joker was already shaping up to be the most controversial movie of the fall following its festival premieres in Venice and Toronto. The controversy continued up to and through its release in early October. Now, it's the most nominated film heading into Oscars weekend. Here's what has unfolded.
How did this all start?
Joker's rise began to feel inevitable when the big fall film festivals began announcing their lineups in the late summer and we discovered he'd be popping up in Venice and Toronto -- a clear sign that Warner Bros. was angling for an awards player, given those locales are where the loudest buzz starts to form. There would even be a "special screening" during the New York Film Festival, alongside the likes of Martin Scorsese's The Irishman, in late September. (If Joker is indebted to anything, it's Scorsese's oeuvre, so this is bizarrely fitting.)
The hype started to become real out of Venice with some overly euphoric tweets, but critics like Time's Stephanie Zacharek countered those excited responses with wariness. Both Zacharek and Vanity Fair's Richard Lawson argued that it has an "irresponsible" streak in the way it tells the story of Arthur Fleck, a mentally ill man who ends up turning to violence. Divided reactions are not unusual for a festival setting, but the Venice narrative took a turn when Joker was awarded the festival's highest honor, the Golden Lion, a prize that has gone to Roma, The Shape of Water, and Brokeback Mountain. By the time it screened at TIFF, Joker's Golden Lion had already been announced, making the press and industry screenings a madhouse of people lining up early to see what all this fuss was all about.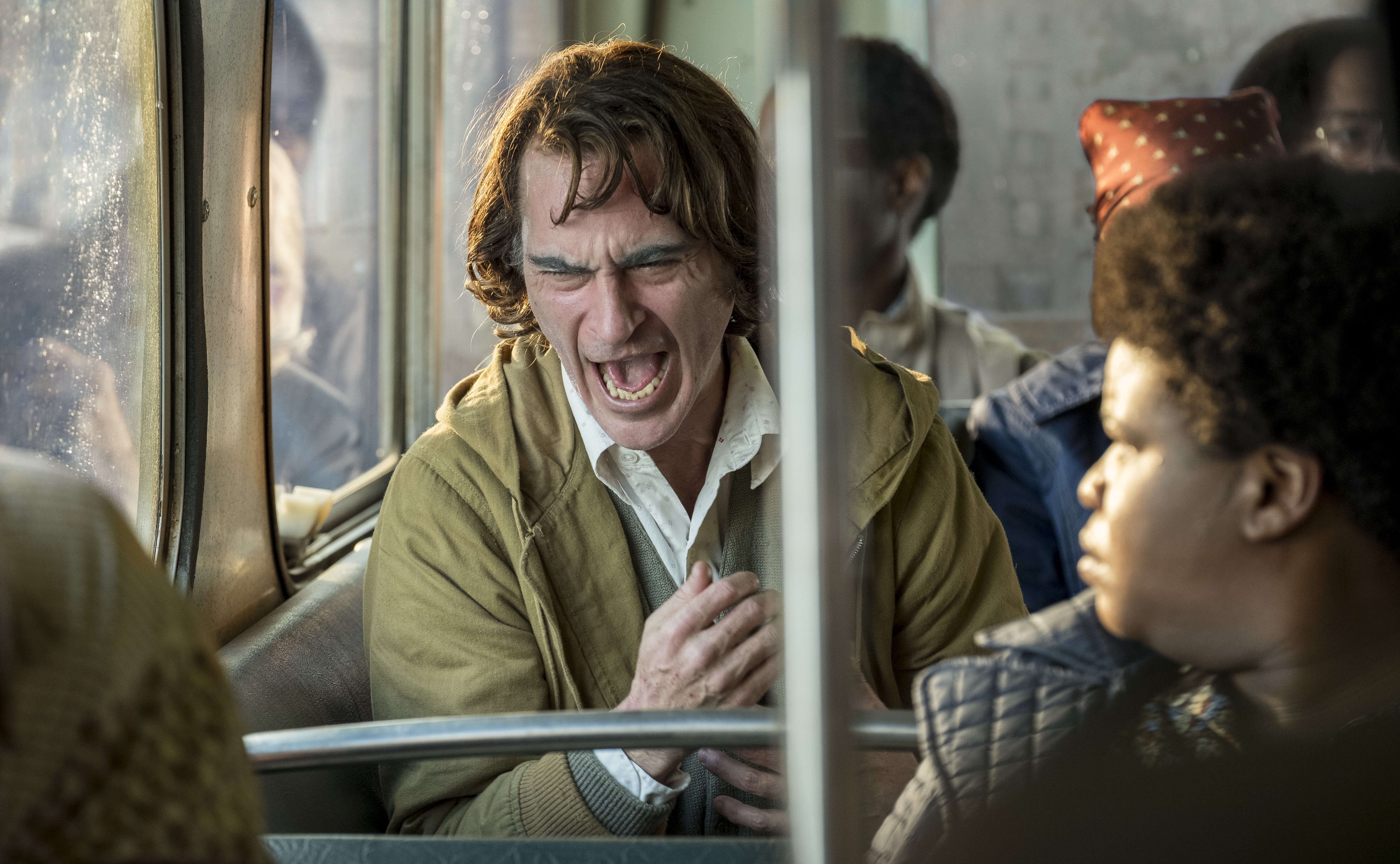 What's 'Joker' even really about?
Attempting to bring a dose of gritty reality to the genre, Joker is relatively straightforward in demonstrating how Arthur goes from sad party clown to leader of a reign of terror in 1970s Gotham. While Phillips has essentially attempted to recreate Taxi Driver's New York, every so often you are thrust back into the realization that, no, it's actually Gotham, home of Arkham Asylum.
We meet Arthur, a wannabe stand-up comedian, after he has been institutionalized for unknown reasons. He has a condition that makes him laugh uncontrollably at inopportune moments, and is treated as a human punching bag by nearly everyone, save for his dotty mother (Frances Conroy). As Arthur suffers injustice after injustice, his anger swells, abetted by the fact that he is denied access to his mental health medications. He's taunted by three douchebag Wayne (as in Bruce) employees on the subway, snaps, kills them, and finds a confidence in that power. From there, he grows further disillusioned, adopts his "nothing matters" ethos, and finds a grim giddiness. (That dance sequence you've seen popping up in all the marketing is an indicator of this, but there is an issue within that too: It uses the music of convicted pedophile Gary Glitter.)
What's the focus of the 'Joker' controversy?
The long and short of it is this: Just how much of a handbook will Joker be for the disaffected looking to see a hero journey for someone who resorts to senseless violence in this era of mass shootings? In presenting Arthur as a "nice guy" at the mercy of a society who does not care about him, does it directly cater to the embittered incel crowd? Just as the Joker, in the end, inspires a wave of violence, could the movie do the same? Telegraph critic Robbie Collin tweeted: "Here is my opinion of Joker: I think it's a very good film and I'm worried someone's going to get killed." To counter, a piece in The Outline readily dismisses "the assumption that violent media breeds violent behavior."
Here's the thing, from someone who has seen Joker: Anything resembling a "message" on screen is deeply confused. Phillips somehow manages to both stigmatize mental illness while still championing Arthur's crimes. The director posits that his brain makes him a monster, while still finding his mania both entertaining and, somehow, heroic. Most of the people he murders are rich jerks! But also, he's bad! Movies don't need to moralize, nor are they forbidden from grappling with murky ethical stances, but Joker isn't nuanced enough to yield thoughtful explorations of any of the themes it teases.
How are people reacting?
In the weeks leading up to the release of the movie, fears and anxiety surrounding it and its potential to incite violence have only grown. The US Military sent an email to service members (which you can read in full at io9) warning of a "potential risk" based on social media chatter. "Posts on social media have made reference to involuntary celibate ('incel') extremists replicating the 2012 theater shooting in Aurora, Colorado, at screenings of the Joker movie at nationwide theaters," the email read. "This presents a potential risk to DOD personnel and family members, though there are no known specific credible threats to the opening of the Joker on 4 October."
Meanwhile, according to Variety, family members of the victims of the Aurora shooting addressed a letter to Warner Bros. CEO asking the company to "use [its] massive platform and influence to join us in our fight to build safer communities with fewer guns." The group wrote: "When we learned that Warner Bros. was releasing a movie called 'Joker' that presents the character as a protagonist with a sympathetic origin story, it gave us pause." (It's worth noting that Aurora gunman James Holmes never called himself "the Joker," despite initial reports that was the case.) WB responded to the Aurora letter in a statement assuring its anti-gun violence practices and adding: "Make no mistake: neither the fictional character Joker, nor the film, is an endorsement of real-world violence of any kind. It is not the intention of the film, the filmmakers or the studio to hold this character up as a hero."
Both the NYPD and LAPD reportedly increased presences around theaters in light of Joker-related worries. The departments also respectively noted that there are no "credible threats" despite the precautions. And the police presence did not keep people away: Joker made $96 million, domestically, during its opening weekend setting a new October box office record. It continued to make absurd amounts of money, and by late October it became the highest grossing R-rated movie of all time, beating Deadpool. As time went on the fears of violence started to seem a little overblown, but the obsession with Joker only grew in weird directions. The Bronx stairs where Arthur triumphantly dances became a tourist attraction, starting debates around gentrification.
What do the filmmakers have to say about this?
Early on, at the Venice press conference, Phillips was wishy-washy about his intentions. "You hate to define it for people, what it is, and it's certainly not a political film, I mean for some people," he said. "It just really depends on the lens on which you view it through." Meanwhile, Phoenix, told the New York Times: "However you want to talk about it, dude, that's on you as a journalist." But both of their "it's up to you" stances have been challenged as the movie rolls out nationwide -- it hits theaters October 4 -- and Phillips, especially, has grown defensive. In an interview with the Associated Press (via Indiewire) he questioned why a movie like John Wick 3 doesn't get held to the same criticism: "The one that bugs me more is the toxic white male thing when you go, 'Oh, I just saw John Wick 3.' He's a white male who kills 300 people and everybody's laughing and hooting and hollering," he said. "Why does this movie get held to different standards? It honestly doesn't make sense to me." Of course, while the John Wick movies do feature a lot of violence, the character of John Wick is also not seen as an avatar for the disaffected the way the Joker is characterized in Phillips' work. Phillips similarly seemed off-base when he compared the controversy surrounding his film to, say, conversation around Spike Lee's Do the Right Thing in an interview with IGN. In an effort to mitigate more questions about Joker's content, WB did not allow interviews on the red carpets for the movie's LA and New York Film Festival premieres. During an NYFF conversation, Phillips argued that the film's take on violence is "responsible." He said: "Isn't that a good thing to take away the cartoon element of violence that we've become so immune to? So I was a little surprised when it turns into that direction, that it seems irresponsible because to me it seems actually very responsible to make it feel real and make it that weight."
Has Todd Phillips said anything else?
He sure has! On comment that's received a healthy bit of derision is his assessment that it's too hard to make comedies right now because people are just too darn sensitive. (Please note my sarcasm.) "Go try to be funny nowadays with this woke culture," he said in an interview with Vanity Fair for the magazine's Phoenix profile. "There were articles written about why comedies don't work anymore—I'll tell you why, because all the fucking funny guys are like, 'Fuck this shit, because I don't want to offend you.' It's hard to argue with 30 million people on Twitter. You just can't do it, right? So you just go, 'I'm out.' I'm out, and you know what? With all my comedies—I think that what comedies in general all have in common—is they're irreverent. So I go, 'How do I do something irreverent, but fuck comedy? Oh I know, let's take the comic book movie universe and turn it on its head with this.' And so that's really where that came from." That statement has been met with widespread scoffs given how it implies that the only way to be funny is to offend marginalized groups. (Newsflash: There's plenty of comedy that has nothing to do with punching down, unlike, say, The Hangover Part II.) Other directors including Taika Waititi of Jojo Rabbit and Lulu Wang of The Farewell criticized Phillips' argument on Twitter.
How many Oscar nominations did it get?
A lot! Joker received 11 nominations, the most of any film in the running this year. That's not a guarantee for a best picture win though. Right now, it seems like Joker will lose out the biggest trophy of the night to either Parasite or 1917, but it won't come away empty handed. Joaquin Phoenix seems like a lock for Best Actor, having collected every major precursor trophy. In a move that directly countered some of Phillips' earlier flippant comments, Phoenix has been using his time at various podiums to speak out on cultural matters of importance to him. At the BAFTAs he gave a speech calling out the "systemic racism" that keeps people of color out of the running for these awards.
Sign up here for our daily Thrillist email and subscribe here for our YouTube channel to get your fix of the best in food/drink/fun.