Is Renée Zellweger Really Singing in 'Judy'?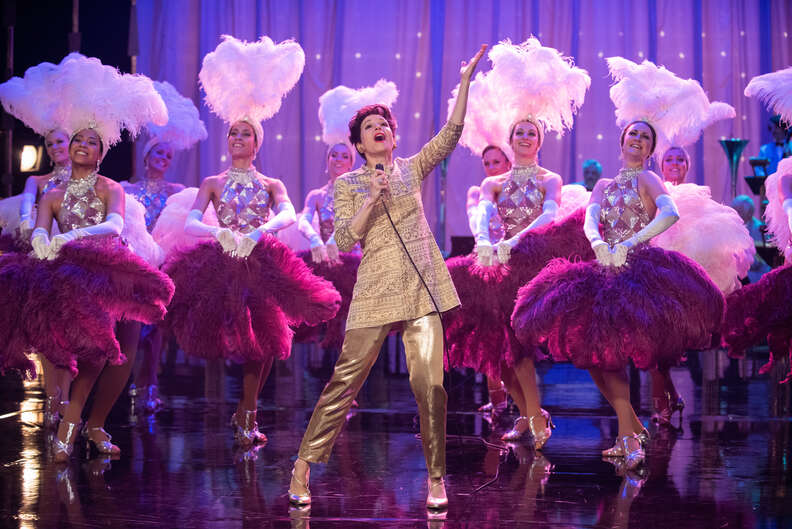 The Academy loves a dramatic story of a musical icon. Last year, Rami Malek coasted to an Oscar win by essentially lip syncing Queen songs while playing Freddie Mercury in the biopic Bohemian Rhapsody, so obviously singing is not a requirement for taking home a trophy. Malek didn't. Nor did Jamie Foxx when he won for playing Ray Charles.
But the leading contender in this year's Best Actress race isn't cutting corners. Renée Zellweger's performance as Judy Garland in Judy is all Zellweger: No prosthetics and no lip syncing. It's one of the reasons that even before the movie opens she's been deemed the frontrunner. The fact that Zellweger is singing all of Garland's classic songs is not the only reason she won plaudits, but it does add a layer of legitimacy to the work unlike, ahem, some of her male counterparts. (Excluding Taron Egerton. He sang.)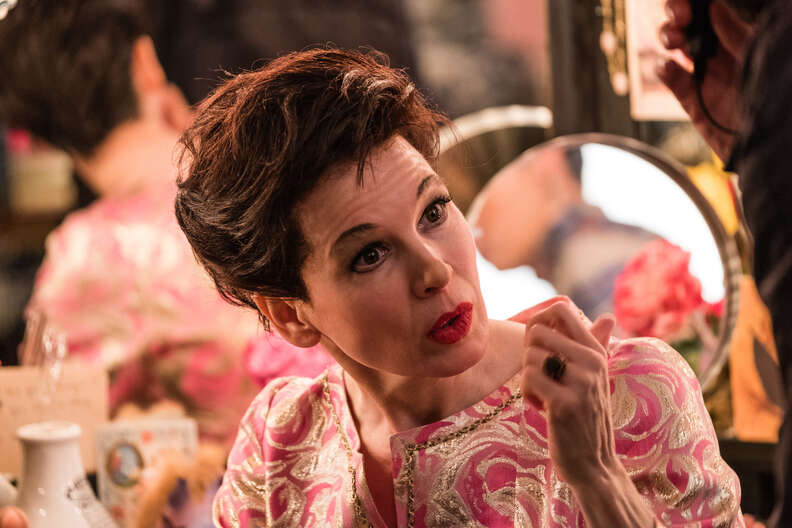 Judy, directed by Rupert Goold, captures the erstwhile Dorothy near the end of her life, when money had dried up and jobs weren't coming. Essentially homeless and divorced from her third husband, Sidney Luft (Rufus Sewell), with whom she had two children, Judy takes a gig headlining a venue in London where her name still holds weight. The film, based on a play called End of the Rainbow, doesn't exactly combat any commonly held notions of Judy Garland. It presents her as a woman battling demons that were the making of Hollywood. Flashbacks show a young Judy at the mercy of a predatory Louis B. Mayer, who oversaw the studio system that denied her food and plied her with pills. Older -- and portrayed by Zellweger -- she's a self-destructive icon who's nonetheless beloved, especially by her loyal queer fanbase.
Judy, save for a lovely sequence in the middle involving a fictional gay couple who come to see her, is familiar biopic territory. Garland displays moments of brilliance before her dependence on alcohol and pills torpedoes the opportunities handed to her. She marries a man (Finn Wittrock) who, unsurprisingly, turns out mainly to be interested in what she can provide for him. Goold and screenwriter Tom Edge aren't incredibly interested in saying anything about Judy that hasn't already been said, but they do want to pay tribute to her.
Which means the value of the movie lies in Zellweger, herself making the kind of comeback Judy is attempting onscreen. But Zellweger doesn't attempt a pure Judy impression, though she morphs her Texan lilt into Garland's mid-Atlantic cadence. Largely, Zellweger seems possessed by the spirit of later Judy -- her fragility, yes, but also that spark that made her one of Hollywood's great stars.
That spirit is evident in the singing. Zellweger will never have Garland's pipes, but she can convey her gumption and sorrow. According to Vanity Fair, Zellweger didn't just record songs Garland made famous, like "Come Rain or Come Shine" and "Over The Rainbow." She actually was there belting live during filming with a full band behind her. "[Goold] decided to do everything live because he wanted to capture the shared experience that a performer has with an audience," Zellweger told VF. "I'll forgive Rupert one day for doing that to me. It wasn't easy."
We knew, thanks to her Oscar-nominated work as the murderess Roxie Hart in the musical Chicago, that Zellweger could sing. (Fun fact: Garland's daughter, Liza Minnelli, played Roxie in the original Broadway run, briefly taking over for Gwen Verdon.) But the actress has said that singing as Judy was a new challenge. "I never tried to sing songs like this before because I just didn't think that my voice was suited to it," she told Billboard. "I thought, 'I have a tiny voice. I have a bright little voice, and these are songs that require a bit more power and resonance.' I didn't believe that, like going to the gym and building any other muscle in your body, that you could manipulate your vocal muscles."
Judy's register at the time was notably lower than Zellweger's own, but the great vocalist also wasn't operating at the height of her powers. "They played for me one of the later recordings on not a great night of one of Judy's shows, and they said, 'This is the goal right here where she's not quite hitting that note and she's cheating with the breath here, and she's cut that short and she's talking that part and the band gets big so that the fade is not noticeable,'" Zellweger explained. "That was the goal. And I thought, 'Right, okay. Now we have this year and I can go and I can build and I can work to maybe not hit that note once.'"
But Zellweger is still good enough that a soundtrack of her interpretations of these numbers is set to be released alongside the film. You can already listen to "Over the Rainbow," as well as her duet of "Get Happy" alongside Sam Smith. Eventually a version of "Have Yourself a Merry Little Christmas" featuring Zellweger and Rufus Wainwright, one of the great Judy interpreters, will also drop. Nothing can match Garland's originals, especially in her heyday. (Just listen to Judy at Carnegie Hall and swoon.) But all credit to Zellweger for attempting to match the legend at her highs and lows.