'One Time' Justin Bieber Is Still the Best Justin Bieber
The Island Def Jam Music Group
Twenty-one-year-old pop juggernaut Justin Bieber's fourth full-length album, Purpose, arrives in stores today with a narrative of redemption. After a string of embarrassing PR catastrophes, including but not limited to peeing in a bucket, egging his neighbors, getting arrested in Miami for "careless driving," and generally behaving insufferably, Biebs has been on an aggressive apology tour, projecting humility as opposed to puerile arrogance. He offered a public mea culpa during his Comedy Central Roast, shed tears following an emotional VMAs performance, re-embraced his faith via Hillsong church, and released Purpose's not-so-subtly titled single, "Sorry." This, my friends, is how you stage a comeback.
But will any of it work? Yes. It will. It's already working. Because everything always works out for Justin Bieber. Just look at the data. The album's first single, "What Do You Mean?" became Bieber's first No. 1 track on the Billboard Hot 100 back in September, making him the youngest male artist in Billboard history to debut at the chart's top position. That was on the heels of February's "Where Are Ü Now," his left-of-center collaboration with Diplo and Skrillex, which even received justifiably reverential coverage from the New York Times. In many ways, Bieber is re-enacting the Justin Timberlake teen-pop maturation arc: Align yourself with taste-making producers, co-opt international music styles bubbling up in the underground, play nice with popular comedians, and drop hints about a tumultuous relationship from your youth. He's one Alpha Dog away from the transformation being complete.
And like Timberlake's breakthrough album, Justified, Bieber's made a strong musical statement with Purpose, a nimble, carefully crafted batch of classic dance-pop boasting contemporary EDM influences. But here's the thing (and all due respect to the other Justin): Bieber's records have always been great. The moody R&B confessions of Journals, the icy whisper-pop of "Boyfriend," and the Ludacris-enhanced "Baby" were are all flames. As it happens, the seeds of Bieber's "comeback" have been in front of us all along, namely in the video for this very first single, "One Time."
May 2009 was a simpler time. Barack Obama had just become president. Michael Jackson was still alive. People talked about Lost all the time. Instagram didn't exist yet. And suddenly, here was this floppy-haired little moppet from north of the border with a voice from on high. "One Time," a sugary love song co-written by pop maestro Terius "The-Dream" Nash (the creative force at least partly behind hits including Rihanna's "Umbrella" and Beyoncé's "Single Ladies"), debuted that May, but it wasn't until the video appeared in June that the landscape of American music was forever altered. Let's break this down a little bit.
0:07 seconds in... The clip opens with a teenage Bieber schooling his look-alike friend in an Xbox basketball game. "That was not luck," brags Bieber. "That was skill. I'm killing you." Damn. Even as a young man, Bieber had ice in his veins.
0:15 seconds in... Bieber gets a phone call from his mentor Usher, who's been assigned the then-ubiquitous "Bad to the Bone"-riff piano ringtone, though it's unclear whether this was a default setting. Bieber tries to play it cool with a casual, "Yo, Usher." Usher responds with an equally casual, "J. Bieb, what's up, man?" Just a totally normal conversation between a 15-year-old boy and 30-year-old grown-up.
0:21 seconds in... Usher asks Bieber if he can hold the house down until he gets back. Still normal. Bieber assures him he can hold the house down, and Usher does his best Denzel in American Gangster by breezily replying, "My man." Again, very normal.
0:28 seconds in... This is not normal. Why is Bieber having a party at Usher's? What's wrong with these kids? Don't they want to earn Usher's trust and prove they're mature enough to watch his house? Who is Kelsey? Does she have Usher's address? What type of party is this? Why does Bieber's phone make it look like he and Kelsey have never texted before?
0:30 seconds in... At last, we meet Kelsey. She looks pretty nervous. She's making a face that says, I shouldn't attend this unchaperoned party at Usher's house thrown by this stranger who just texted me.
0:48 seconds in... More people hear about the party via text. Oh, no. Skaters in cool hats are going to this party too. Kelsey, be careful.
1:00 in... We finally get our first glimpse of this party, and someone brought a pinwheel. It's lit.
1:15 in... As Kelsey enters this pinwheel-filled den of sin, she best be careful -- more wild teens just showed up. Things are getting out of control.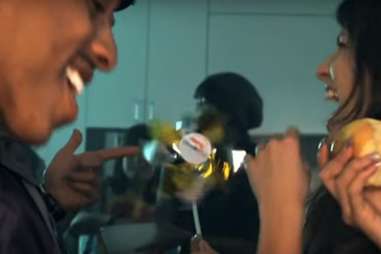 1:20 in.... There's another pinwheel at this party. Someone makes a finger gun to combat it, while someone else holds up a half-eaten apple to ward off its evil powers. Dumb kids. Finger guns and apples can't defeat a pinwheel. And this party officially can't get any crazier.
1:30 in.... I take that back. Silly string is everywhere! Pinwheels are spinning! Chaos reigns.
1:43 in.... The video's plot begins to emerge. Bieber has been eyeing a girl (not Kelsey... weird) in a striped shirt from across the party. He approaches her, navigating the pinwheel-littered hellscape of his own creation.
1:46 in... "Many have called," sings Bieber to his beloved, making the above phone gesture with his hand to show he means business. "But the chosen is you." But you know who Justin should call to apologize for partying at his house? Usher.
2:00 in.... The girl in the striped shirt finally notices our hero and approaches him. Perhaps she will ask him why he let so many pinwheel-loving ruffians into his friend Usher's lovely home? Nope. They just take a cute, if awkward, photo together.
2:18 in... People are throwing confetti now. This must have been what Woodstock '99 was like.
2:32 in.... The action shifts outside to the pool. I'm sure Bieber has come to his senses and wants to shield his new friend from the debauchery he's exposed her to.
2:46 in.... I was so wrong. These teens are skateboarding near a pool filled with beach balls. This is like a Larry Clark movie. And now Bieber is riding his board around the pool.
3:14 in.... The girl in the striped shirt looks at her watch. Oh no, it's getting late. She might have to leave.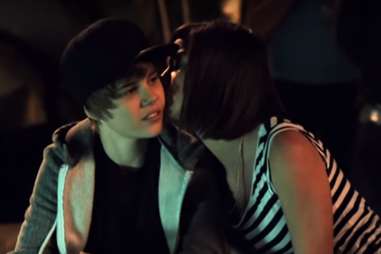 3:16 in.... She gives him a kiss. Or she whispers something secret in his ear, Lost In Translation-style. We'll never know. What we do know is that Bieber is staring off into the distance, likely gazing at the slow turning of a pinwheel that's luring him into Satan's warm embrace.
3:30 in.... More dancing. Bieber looks mournful by the pool.
3:45 in... He finally stands up.
3:46 in... BUSTED. Finally, Usher has arrived to end this pinwheel/silly string/confetti madness. Bieber is about to learn a real lesson about respecting your friends' property.
3:54 in.... I'm wrong again. Usher smiles and shakes his head. Bieber makes the above, now-famous, "Did I do that?" face that has served him well through his career.

So, what did we learn? That only now is it possible to appreciate how neatly the "One Time" video sums up Bieber's whole career; i.e. there is no cruel, inhumane act that this little scamp will not be forgiven for. And that if I were president in June 2009, I would have deemed trashing beloved R&B singer Usher's house with confetti, silly string, and pinwheels a war crime.
Dan Jackson is a Staff Writer for Thrillist Entertainment and he loves "Backpack," the song where Lil Wayne plays an alien whom Justin Bieber wants to keep in his backpack. He's on Twitter @danielvjackson.
Sign up here for our daily Thrillist email, and get your fix of the best in food/drink/fun.