What Justin Timberlake's New Netflix Special Is All About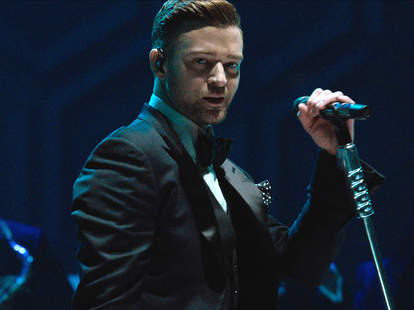 Tennman Entertainment, Inc./Netflix
Pop superstar Justin Timberlake has the most-downloaded single of 2016 so far with "Can't Stop the Feeling." The track was written to promote the animated kiddie comedy Trolls, and sounds decades removed from the un-'Sync-able boy-band image he built a career on. He seems OK with that; 14 years after the release of his debut solo album, Timberlake proudly bears his new dad badge.
Sometime between voiceover sessions on Trolls, Timberlake put together a concert documentary with the pedigree to perk up the ears of his fellow dads: Justin Timberlake + the Tennessee Kids, a collaboration with Oscar-winning director Jonathan Demme that is now streaming exclusively on Netflix. Factor in the biggest hits of Timberlake's career, a hyperactive laser light show, and some very un-dad-like dance moves, and Demme and Timberlake make beautiful music together.
In January 2015, Timberlake wrapped the 20/20 Experience tour, through which he and two dozen band members and backup dancers (the titular "Tennessee Kids") shared stages over nearly two years and 134 stops. With Las Vegas's massive MGM Grand as a show-stopping final playground, Timberlake and Netflix enlisted Demme to capture their set for posterity.
Demme directed Neil Young: Heart of Gold, Kenny Chesney: Unstaged, and, uh, The Silence of the Lambs, though it was Stop Making Sense, the Talking Heads' 1984 concert doc, that Timberlake was itching to emulate. "I basically stalked Jonathan Demme to do this," he confessed at JT+TK's Toronto International Film Festival premiere.  
The "Kids" are virtuosos well-suited for a Vegas crowd -- literally, in the bespoke getups Timberlake favors -- gifted with the talent and energy to light up an enormous stage kitted out with hyperactive lasers, mammoth projections of the David Fincher-directed "Suit & Tie" video, and a gravity-defying gangway suspended above the arena floor. (Lucky for us at home, Demme offers quick cuts over set-change hydraulics and costume switcheroos.) When Demme goes wide, we're remind of just how many Tennessee Kids are under Timberlake's command. Their stage dad takes diplomatic dance breaks to join them in between plinking away at a piano or brandishing a guitar.
Somehow, despite expertly framed shots of each performer from every angle, we never catch sight of a single camera onstage -- though Timberlake stares directly into them at every opportunity.
Tennman Entertainment, Inc./Netflix
In between crowd-pleasers like "SexyBack," "My Love," and "Rock Your Body" -- and a brief break to take shots with an audience member who happens to be longtime collaborator Timothy "Timbaland" Mosley -- Timberlake includes an extended Michael Jackson tribute, covering "Human Nature"; his own rendition of Bell Biv DeVoe's 1990 hit "Poison"; and a doc-wrapping dedication to Prince over the credits. (Speaking of which, make sure Netflix doesn't autoplay over them: you'll see the staggering work that went into building the stage.)
Timberlake's style and sound are indebted to Jackson and Prince in particular, two artists who reinvented themselves many times over throughout the course of their careers. With that in mind, it's worth noting Timberlake's set was two years old when it was recorded two Januarys ago, and has aged nearly two more now.
Tennman Entertainment, Inc./Netflix
What's next for an expert crooner and pop-locker still at his peak? Hopefully Timberlake has more up his well-tailored sleeve than family-friendly movie soundtracks: he copped to keeping Pharrell Williams company in the studio back in March, but neither musician revealed what they were working on, if anything. Meanwhile, Justin Timberlake + The Tennessee Kids gives the musician the chance to bring sexy back again for the whole family.
Sign up here for our daily Thrillist email, and get your fix of the best in food/drink/fun.