Justin Timberlake Returns With Star-Studded Music Video to Rival 'Happy'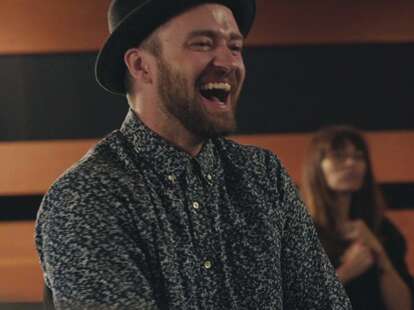 Justin Timberlake VEVO/YouTube
Justin Timberlake VEVO/YouTube
Don't worry, Justin Timberlake fans: we think his new single "Can't Stop the Feeling!" is about a good feeling that won't go away. The pop star has released a super cheery music video for the track, off the Trolls soundtrack, featuring co-stars Anna Kendrick, Kunal Nayyar, Icona Pop, Ron Funches, and Gwen Stefani and James Corden (the latter two appear to be recycling footage from their "Carpool Karaoke" released earlier this week).
Factoring in Timberlake's ridiculous hat, lyrics like "sunshine in your pocket," and clap-along audience participation, we can't help but draw comparisons to Pharrell's smash "Happy," which was nominated for an Academy Award for Best Original Song and won a Grammy for that infectious music video. Could Timberlake and Co. take the feel-good song of summer crown this time around? The Trolls movie doesn't come out till November, but let us know if you figure out how to get that chorus out of your head before then. Please.
Sign up here for our daily Thrillist email, and get your fix of the best in food/drink/fun.
Lauren Leibowitz is Thrillist's Entertainment Editor, and she likes to sing into a hairbrush in her dressing room, too. Find her on Twitter @lleibowitzz.