The Big Reason Justin Timberlake's New Song Is So Embarrassing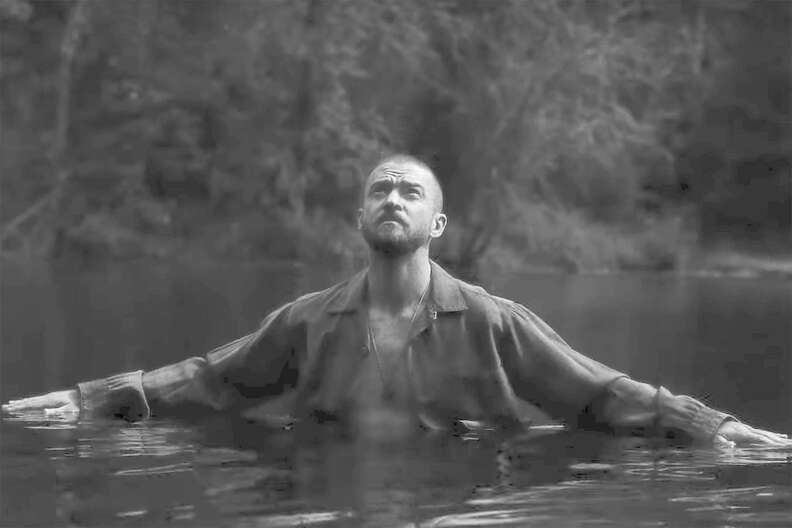 Justin Timberlake/RCA
Justin Timberlake/RCA
Justin Timberlake can't get out of his own way. On February 2, the 36-year-old former N*SYNC member and ex-Mouseketeer will release a new album, auspiciously titled Man of the Woods, and the roll-out for this comeback record, which follows 2013's tepidly received The 20/20 Experience -- 2 of 2, has been hilarious to watch. Every element -- including the woodsy cologne ad album announcement, the Kanye-like unveiling of the tracklist and the TED talk about a horny robot music video -- feels micromanaged within an inch of its life. With that Super Bowl LII halftime show quickly approaching, Timberlake clearly wants a win.
From a commercial standpoint, it's certainly possible that he'll get one -- remember, his incredibly irritating Trolls soundtrack number "Can't Stop the Feeling!" was a huge chart hit in 2016 -- but on a larger cultural level, it's hard to not feel like Timberlake, a pop icon now entering his third decade of stardom, has lost the map. Or, he left the map in whatever cabin he rented to go on a Bon-Iver-by-way-of-Jeremiah-Johnson journey of self-discovery. Either way, the guy is flailing.
To get an understanding of why Timberlake feels so adrift, it's worth taking a closer look at both the Man on the Woods promo video and the new single "Filthy" he rolled out earlier today. Together, they paint a portrait of an artist in the midst of an identity crisis that can't be solved by smoking peyote and wrapping yourself in a giant Snuggie. Where the authenticity-obsessed Man of the Woods promo material tells one story, "Filthy" tells another. It's a bait-and-switch: If you wanted Duck Dynasty: Alpha Dog Unleashed, you got stuck with The Almost 40/40 Experience.
Here's the bigger problem: Both are unappealing in their own Timberlake-ian ways.
The Man of the Woods album announcement looked like a Lonely Island sketch about an out-of-touch, up-their-own-ass musician getting in touch with his roots. (In the group's underrated biopic-spoof Pop Star: Never Stop Never Stopping, which featured a Timberlake cameo, Akiva Schaffer's Lawrence retreats to a cabin where he grows his own weed and constructs masks out of tree bark.) With its shots of snowy landscapes, crackling bonfires, and Timberlake's wife Jessica Biel wearing a cowboy hat, the commercial was ripe for mockery -- and, unsurprisingly, the internet provided it. Comparing the video to Miley Cyrus and Lady Gaga's recent stripped-down image makeovers, The Outline declared "Justin Timberlake Is Rebranding as a White Man" and it was hard to disagree. Just look at the guy spreading his arms in a Christ pose while the wind whirls around him.
"This album is really inspired by my son, my wife, my family," says Timberlake in the mercifully brief spot. "But more so than any other album I've ever written, where I'm from. And, it's personal." In this case "personal" is likely to mean vaguely Southern fried -- Timberlake has been signaling that a country pivot was on the horizon for years now -- but his frequent collaborators Timbaland and The Neptunes will also be on board.
When pop stars make these type of statements -- "I'm returning to my roots" or "It's time to get back to basics" -- they often come off as apologies to fans, or like acknowledgements that they've somehow been led astray by the wicked forces of commerce. When Gaga donned her pink cowboy hat for Joanne, it came after 2013's widely maligned Artpop record flopped. When Cyrus ditched her basketball jersey for a rhinestone jacket on the cover Younger Now, it followed 2015's genuinely psychedelic experiment Miley Cyrus & Her Dead Petz. For Timberlake, Man of the Woods follows not only The 20/20 Experience -- 2 of 2, but also some poorly received Tweets, a dud part in a Woody Allen movie, and aforementioned Trolls soundtrack. As far as pop culture sins go, the man has shit to atone for.
So, then what are we supposed to make of "Filthy" and it's robot-filled video? Is Man of the Woods really a concept album about a pop star going to Westworld? Has JT entered his cyberpunk phase? More likely, it suggests that despite the rustic trailer and confessional promises, Timberlake is not especially interested in leaving his aesthetic comfort zone. He even recruited "Can't Stop The Feeling" director Mark Romanek, a music video veteran who recently helmed clips for Jay Z and Beyoncé, to direct the Steve Jobs parodying video, just like he coaxed David Fincher back into the video game for the "Suit and Tie" roll-out.
As a piece of music, the heavily processed funk of the track wouldn't have sounded out of place on either The 20/20 Experience or 2006's FutureSex/LoveSounds, which remains the last truly worthwhile musical project Timberlake has been involved with. There are hints of Timberlake's goofball sense of humor on the track -- lines like "What you gonna do with all that meat?" are supposed to be silly -- but that impish grin, familiar from his boy band days, is less endearing on a grown adult. Over a decade later and this is your comeback move? He's going back to his roots -- but his roots are more "SexyBack" than outback.
It could be worse: "Filthy" is certainly not as pandering and empty as "Can't Stop the Feeling." Timberlake is trying to cultivate some mystery and a sense of importance -- more than a few critics unfavorably compared the Man on the Woods announcement to Beyoncé's Lemonade -- but he'd be better off being more mercurial. For a study in contrasts, just look at one of 2017's most beloved artists Frank Ocean, who captivates fans by not showing up to concerts and releasing new songs with little to no fanfare. Obviously, Timberlake will never be like Ocean. At heart he's a huckster, desperate to please and hungry for attention. He should own that.
In the "Filthy" video, he spends most of the time offstage, watching his android creation wow audiences with dance moves. His character is itching to get out there himself, but he never gets the chance. That's a shame. He needs to ditch the turtle neck. Leave the woods. Shave the beard. You can find yourself in a spotlight, too.
Sign up here for our daily Thrillist email and subscribe here for our YouTube channel to get your fix of the best in food/drink/fun.