Justin Timberlake's New Album 'Man of the Woods' Is a Total Bust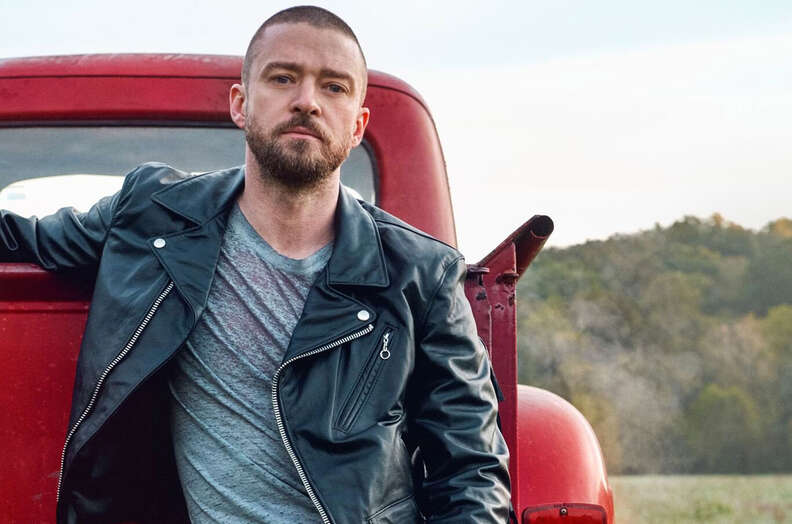 RCA/Ryan McGinley
RCA/Ryan McGinley
"I'll be the wood when you need heat," sings Justin Timberlake on "Supplies," one of the more groan-worthy tracks off his fifth record, Man of the Woods. "I'll be the generator, turn me on when you need electricity."
Despite presenting himself as pop's survivalist Energizer Bunny, a renewable source of goofball energy in a time of rising tides and dwindling resources, the most distinguishing feature of Timberlake's career in the last decade is how little actual work he does. He's a music industry juggernaut who would rather have a cameo in Popstar than be an actual pop star. If he were really trapped in a Walking Dead scenario, like he describes in the song, he wouldn't be the guy leading the charge against the zombies. He'd be getting stoned in a van somewhere.
Which, honestly, is fine! Timberlake was born in Tennessee, performed on Star Search as a pre-teen, entered the working world as a Mouseketeer, then exploded out of Lou Pearlman's boy band cannon as a member of N*SYNC before transitioning to adult stardom with the sleek robo-R&B of Justified and FutureSex/LoveSounds. Prestige movie roles, SNL hosting gigs, and an infinite number of Jimmy Fallon appearances followed. Though his recent, social-issue tweets might be tone-deaf, it's refreshing that he appears to have found domestic bliss and a sense of relative normalcy with his wife Jessica Biel and their 2-year-old son Silas, whose name means "of the forest." (OK, dude.)
With his halftime show at Super Bowl this weekend fast approaching, the complex history of "nipple-gate" still hanging in the air, the more pressing question is this: Does the now 37-year-old guy still know how to make compelling music? The good news is he's shed some of the moneyed glut of The 20/20 Experience -- individual tracks no longer stretch out past the 7 minute mark like in-ground pools of opulence -- but he could still use an editor. Or, to put it in Man of the Woods terms, a person to help him clear out the underbrush. At 16 tracks, Man of the Woods is exhausting, a cross-country road trip where you run out of jerky in the first leg and there's no rest stop in sight.
Man of the Woods doesn't start that way. The first six tracks of the album, particularly "Midnight Summer Jam" and the doo-wop inflected title track, are fun and breezy. Even a song that appears embarrassing on the surface like "Sauce," which contains horny dad lines like "I love your pink, you like my purple," survives the lyrical missteps by just settling into a groove. It's the exact right mix of studied funk and vaguely country snarl.
Sincerity is a less appealing look on him, which becomes a problem when the album pulls onto a long stretch of indistinguishable ballads, odes to his wife, and, I think, a song about how it's really chill to go on vacation. Sample lyrics from "Waves": "Ain't got no phone, don't need it though." Contrary to what you might think, Timberlake is in the zone when he's at peak cornball.
The second half of this record is deeply in need of a GPS. The track with country heavyweight Chris Stapleton, who Timberlake performed with at the CMAs in 2015, is called "Say Something" and it's a portrait of an artist who really wasn't made for these times: Timberlake wants to be perceived as profound but he's also self-conscious because people keep telling him to shut the hell up. So, he wrote a whole song about how sometimes "the greatest way to say something is to say nothing," but he never acknowledges the irony -- and self-pitying tendency -- of celebrating your own noble paralysis.
None of the treacly themes would matter if this record was laced with wall-to-wall bangers or consistently innovative production. Even most die-hard Timberlake fans acknowledge his lyrics are often laughable -- never forget "Hi my name is Bob and I work at my job" -- but Man of the Woods fails to deliver the same delirious highs of hits like "Cry Me a River," "My Love," or "Mirrors." Instead, he's attempting to channel the bro-ed out choral folk vibes of the Fleet Foxes on a track like "Flannel" or painting gauzy soft rock water colors on the acoustic "Breeze Off the Pond." There's a song called "Montana." It's like getting a Bob Ross landscape from a guy who used to design nightclubs.
For as many detours as Man of the Woods takes, it's rarely stretching outside of Timberlake's comfort zone. He's not chasing the sounds of Atlanta with Metro Boomin, re-upping on mall-pop with his "Can't Stop the Feeling" collaborator Max Martin, or channeling Taylor Swift by calling up Jack Antonoff. Instead, Timberlake is essentially doing the exact thing many fans and critics claim they wish legacy artists would do: He's staying in his lane. Almost every track on this record, with the exception of the unremarkable "Morning Light" and "The Hard Stuff," was produced by either The Neptunes or Timbaland, the architects of his signature Justified and FutureSex/LoveSounds aesthetic. As a throwback record, this should work.
The problem is that the cultural landscape around Timberlake has changed in ways that make these watery experiments sound especially tepid. Listening to this album is like scrolling through that cabin porn blog for an hour: It's the weaponization of "woodsy" as an aesthetic. Timberlake is clearly aiming for the sexual rhythms of dance music but it's often frictionless. He wants the soul of country but he's become allergic to writing about emotional pain. Similarly, his conception of the South or Montana or just "the woods" is overwhelmingly generic. He's untethered from geography: A man-bun without a country.
It's the musical equivalent of an idea explored by The Verge writer Kyle Chayka in an essay about "AirSpace," described as "the realm of coffee shops, bars, startup offices, and co-live / work spaces that share the same hallmarks everywhere you go: a profusion of symbols of comfort and quality, at least to a certain connoisseurial mindset." Timberlake's faux-rustic vision of America is similar.
Throughout the marketing of Man of the Woods, Timberlake cast himself as a searcher, someone attempting to find deep meanings, but the actual content of these songs feel shallow. On one track, he literally sings, "Success is cool/Money is fine," which is likely true. Success and money do seem cool; no arguments there. The problem is thinking that such an obvious sentiment is worth sharing with an enormous global audience. At a certain point, it starts to feel like James Franco's drug dealer Alien saying "Look at my shiiiiiit" in Spring Breakers. By the end, you want to be like, "I'm good, man."
Sign up here for our daily Thrillist email and subscribe here for our YouTube channel to get your fix of the best in food/drink/fun.