The most intriguing draw of any Kanye West appearance is the possibility of another insane, 30-minute rant. Sometimes he targets his infamous opinions on art or sneakers, but usually the focus is on people. Mostly ones he doesn't like. Imma let you finish whatever else you're doing, but then take a look at Kanye's most notable feuds, with an update on their resolutions. We only picked ones that 'Ye contributed to in a major way, so the pretty one-sided thing with POTUS didn't make the cut. But his bizarre diss to the Allstate guy sure did:
George W. Bush
The history: You know the deal here. Kanye appeared with Mike Myers (naturally) on a telethon for Hurricane Katrina. He then launched into an off-script rant, in which he declared that George Bush didn't care about black people. Myers and Chris Tucker (waiting in the wings) exchanged their best frozen chipmunks, and Bush later said it was one of the low points of his presidency.
Have they made up? Kanye did apologize to Bush through Matt Lauer in a 2010 interview, except he had some problems with it after the fact on Twitter. So sorta?
 
Taylor Swift
The history: If the George Bush incident put Kanye on the insult map, the Taylor Swift stage-crashing made him a legend. It's hard to pick a best part. Was it his crazy Tetris hair? His "Imma let you finish" opener? The shrug at the end? Either way, it remains the most brazen burn in his repertoire.
Have they made up? He publicly apologized multiple times, and now there's even rumor of a Swift-West duet. They also made sure to take many photos together at the 2015 Grammys, so either they're cool now or they would just really like people to stop asking about it.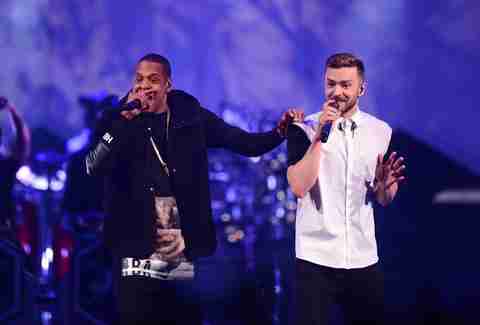 Justin Timberlake
The history: Jay-Z and JT made a song together in 2013. Kanye was apparently not a fan, and told the crowd at a London concert, "I got love for Hov, but I ain't fucking with that 'Suit & Tie.'" Timberlake actually returned fire when he hosted SNL soon after, switching one of the lines in the offending song to, "My hit's so sick got rappers acting dramatic."
Have they made up? Kanye kinda ghosted out of this situation, but Justin backpedaled almost immediately. He called West a genius on Fallon right afterwards, and again in an interview with MTV. He also insisted they might make a song together, so get in line, Taylor Swift.
 
Jimmy Kimmel
The history: Also in 2013, Kanye gave a very Kanye interview to BBC Radio 1 in which he said things like "I'm the number one rock star on the planet." Jimmy Kimmel got kid actors to reenact parts of it as a spoof, and West utterly lost it on Twitter. He made fun of Jimmy's face, his luck with the ladies, and his videos with Ben Affleck. (Never forget #NODISRESPECTTOBENAFFLECK #ALLDISRESPECTTOJIMMYKIMMEL!!!!)
Have they made up? West went on Kimmel's show and apologized, but he did reportedly bail out of "Mean Tweets" a few months back. So this might not be over.
Beck
The history: When Beck won the Grammy for Album of the Year, West charged the stage like he was going for an encore performance of his VMAs stint. It was seemingly just a joke, but then Kanye criticized the Grammys the next day for giving Beck the win and not respecting Beyonce's "artistry."
Have they made up? West made a concise apology on Twitter: "I would like to publicly apologize to Beck, I'm sorry Beck." For his part, Beck never seemed to care and was in fact delighted by the prospect of a stage crash. You'll get your Kanye crash one day, buddy. One day.
 
Amber Rose
The history: The nastiest feud of the bunch concerns 'Ye's ex Amber Rose, and boy does it get messy. This one mostly starts with Kylie Jenner, who is allegedly dating rapper Tyga. Tyga has a baby with one of Amber Rose's best friends, so when she was asked about Kylie in an interview, she was not kind. That prompted Khloe Kardashian to go after Rose on Twitter in an exchange that escalated quickly. Then Kanye entered the fray by slut-shaming Amber, who threatened to finally go public with some information she'd been holding on him. She didn't, but, a few months later at a club, she did imply that Travi$ Scott is the one writing all of West's songs.
Have they made up? Uh, no, they definitely still hate each other.
Bruno Mars
The history: While in the middle of his Twitter apology to Beck, West also took a moment to apologize to Bruno Mars, whom he apparently used to hate on. There's only one major instance of this -- during a show in Brooklyn, West laid into the VMAs thusly: "Bruno Mars won all the motherfucking awards and shit! I don't give a fuck about no TV show! What I care about is if you're an artist and you work hard as fuck and the streets say that you deserve that shit. Then can't no motherfucking networks try to gas everybody up so they can sell some product with the prettiest motherfucker out!"
Have they made up? In addition to saying sorry on Twitter, Kanye informally offered Bruno a part in a song he supposedly produced with 88 Keys and Puff Daddy. Mars hasn't said anything either way, which means he's either over it or secretly recording that hook right this second.
 
T-Pain
The history: Private shaming isn't usually Kanye's style, but T-Pain revealed a brutal encounter he had with the dude in studio (while T-Pain was helping out on 808s & Heartbreaks, no less). Essentially, West wrote a song slamming T-Pain and then made all his buddies in the room sing it with him right to T-Pain's face. Way harsh.
Have they made up? The whole reason T-Pain even told that story was to explain why he hadn't bought Kanye's kid a gift. That'd be a no.
Dennis Haysbert
The history: In "All Day," West drops the line, "You a fake Denzel like the Allstate n****." That's pretty obviously a reference to Dennis Haysbert, the actor and Allstate spokesman.
Have they made up? ABC News Radio asked Haysbert about it at the Ted 2 premiere this year, and he doesn't seem pleased. "Well, he didn't say my name, but he did say Allstate's, and that's a problem," Haysbert said. "I think he mentioned Denzel, too. So he's got a couple of entities that he's got to deal with. God help him." That sounds vaguely threatening, and, considering how much that dude must know about insurance claims, Kanye better watch out for freak car accidents.
 
Kris Humphries
The history: It should surprise exactly no one that Kanye has issues with Kim Kardashian's ex-husband. And sure enough, he rapped that Humphries was "lucky I ain't have Jay drop him from the team" in "Way Too Cold." That team would be the Brooklyn Nets, which Jay-Z co-owns and Humphries used to play for.
Have they made up? Please. West obviously isn't backing down from this one, and Humphries even took a swipe after finalizing a $24 million deal.
Sign up here for our daily Thrillist email, and get your fix of the best in food/drink/fun.
Kristin Hunt is a staff writer for Thrillist, and can't wait to see which awards show Kanye interrupts next. Follow her at @kristin_hunt.