Damn, Here's Why Kanye West Destroyed Wiz Khalifa on Twitter
Kevork Djansezian/Getty Images
Kevork Djansezian/Getty Images
Kanye West's "Twitter rants," as the media likes to call them, are a lot like his albums: highly anticipated, funny, emotional, collaborative, full of peaks and valleys, occasionally problematic, and often completely brilliant. He presents both albums and tweets in a way that gives off the impression that he meticulously labored over them and also created them in a moment of spontaneous genius. And, when they drop, it's all anyone can talk about.
His latest Twitter beef with Pittsburgh rapper and noted weed enthusiast Wiz Khalifa was no exception. Make no mistake: this was a massacre. At times childish, cruel, and misogynistic, West laid into the "See You Again" rapper with a string of tweets that have many people thinking we may never see Wiz again.
Last night, West announced that his upcoming album SWISH, which used to go by the title So Help Me God, would now be re-christened Waves. Because no Kanye tweet-storm can pass without creating a little property damage, fans of legendary incarcerated Harlem rapper Max B., who popularized the term wavy in hip-hop throughout the mid-to-late '00s, rose up to complain that West was coasting off another artist's terminology and legacy. One of those fans was Wiz Khalifa, who fired off afewtweets grumbling about Kanye's appropriation of the word "wave." Kanye had paid respect to Max B. in a previous tweet, but apparently that wasn't enough for Wiz.
It's important to remember that Kanye and Wiz have a tangled, complicated history. It's unlikely that Wiz's comments were only inspired by his love for the rapper also known as Biggaveli and his influential "wavy" flow. If your memory of Kanye's love life only extends to the Calabasas-lounging Kardashian era, allow us to refresh your memory. Before he was Mr. Kardashian, Kanye was in a tumultuous relationship with model, fashion designer, and activist Amber Rose, much of which was chronicled on West's tortured My Beautiful Dark Twisted Fantasy LP. After parting ways with West, Rose married and had a child with Khalifa, eventually dumping him after he allegedly cheated on her with twins.
Lots of people have drama with their exes, but West and Rose's has hung in the air for a long time. Last year, Kanye, responding to a brewing Twitter fight between Rose and Khloe Kardashian, told the morning radio show The Breakfast Club that he had to take "30 showers" after being with Rose before he could be with Kim. Rose responded and forgave West, turning the whole thing into a teachable moment through her L.A. "slut walk" event. For a second, it seemed like maybe everything was settled.
But apparently things were not as cool between West, Wiz, and Rose as it seemed. It really got started when Wiz made a reference to "KK," a strain of weed that also happens to share the same initials as Kanye's wife. Check out all West's tweets from today, many of which have now been deleted, below: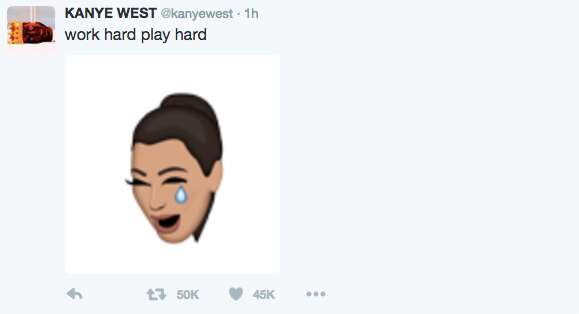 Not one to let the dudes have all the fun, Amber Rose then fired off a tweet of her own: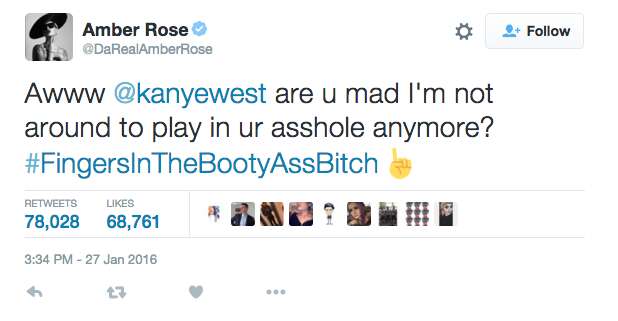 Of course, as Kanye pointed out at the end of the exchange, this will all help draw more attention to Waves, which is scheduled to be released on February 11, with an epic event roll-out planned at Madison Square Garden. Even though he may have lost some dignity, Wiz also has an album that's rumored to drop in February. As always, who is the real winner? Capitalism. So help me god, indeed.
Sign up here for our daily Thrillist email, and get your fix of the best in food/drink/fun.
Dan Jackson is a staff writer at Thrillist Entertainment and this whole thing disrupted his creative process. He's on Twitter: @danielvjackson.