Everything We Know About Katy Perry and Taylor Swift's Feud
Bruce Glikas/Allen Berezovsky/Getty Images
Once the bad blood has been spilled, it's hard to clean up. That's become clear over the past few years as the feud between Katy Perry and Taylor Swift, two of pop's biggest stars, has played out via tweets, song lyrics, and the rare public acknowledgement in an interview. It must hold a deeper meaning -- otherwise, why would we waste our time obsessing over it? That would make us collectively unhinged.
With Perry's new album Witness and Swift's latest record Reputation both dropping this year, there's never been a better time to reopen old wounds. Perry dutifully did just that in appearances on James Corden's Carpool Karaoke, and an interview with NME in which she clarified her remarks to Corden: "I'm not Buddha -- things irritate me... I'm also not a pushover." (Swift has been less talkative on the subject.) As The Rock and Vin Diesel proved earlier this year, there's always money to be made from a good old-fashioned clash of megawatt celebrity egos.
In a sign of the feud's ubiquity, cornfed former Presidential hopeful John Kasich even stopped by the The View to explain it. With all apologies to the Governor of Ohio, I think I can do a better job untangling this mess.
Year 1 - 2013: Before the storm…
It wasn't always like this. Believe it or not, there was a joyous time when Katy Perry and Taylor Swift weren't enemies. Instead, they were colleagues. Allies. Friends, even. As Gawker's Caity Weaver chronicled in great detail back in 2014, the pair's relationship, which mostly played out via stomach-churningly complimentary Tweets and highly pressurized award show photo ops, was as sweet (and likely contrived) as any other anodyne celebrity friendship.
Most of theses interactions took place in 2009 and 2010, a pivotal period for both artists. It was then that Swift won her first Album of the Year Grammy for Fearless, released Speak Now, and had her controversial MTV VMA run-in with Kanye West. For Perry, it was the era of Teenage Dream, which produced five number-one singles -- a feat only matched by Michael Jackson's Bad.
Though they were both pop royalty at this point, with Swift still occupying a slightly country lane, the two maintained a chummy public-facing image. They even dated the same guy -- "sexual napalm" quote-giver John Mayer, who inspired Swift's kiss-off track "Dear John" -- and that didn't appear to cause a great fracture. Nothing could break them.
Nothing besides backup dancer drama.
2013 - 2014: The backup dancer incident that started it all
This is where shit gets complicated. Though the important incidents in the besties-to-enemies timeline occurred during 2013, the actual information didn't emerge until 2014 when Swift was interviewed by Rolling Stone for a cover story to promote her pop-centric album 1989. The profile was memorable for a few reasons: It revealed what Girls character Swift thinks of herself as ("I'm Shoshanna"), contained a part where she compared herself to the Loneliest Whale ("I think Adrian Grenier is making a documentary about it"), and ended with Swift nodding along to Kendrick Lamar's "Backseat Freestyle" ("I know every word"). It's an incredible time capsule.
But even the details about the cat stickers on her phone and the basket of Whole Foods treats she kept next to Karlie Kloss's bed in her New York apartment couldn't compare to the story's juiciest bit of gossip: Taylor Swift had beef with another female artist who had inspired the track "Bad Blood."
"For years, I was never sure if we were friends or not," Swift told Rolling Stone. "She would come up to me at awards shows and say something and walk away, and I would think, 'Are we friends, or did she just give me the harshest insult of my life?'" In Swift's telling, the act of betrayal was all about business. "She did something so horrible," she said. "I was like, 'Oh, we're just straight-up enemies."
Based on clues in the Rolling Stone piece, fans and bloggers quickly put the pieces together and realized Swift was referring to Perry -- specifically a kerfuffle involving dancers Lockhart Brownlie, Scott Myrick, and Leah Adler. The three were originally on Perry's California Dreams tour before joining Swift's world tour in support of Red. As TMZreported at the time, they allegedly gave Swift a 30-day notice to let her know they would be leaving her tour early to rejoin another leg of Perry's tour, but they were fired on the spot. "She basically tried to sabotage an entire arena tour," Swift told Rolling Stone. "So now I have to avoid her. It's awkward, and I don't like it."
Other versions of the situation inevitably emerged. "Obviously we were with Katy for two-and-a-half years, she's like family to us," one of the dancers, Lockhart Brownlie, told The Examiner in an interview. "We weren't really dancing in Taylor's tour anyway so I had got a little bored."
Perry jumped in the fray too, posting a Mean Girls-referencing tweet: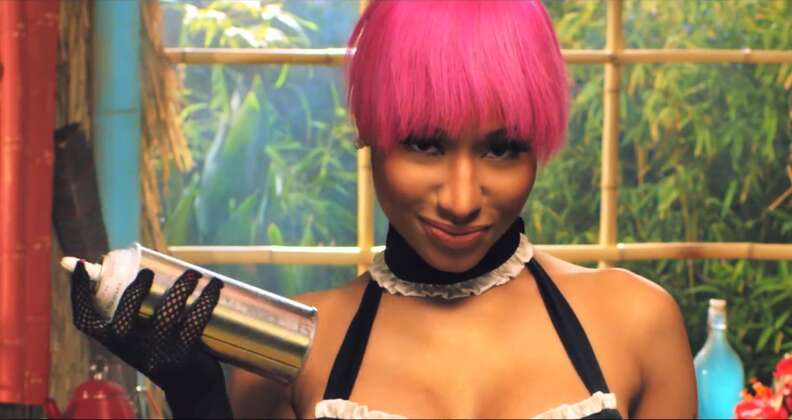 2015: Nicki Minaj enters and exits the conflict
After the roll-out of 1989 and the subsequent release of the cameo-filled video for the "Bad Blood" remix, the brewing conflict seemed to cool down for a bit. Katy Perry and Taylor Swift are very busy people. They can't spend all their time taking shots at each other in public. But, when the opportunity presents itself, it's best to have a "good" tweet ready to go in the chamber.
That's what happened when Swift responded to a comment made by Nicki Minaj in reference to the MTV Video Music Award nominations.
It's worth noting Minaj doesn't namecheck Swift in the Tweet and this is more of a pointed institutional critique than a slam on Swift specifically. Swift's response made thing personal -- as you'll see below.
Perry, clearly following the discussion on Twitter, couldn't resist firing off the following Tweet.
That one deserves a "thinking face" emoji.
Instead of letting the conflict grow, Swift and Minaj made amends in the most natural way possible: Hashing out their differences via Twitter and finally performing together during the VMAs to officially squash the beef. Mini-crisis averted.
July, 2016: Calvin Harris jumps into the fray
Like two superpowers in the midst of a cold war, Swift and Taylor like to use proxy nations to further their own interests. To publicly acknowledge the feud -- especially when you don't have a big project to promote -- would zap it of its power. Often these conflicts can only be sustained through subterfuge and allusion. It's a careful balancing act that involves waiting for the perfect moment to strike.
Last year, when Swift was wrapped up in a complicated dispute with her ex-boyfriend Calvin Harris involving Rihanna, a Swedish pseudonym, and a songwriting credit, Perry, who spent much of the year campaigning for Hillary Clinton, made her presence known by dropping a well-timed GIF of the Democratic nominee that pretty much spelled out her feelings on the Harris-Swift beef.
The GIF arrived with a clear message: I warned you all about Taylor Swift.
Fast-forward to this year, and Harris is readying his next album for June, the questionably titled Funk Wav Bounces Vol. 1. Guess who some of the guests are? Both Nicki Minaj and Katy Perry. Nils Sjöberg was probably livid.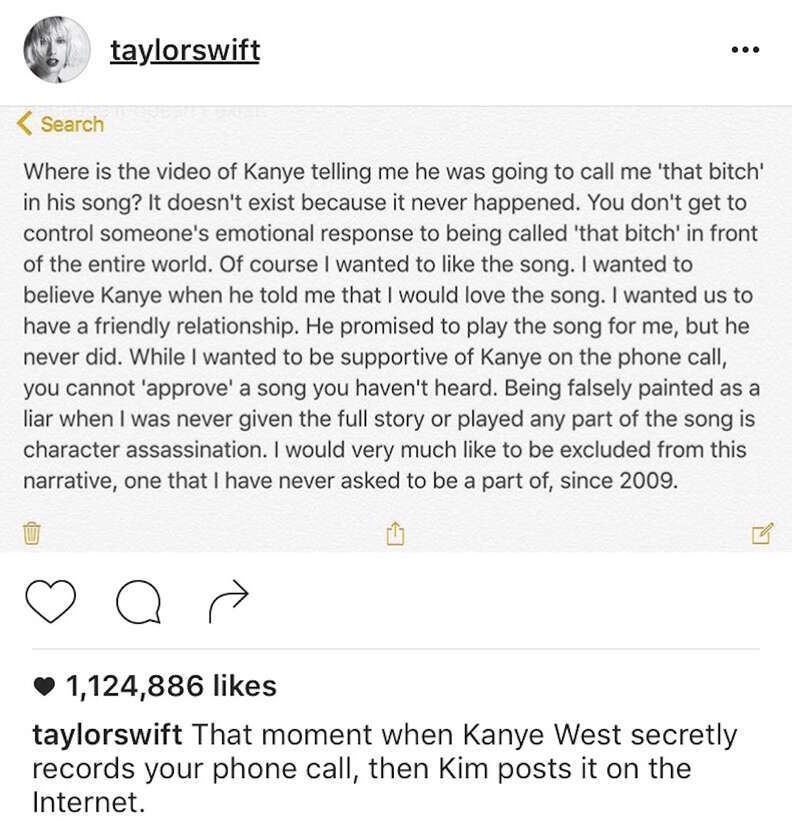 2016: The Kardashian-West saga
Last year was a quiet year for Swift, who took her longest break ever between album cycles. However, a "chill" year for Taylor Swift is not like your chill year. She still ended up wrapped up in a drama-filled Snapchat controversy with Kim Kardashian and Kanye West, which spanned several days back in July 2016. In the middle of an election year, it was the distraction many fans (and mildly curious internet-dwellers) were looking for.
Again, Perry kept things relatively subdued. She stayed away from the conflict for the most part, only firing off a self-promotional tweet that alluded to the ongoing shitstorm.
2017: Katy Perry releases her own musical response to "Bad Blood"
Before Perry's new album Witness arrived in June, it was obviously time for her to kick the old Taylor Swift hornet nest and see what happens. In addition to making some cagey remarks about her longtime enemy to Entertainment Weekly, Perry released "Swish Swish," a collaborative track with Nicki Minaj that was widely interpreted as a response to "Bad Blood."
As far as responsive diss tracks go, it wasn't not exactly "Ether." "Swish Swish" is mostly just an innocuous dance song with some stray lines that can read as Swift call-outs if you're so inclined. ("Don't need opinions/From a shellfish or a sheep/Don't you come for me," is likely a reference to Perry's own Regina George "sheep" tweet from 2014.) "I think it's a great anthem for people whenever someone's trying to hold you down or bully you," Perry told Jimmy Fallon on The Tonight Show. Not hard to interpret that one.
2017: Katy Perry discusses the beef on Carpool Karaoke
Perry made things even more explicit during her appearance on Carpool Karaoke with James Corden, where she tackled the topic head-on by discussing what the cheery Late Late Show host referred to as "famous beef."
"Honestly, it's really, like, she started it, and it's time for her to finish it," Perry said. Somehow, the Mortal Kombat music did not start playing immediately.
While belting out her own hits in that van Corden drives around, she also confirmed the backup dancer story and attempted to provide some context. "I tried to talk to her about it and she wouldn't speak to me," said Perry. "I do the right thing anytime that it feels like a fumble. It was a full shutdown. And then she writes a song about me about me, and I'm like, OK, cool, cool, cool. That's how you wanna deal with it? Karma."
She ended the conversation on a more positive note, saying that she would be willing to, in Corden's words, "take the beef off the grill" if Swift were to reach out to her. She says she's ready for the "petty bullshit" to be done.
2017: Taylor Swift declares streaming war
This June, Taylor Swift announced that her back catalog would be available to stream on Spotify, Pandora, and other streaming services. A cool gesture to fans from the noted streaming-skeptic, right? Maybe not. Swift dropped the news, and all of her records, just hours before Katy Perry's Witness was scheduled for release, making the timing for a big streaming roll-out pretty hilarious.
"In celebration of 1989 selling over 10 million albums worldwide and the RIAA's 100 million song certification announcement, Taylor wants to thank her fans by making her entire back catalog available to all streaming services tonight at midnight," said her rep in a statement. Clearly, this has nothing to do with Perry's recent press tour.
Everything's chill. No one is mad here. Move along.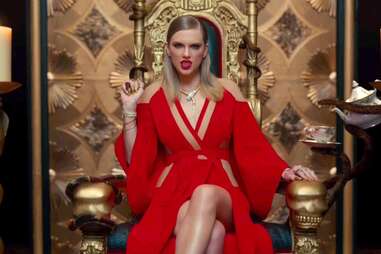 2017: Taylor Swift responds with Reputation
Compared to Katy Perry's media blitz for Witness, Taylor Swift took a more restrained approach when promoting Reputation, her sixth studio album. Instead of singing along with James Corden on "Carpool Karaoke," hosting a YouTube livestream, or sitting for glossy magazine interviews, Swift released a couple videos, a Target-sanctioned zine, and the album itself. It was an attempt to let the work speak for itself.
As much as the work had to say about betrayal, revenge, and enemies, there was very little on the record that could be interpreted as a direct shot at Katy Perry. (The Kardashian-West rivalry got far more lyrical ink.) Even the stuff that was seen as Perry-adjacent often felt like a stretch. On "Look What You Made Me Do," Swift sang about how she "rose up from the dead," a possible reference to Perry's "another one in the casket" line on "Swish Swish," and she referenced "a list of names" with some red underline, a potential allusion to the Burn Book from Mean Girls. She wasn't exactly out for blood.
The closest thing to a direct Perry dig came in the "Look What You Made Me Do" video, which featured a costume-change moment where Swift momentarily transformed into her nemesis. As Rolling Stonepointed out, Swift gave herself a hairdo similar to Perry's, snatched a car that looked like the one from Perry's 2009 "Waking Up in Vegas" video, and, worst of all, highlighted her own Grammy in the shot. For those of you keeping track at home, Swift has 10 Grammys. Perry? She's been nominated many times but has yet to win one.
How did Katy Perry spend her time during the Reputation roll-out? Well, she was too busy touring to make a big deal about it. But she did have one noticeable fan make an appearance at her show on Reputation Friday: Kim Kardashian West brought her daughter North to a Perry concert at the Staples Center in LA, making a point of documenting the event on social media. The saga continues.
The future: Where does the feud go from here?
The beef is still on the grill.
If you have to name a winner of this whole thing, it feels like Perry comes out on top. The Witness album cycle was often embarrassing for Perry -- her turn towards what she's dubbed "purposeful pop" has been justly criticized as a cynical rebranding and none of the new singles really popped like her old hits -- but her Swift pot-shots, along with comments about rising above the conflict, have been well placed. "Swish Swish" was not a hit like "Bad Blood," but it didn't have to be. In case it wasn't clear already, this is bigger than the music.
Reputation was a better album than Witness, but it didn't exactly settle this feud, which feels intentional. According to an anonymous Swift friend quoted in Us Weekly earlier this year, the singer is tired of the drama. "She honestly wants no part of this, that's why she avoids talking about it," says the mysterious #squad member. "She doesn't want to engage."
It's hard to tell if the public is equally exhausted by this conflict. Unlike so many other arguments that exist in American culture at this time, there's not a clear political dimension to the Perry and Swift feud. Given Perry's vocal distaste for Donald Trump and Swift's reluctance to signal her political views during the election in a significant way, one might expect this conflict to take on a partisan edge at some point. In the current pop moment, most things do.
But for now, this "feud" really does seem to be about backup dancers, which makes it oddly quaint and relaxing to theorize about. There are no Russians involved. No leaked emails. No subpoenas.
Yet.
Sign up here for our daily Thrillist email and subscribe here for our YouTube channel to get your fix of the best in food/drink/fun.