Katy Perry's Weekend Tweetstorm Did Not Spare Taylor Swift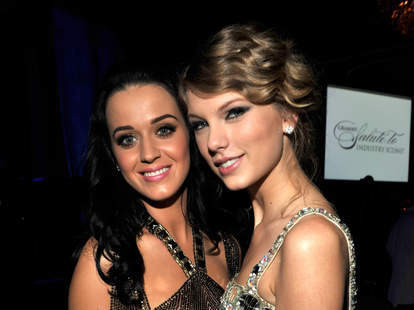 This past weekend, while waiting for her Cheesecake Factory order to arrive, Katy Perry passed the time on Twitter. (Stars: they're just like us!) In between studio sessions, the Olympic anthem writer took the time to answer fans' burning questions -- and naturally, talk turned to her most famous frenemy.
When Twitter user @HerWonkEye asked whether Perry would collaborate with "Bad Blood" backstabber Taylor Swift, who spent the majority of this past summer being called a liar by the rich and famous, Perry claimed to be open to the idea -- if Swift apologizes, that is:
"I've had too much truth tea this morn," Perry tweeted, so we're taking her words at face value. Still, the question stands: what, exactly, is Perry looking for an apology on? Recall that the two rising pop stars were buds until 2011... right up till the time Perry started dating Swift's ex John Mayer. Since then, the singers have publicly acknowledged their falling out in various ways -- most notably when Swift implied that her "Bad Blood" single was about Perry's two-faced ways.
Considering how much sass Perry has spewed about Swift's respective feuds over the past few years, it's surprising that she's willing to "Rise" above their past drama. Recall that Perry chimed in on Calvin Harris' truth-telling tweetstorm with a Hillary Clinton meme that summed up her feelings on the situation, then promoted her new single in an apparent response to Swift's Kayne drama. After so much flame-fanning, perhaps Perry is ready to capitalize on Swift's constant press for the sake of album sales move on.
In addition, Perry shared her wisdom on Starbucks orders, her musical output, and more wacky memories:
As for that collab, it's worth noting that Swift isn't exactly the best at apologies, so we might be waiting an awfully long time for this collab to materialize. For now, the real moral of the story: Cheesecake Factory delivers.
Sign up here for our daily Thrillist email, and get your fix of the best in food/drink/fun.
Lauren Leibowitz is an editor at Thrillist Entertainment. Find her on Twitter @lleibowitzz.