Keanu the Kitten's Oscar Parody Posters Are Adorable
The Martian, The Big Short, Mad Max: Fury Road and The Revenant are all really good movies, and potential Best Picture Oscar-winners. But would they be better movies if, instead of their handsome white-guy leads, they starred Keanu, the adorable kitten from Keegan-Michael Key and Jordan Peele's upcoming action-comedy Keanu?
Take a look at the fake movie posters below and know in your heart that it is so. (Sorry Leo; you're cute and have a cat-like name, but it's no contest.) And we're calling it now: Keanu is going to sweep the 2017 Oscars.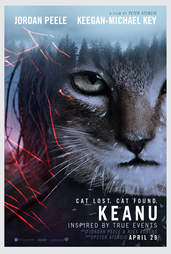 Warner Bros
Warner Bros
Warner Bros
Warner Bros
Sign up here for our daily Thrillist email, and get your fix of the best in food/drink/fun.
Anna Silman is a cat person and staff writer at Thrillist Entertainment, in that order. Find her on Twitter: @annaesilman.