Jimmy Fallon Reunited Kenan & Kel For a Good Burger Sketch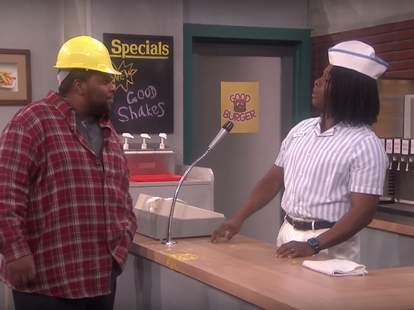 The Tonight Show Starring Jimmy Fallon
Hear that, 90s kids? It's the sound of walking the dog with a Yomega Fireball Yo-Yo, doing a sick-nasty jump with a Razor scooter, and throwing down Pogs to bring your childhood back to life. Last night on The Tonight Show, SNL's Kenan Thompson and Kel Mitchell (who's apparently not dead?) did something everyone's been hoping for since 1997: reuniting for a Good Burger sketch. 
The duo pick up exactly where they left off so many years ago on Nickelodeon's All That and act as if it hasn't been two decades since they donned the Good Burger uniform.
It's everything we've always wanted and so much more. 
 
Sign up here for our daily Thrillist email, and get your fix of the best in food/drink/fun.
Jeremy Glass is a writer for Thrillist and legitimately saw Good Burger in theaters. It was fine.