Kevin James on His New Netflix Movie, Adam Sandler, and Long Island Pizza
"The pizza is just different here," Kevin James proclaims to me and anyone who would dare to compare an American city's pie to New York's legendary make. The actor cites Di Fara's, La Scala, and Branchinelli's, and you trust him -- he did his time in Los Angeles. He knows a quality slice. "Basically, you can hit any strip mall on Long Island and I guarantee it's better than in L.A.," he says. "If you find the right place, you're going to be in heaven."
Last year, James, stand-up comedian, sitcom titan, and among the more reserved movie stars whose movies rake in $100 million-plus grosses, decided he wanted to live in heaven. So he ditched Hollywood -- and on his own terms. CBS was more than happy to indulge the bankable funnyman; this fall's Kevin Can Wait brought James back to primetime and, perhaps more importantly, back to his home turf of Long Island. Fifteen minutes one direction is Stony Brook, his childhood hometown. Fifteen minutes in another is Bethpage, NY, home to Kevin Can Wait's Gold Coast Studios, a location handpicked by James and the only network comedy set you'll find in a 2800 miles radius. A short drive West lands him in New York City, home of mouthwatering pizza, home of the Mets, home of everything good in the world. Kevin James is where he wants to be, King of 30-minutes-outside-of-Queens.
Of course, comfort can be a vice, and, if you're an entertainer under the scrutiny of critics, a sin. While both of James's sitcoms, and vehicles like Grown Ups, Zookeeper, I Now Pronounce You Chuck and Larry, and the two Paul Blart movies, earned him bargaining chips, they've polarized audiences in the current age of biting satire and melancholy bio-sitcoms. The great performers push and push and push, while comedy routines feel like just that. Can James be one without the other?
This week, the actor stars in True Memoirs of an International Assassin, an action comedy that required him to leave the city limits (Georgia and the Dominican Republic, to be exact) and requires his audience to make it to the sofa (the movie's now out exclusively on Netflix). True Memoirs, about an accountant mistaken as a gunman after his self-published first-person spy novel mistakenly hits Amazon's nonfiction bestseller list, sticks to a fish-out-of-water formula that should turn the spoof into another solid hit for James. His critics may disagree, if a splattered Rotten Tomatoes history is any indication. "You're not going to get everybody every time, for sure," he tells me over the phone, calling from -- where else? -- his Long Island studio. "So I'm used to bad reviews, but would I love everybody to love me? Sure, that'd be fun." But don't knock him for a lack of ambition. He's doing exactly what he wanted to do from the day he left Long Island, and it's not changing now that he's back.
James fell into comedy with a little more grace than his screen characters. In the mid-'80s, a community theater role turned the college football player into a laugh-addict. Instead of wrapping up his sports management degree, he bailed for a life on the Long Island stand-up circuit, where he'd continue touring for nearly a decade. He describes his first gig in 1989 as "a revelation." But at a time when many young entertainers would cling to lofty goals, James stuck to immediate ones.
"[My career] was moving target," he says. "I loved stand-up, and I still do. Though once I started doing stand-up, I said, 'If I ever got on TV, that's all I would need.'" He did, appearing in a short-lived MTV sports series called Sandblast.
"Then it was like, 'Okay, now if I ever got on to The Tonight Show!'" That happened.
"Then after that, 'If I ever got a part in a sitcom...'" Ray Romano, a pal from the stand-up world, hooked him up.
"Then it was if I got my own sitcom..." Two years after his praised Everybody Loves Raymond appearances, CBS launched King of Queens.
"Then if I got in a movie…" Hitch, starring Will Smith.
"And then it was, if I got my own movie..." You didn't see Grilled, the 2006 crime comedy that paired him with Romano, but it happened.
"'If I could do this, if I could do that' -- that's life," he says. "That really is. I don't think we'll ever be completely satisfied here, and that's what keeps us moving."
I Now Pronounce You Chuck and Larry gave James his first high-profile movie role and paired him with sure-thing box-office star Adam Sandler, whom the actor met years before at the Comic Strip in New York. "I was a fan of his. I think he was Remote Control or SNL, but he was so nice to me then. He watched my set and he told me some stuff, and he was just a good guy. He just said, 'You're going to be great!' I said, 'All right, man.' Was never going to talk to him again." The two reconnected when Sandler set up offices on the same studio lot where James shot The King Of Queens. "The guy's responsible for so much stuff that I have, it's crazy."
Universal Pictures
This is not an understatement. The James-Sandler professional friendship has resulted in Grown Ups 1 & 2, Zookeeper, the animated Hotel Transylvania franchise, Pixels, and upcoming Netflix original Sandy Wexler. They are an obvious pair, constantly teetering on the edge of wholesome and lowbrow, both regularly maligned by critics and both empires to themselves. Why, as James put it, is "half of Hollywood employed by" Sandler? "Because he's a loyal guy, and once you work with him and then he works with new people, he'll bring the old people with him, and he doesn't forget about this guy. He says, 'Oh, let me get a part for this guy.' The guy has an incredible soul." For James, Sandler is the Long Island of comedic talents, and he's not terribly concerned what you think about him living there.
James isn't completely resistant to advice, criticism, and provoked growth. When CBS gave him a talent holding deal and the idea of starring in a sitcom first came up, "I didn't think that it would work out. That's why I was always like, 'Hey, let's make the best holding deal, development deal we can make, because this thing's going to go away and then I'm going to be done.'" It worked out.
Less successful was his MMA-themed comedy Here Comes the Boom, which struggled to find an audience in October 2012. "I thought it would be a little different and funny in a different way, and I loved the UFC at the time, and I thought it would connect, but then I realized it was a tough audience to find. It was a feathered fish in that you're doing a fighting movie for kids and wanted to keep it family-friendly. People didn't know how to buy into it. I still love the movie, but it didn't connect the way I would love it to have connected, for sure."
Netflix
James is not the type to harbor passion projects, or take a leap on a idiosyncratic director's cinematic experiment. Considering Sandler's path, I ask him if he's looking for his Punch-Drunk Love, and the answer is no, but yes. "Doing [a movie] because it's weird and it's out there, I don't know, that just doesn't interest me. At this point in my career, I'm not trying to impress anybody that way with saying, 'Look what I can do.' I just want to connect with [the audience], and it's all about story. Now, if it was a story that was weird and out there, but I connect with it, man, I'd love to do it. I'd absolutely love it."
True Memoirs of an International Assassin might be weird and out there by James's definition. Directed by Jeff Wadlow (Kick-Ass 2), the Netflix original is like a lost Robert Ludlum spy movie, flipped on its head by James not being Matt Damon. Wadlow maintains a serious streak, which James follows with a mixture of everyman shock. He also flails around while clinging to a helicopter rail. This is still a Kevin James movie, and better for it.
Comedy is subjective, but working one's ass off isn't. James objectively does the latter. In True Memoirs, the job meant waking up at dawn, executing fight and stunt choreography, going up tired, then doing it again the next day. James admits training regimens aren't part of his Long Island oasis ("If you look at my body, you know it's not," he jokes), but he knows every role will challenge his comfort zone. "There's always physicality, even in the goofy movies like Blart. You're having fun, but there's an intensity in this movie that's different. This has got to be believable. This is not just a big guy falling down and sliding on ice cream. This one is totally different. This is real action. I really had to get in shape and prepare for this one."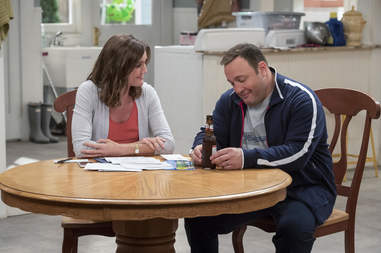 CBS
And Kevin Can Wait, the sitcom he shoots 15 minutes from his home? It's not writing and acting itself. "After I hang up with you," he says as the clock ticks towards 9pm, "I'm going into the writer's room. We're working on more scripts." Young Kevin James loved All in the Family, Cheers, and The Honeymooners. Fifty-one-year-old Kevin James loves the sitcom art form, the traditional "four-camera" setup, that tingle you get when a live studio audience actually laughs. Kevin Can Wait is a family-friendly throwback that neither pushes buttons nor panders to more conservative viewership. By that definition, it's harmless and unique -- a TV rarity.
James shrugs off the critical critique. His target will continue to unconsciously move, his ambition will continue to be questioned by cultural documentarians, and his only concern is producing what he'd watch if he were kicked back in his recliner a few blocks away.
"People will be like, 'Wow, it feels kind of dated now,' but it's classic to me. It gives me comfort, too. I love doing it, and I love doing it here. Long Island is literally a character in the show. We have Long Island people and companies. I love doing it here on Long Island because it's authentic to me."
Sign up here for our daily Thrillist email, and get your fix of the best in food/drink/fun.
Matt Patches is a Senior Editor at Thrillist. He previously wrote for Grantland, Esquire.com, and Vulture. Find him on Twitter @misterpatches.