Kevin Smith: How I Became Hollywood's Born-Again Stoner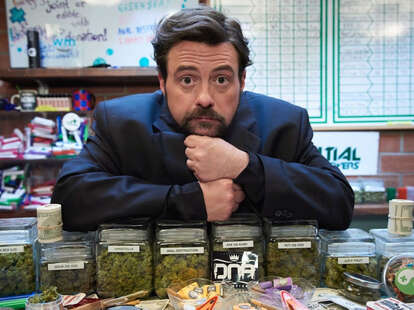 <strong>Hollyweed |&nbsp;</strong>Courtesy of Michael Becker
<strong>Hollyweed |&nbsp;</strong>Courtesy of Michael Becker
Before the Sundance premiere of his latest movie, the bubblegum-popping, Canada-spoofing action escapade Yoga Hosers, director Kevin Smith took a podium to say thank you.
He thanked the festival, where Clerks premiered in 1994. He thanked his creative team at the SModcast podcast network, where early ideas for Yoga Hosers rolled around. And he thanked his lead actresses, Harley Quinn Smith (his daughter) and Lily-Rose Depp (Johnny Depp's). He was on cloud nine, and said so: "When you're a middle-aged stoner, everything is beautiful!"
He was joking, but I wanted to know: how important is weed to the past, present, and future of Kevin Smith? The answers he gave me after the screening of Yoga Hosers formed the inspiring, hilarious declaration below.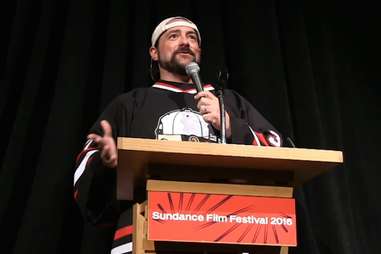 Weed is never creative. That would be amazing. But fuck no. Weed will never give you a good idea. But it's awesome because it's a fear-inhibitor.
I am a fear-based creature by nature. Everything fucking terrifies me. It is so weird being this filmmaker. I make shit that makes people mad -- I can't fucking help it. But it is my nightmare that people get mad and don't like [my stuff], because of course I want everybody to like it. But I won't make anything that anybody likes, so the problem is the impasse there.

Everything fucking terrifies me.
I get it. You got to go where you got to go, and every artist has to do what they have to do. For me right now, jumping into weird fake Canada, weed didn't put me there but weed certainly took away any fear of inhibition, any idea of, like, Don't do that. That's not good for your fucking career.
Who gives a shit about my career, honestly? How many careers do I have now? I've got the movies, I've got the podcasts, I've got a TV show, I got this, I got that. Careers come and go. And shit, dude, I walked away from movies for two years at one point, and guess what happened? Nothing. The world went on, and I went on.
On [2010's] Cop Out, I was bitter and shitty. We all know what happened on Cop Out: there was the one guy who was very disconcerting to say the least, but then right after that was Southwest Airlines, then, right after that was the fucking Cop Out press. It was a confluence of fucking a horrible time in my life, and I just lashed out, and shit.
At the same time, there was a part of me that knew my relationship [with the audience] was unhealthy, that I needed approval from fucking strangers far more than I needed approval from myself. I was like, Just cut the ties. Just fucking say, "I'm done with this, and fuck this, and critics, and blah-blah-blah." I was stupid, obviously, but it actually helped. I don't give a shit about the audience anymore.
I can count on one hand the amount of times I smoked weed from birth to age 38. At age 38, I worked with Seth Rogen. That changed everything. I was like, This guy is a multi-tasker. He can do a zillion things at once and he is fucking blazed all the time. He gets along with everybody and he has got no stress in his life. The dude is just a zen pool of calm.

At age 38, I worked with Seth Rogen. That changed everything.

I smoked up with him at the end of Zack and Miri Make a Porno in the editing room. We were watching outtakes and smoking and having a good time. I probably had four fucking drags on his joint, but I didn't smoke for years prior to that. I liked who I was after that.
And as much as I love Seth Rogen, I don't know that I necessarily enjoyed making Zack and Miri. It wasn't hard as laying brick, but it was like, This isn't as easy as it normally is or as it could be. Then with Cop Out, same fucking thing. It was just like, "Oh my God. This isn't what I signed up for." [But after smoking] I was like, Oh, shit. I am more chill. I am more relaxed.
I don't drink. Some people have booze. Some people have medications. I don't have any of that shit, but weed allows me to get out of my own fucking head and out of my ass, and relate to people better.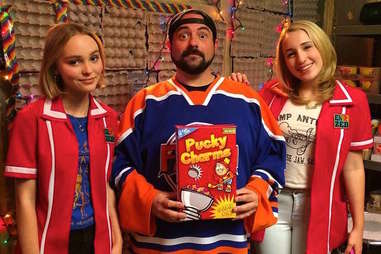 I don't consider myself much of a director. Neither does anybody else. I consider myself an on-set editor. I just collect shots on set. When I am there and you are an actor, I am not like, "In this scene, you feel..." No. That is your job to feel that. I gave you the words and I will make sure you look good, but my job is to make sure that we have everything I need. Our days are very short. These are things that matter in the real world. I am the "good-enough" guy.

I don't consider myself much of a director. Neither does anybody else.

Some people are like, "Why don't you try for excellence?" and shit like that. I am not that guy. I have never tried for excellence. I just want to do a bunch of shit before I die, and I want to do everything I want to do. Most of the shit I want to do is harmless. At the end of the day, the weirdest fucking thing I want to do is make a movie about sausages attacking my daughter. You don't have to be Freud to figure that fucking movie out.
I'm not as afraid of "Well, I better do what's expected of me." Now, I just want to do what I want, because I am going to fucking die, and I don't want to be fucking sitting on my deathbed, going, "Why didn't I make that movie with my daughter? Oh yeah, because I was afraid of what some strangers would say."
[Yoga Hosers] ain't for everybody. Strangers get this moment to say what they want. I got the rest of my life with this movie. This movie, stupid and weird as it is, got me to Sundance for the fourth time. This movie, stupid and weird as it is, got me to work with my kid. Do you think, on my deathbed, I will be thinking about somebody [saying] Yoga Hosers was beneath me? No, I will be thinking about me on set with the kid, fucking having a good time, or watching her on stage at Sundance.
Weed allows you to get there. It compartmentalizes and puts things in perspective for the fear-based creature that I am. Just fucking do what you want, it makes you happy.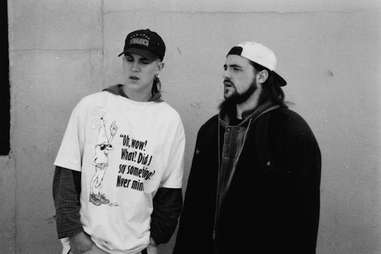 I am glad that I became a stoner late in life. Age 38. I was never a fucking stoner prior to age 38. Now, I am a fucking born-again stoner. Weed is not a "thing," really. It is not. Once Colorado and Washington were legal, everybody is like, "Oh, it is not that big a deal." When I was a kid, it was like, "Fucking just say no, and it's evil, and fucking it will lead to crack cocaine, and shit."

I am glad that I became a stoner late in life. Now, I am a fucking born-again stoner.

I never wanted the edge. That is the thing about me that I marvel at the most. I don't want to be the guy who does edgy shit. I would love to make mainstream movies. I have tried many times. Jersey Girl is an example of that.
We just shot a pilot last week before I came up here: Hollyweed. People [backing it are] from Raw. ACME Elixirs. DNA Genetics. G Pen. We had sponsors from the weed world. It was awesome. That is the new paradigm. Rather than go to a studio or a network and try to sell the show, we were like, "Let's shoot a pilot, and if they want to turn it into nine more episodes, we can go forward; if not, we can shoot it ourselves and put it up online, or whatever the fuck we want." It is amazing. It is the wild, wild west.
Malcolm [Ingram, my podcast co-host] told me today, "Do you remember what you were like on Zack and Miri, in Pittsburgh?" I said, "No." He went, "We had a conversation where you said, 'There is nothing left to do, I have done it all.'" He was like, "I honestly believed it at the time. You talked about how your dreams came true and shit, and you were bored."
He went, "Now? You are fucking thinner than I have ever seen you in my life, and you are fucking on fire. Yeah, with stupid movies, but like you are just fucking going to work. You just finished a pilot, came here to show this fucking movie. You go home, and you start working on the other pilot with AMC, and then you fucking go out and start shooting [the CW's] The Flash in March."
He was like, "You are revitalized, dude." I was like, "It is just the weed." He was like, "It is not the weed, dude. You just got past your bullshit."
Sign up here for our daily Thrillist email, and get your fix of the best in food/drink/fun.
Matt Patches is Thrillist's Entertainment editor. He previously wrote for Grantland, Esquire.com, Vulture, The Hollywood Reporter, and The Guardian. Marijuana is not legal in his state... yet. Find him on Twitter: @misterpatches.