Kevin Spacey's New Movie Will Completely Remove & Replace Him Before Holiday Release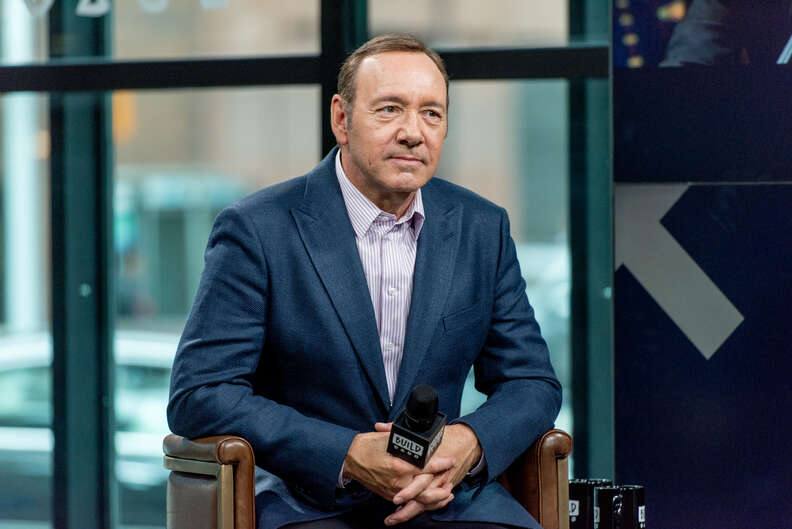 Roy Rochlin/FilmMagic via Getty Images
The trailer for Black Hawk Down director Ridley Scott's latest drama, All the Money in the World (below), didn't just push Kevin Spacey as an award-worthy costar -- it set his entire presence up as a reveal. In the film, Spacey plays J. Paul Getty, the billionaire who famously refused to hand over the ransom when his grandson, John Paul Getty III, was kidnapped by the Italian organized crime group Ndrangheta, and pulling off the geriatric oilman required layers of latex and bushy fake hair. The trailer introduces the actor with a deep inhale, as if to say, "prepare for one hell of a transformation." Spacey would be a scene-stealer.
And as of today, he won't appear in the movie at all.
In the wake of a number of accusations against Spacey, alleging sexual misconduct throughout his career, Scott revealed to the press that he will remove and replace his original J. Paul Getty with 87-year-old Oscar-winner Christopher Plummer. Sources toldThe Hollywood Reporter that Plummer was actually Scott's first choice for the role.
By all accounts, Scott's decision to wipe his marquee actor from the picture is unprecedented and dicey; though Spacey only worked for eight to 10 days on All the Money in the World, the director will reportedly have to act quickly -- and potentially use digital technology to insert Plummer into the globetrotting thriller -- in order to meet deadlines that would allow for it to keep its December 22 release date. His reasons for undertaking such a exhausting timeline are clear.
In October, Star Trek: Discovery and RENT actor Anthony Rapp detailed, via Buzzfeed, an incident from 1986 in which Spacey allegedly made sexual advances towards him when he was 14 years old. The story prompted Spacey to immediately issue a statement, apologizing to Rapp and coming out in the process. "I know that there are stories out there about me and that some have been fueled by the fact that I have been so protective of my privacy," he wrote in a message posted to Twitter. "As those closest to me know, in my life I have had relationships with both men and women. I have loved and had romantic encounters with men throughout my life, and I choose now to live as a gay man."
After Rapp's initial accusation, several other men described their encounters with Spacey: Roberto Cavazos, a Mexican actor; Daniel Beal, a former bartender; Justin Dawes, a former theater usher; Mark Ebenhoch, a military advisor who worked on the set of Outbreak in 1995; Harry Dreyfus, and actor and the son of Richard Dreyfus; Tony Montana, a filmmaker; Kris Nixon, a bartender from Belfast; and six accusers who chose to remain anonymous. The accusations range from sexual harassment to public exposure and attempted rape.
With the dam-breaking Harvey Weinstein scandal continuing to unfold, and more men -- including former head of Amazon Studios, Roy Price, and Rush Hour director Brett Ratner -- coming under fire for years of alleged misbehavior, Hollywood is in a fragile state where any attempt at understanding and correction feels like the necessary decision. After Spacey's scandal came to light, Netflix shut down production on House of Cards Season 6, and there were questions of whether Sony Pictures would move All the Money in the World to next year or remove the film from the release calendar altogether.
Reports say Scott wasn't ready to let this one disappear for eternity, nor was he ready to allow recent events tarnish the film (as they might if Spacey remained in the picture). Removing the actor by any means possible was the director's form of reconciliation. THR's sources put it into perspective: "Insiders say that if anyone can pull off reshoots and still make the holiday release date, it's Scott."
Sign up here for our daily Thrillist email and subscribe here for our YouTube channel to get your fix of the best in food/drink/fun.
Matt Patches is the Executive Entertainment Editor of Thrillist. He previously wrote for Grantland, Esquire.com, and Vulture. Find him on Twitter @misterpatches.