Why 'Killing Eve' Killed Off a Beloved Character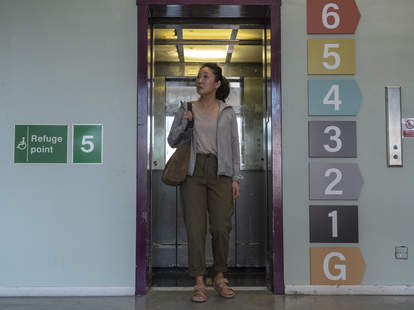 It's no big shock that there would be some sort of death in the premiere of the third season of Killing Eve. Elaborate murders are a part of the show's m.o. But while Jodie Comer's extravagant psychopath assassin Villanelle does orchestrate an elaborate take down of one of her marks, the episode ends with a demise that offers both genuine surprise and heartbreak. Kenny, the sweet adorable hacker, has fallen from the roof of the office building where he's now working as an investigative journalist, leaving Eve to find his body.
Kenny is a gut-wrenching sacrifice. He's pure -- one of the few characters on the show who genuinely seems to act in service of his friends, and he's one of the only people with whom Eve had remained in contact after her confrontation with Villanelle at the end of season two.
Each season Killing Eve hands off its story to a new lead writer. Phoebe Waller-Bridge passed the torch to Emerald Fennell for season two, who gave it over to Suzanne Heathcote, now in charge for Season 3. We hopped on the phone with Heathcote to discuss the tragedy of Kenny and what else she has in store for the season.
Why Kenny? 
So why Kenny? Why lovely Kenny? Well, Heathcote was thinking about what would hit Eve the hardest. When the season opens, Sandra Oh's former MI6 agent has cut herself off from her former life, but Kenny remains her one tether. He even convinces her to come out for a drink, which is when she finds his body. "There just needed to be something enormously personal that would bring her back into this investigation and there was nothing professional that was going to do that," Heathcote says. "It would have to be almost like a bomb going off personally and something that would have that ripple effect for that character and the other characters as well." Kenny was, alas, an obvious choice. Eve had dropped her guard around him and now she has to deal with the ramifications. "It's the one person that she's prepared to communicate with," Heathcote says. "And so once that's removed, she's forced back into the world in a way that she wouldn't have chosen to go otherwise." Plus, Kenny dying would also hit Fiona Shaw's Carolyn, his mother, reuniting her and Eve once again. 
Is there any chance this is a ruse? 
Despite the fact that this is a show where people have been known to come back from the dead, I wouldn't hold out hope for a Kenny revival. The body's in clear view. He's pretty dead. However, the work Kenny was doing is the major mystery of the season. Eve becomes embedded with "Bitter Pill" the online publication Kenny was working for, which Heathcote says was modeled after UK based site Bellingcat. "We tied ourselves in knots trying to think of ways to get Eve back into MI6 and then it just dawned on us, and speaking to Sandra as well, there's too much water under the bridge with Carolyn after everything that has happened," Heathcote says. 
BBC America
So how did Eve survive the Season 2 finale?
And while it looks like Kenny is not going to come back to life, the entire show is now predicated on the premise that Eve weathered being shot by Villanelle in last season's finale. Heathcote thought long and hard about how that could be, analyzing where her injury should be so she could have made it. Heathcote admits that her survival was miraculous. "The backstory that I came up with was that Eve had been let to bleed out in that one ruin and she was found by tourists several minutes after Villanelle has left her," Heathchote says. "From that she was airlifted to the hospital. It's genuinely miraculous that she survived and that way it maintained Villanelle's intention and ability and also enabled us to have Eve survive." Heathcote may have charted Eve's emotional journey from there, but it was Sandra Oh herself who suggested that Eve should be working in a restaurant making mandu. She even did a butchering course for research purposes. (Of course, butchering could be relevant for many different reasons on Killing Eve.)
Who is Dasha?
But before all of that the episode's cold open introduces an entirely new character: Dasha, Villanelle's new handler and her former trainer, played as an adult by Harriet Walter. It's a flashback designed to show that she and Villanelle ultimately have a lot in common. "I thought it would be great if we could have a woman who she always respects albeit begrudgingly," Heathcote says. "She would never admit that. Someone who she couldn't help but on  some level she's almost met her match." But Dasha is just one part of Killing Eve's expanded universe. Kenny's death also results in the introduction of Carolyn's other child, Geraldine, played by Game of Thrones' Gemma Whelan. If Kenny and Carolyn were of the same mind, Geraldine and Carolyn are very much not.
Need help finding something to watch? Sign up here for our weekly Streamail newsletter to get streaming recommendations delivered straight to your inbox.