Why Kim Kardashian Annihilated Taylor Swift on Snapchat
Christopher Polk/Getty Images Entertainment/Getty Images
Sunday nights were typically a time for rest and Game of Thrones, but last night Kim Kardashian and Taylor Swift turned the end of the weekend into a social media bloodbath worthy of Westeros.
With only a couple minutes of shaky video footage, Kardashian painted Swift as a master manipulator in her ongoing feud with Kanye West, which dates back to the 2009 MTV Video Music Awards. If you went to bed early, you woke up to obsessive Zodiac-level analysis of Taylor Swift's Notes app, hissing snake emojis cluttering your Instagram feed, and images of Rick Rubin napping on Twitter.
How did we get here? Here's the story (with updates to surely come). As Swift is probably whispering to her highly paid squad of PR professionals right now, we're not out of the woods yet.
Kim goes after Taylor Swift on Snapchat
In a GQ cover story earlier this year, Kim Kardashian hinted that she had video footage of Taylor Swift agreeing to a lyrical reference to her on "Famous," a track off her husband Kanye West's The Life of Pablo album. "I feel like me and Taylor might still have sex," he raps on the song. "I made that bitch famous."
Needless to say, Swift was not a fan of the reference and the offending lines were widely considered to be the inspiration for her biting Grammy acceptance speech back in February. So, the leaked footage hinted at in the GQ profile was widely anticipated and Kim deftly used last night's episode of her E! Network show to prime the pump for the big Snapchat reveal.
What the world saw
In the Snapchat clips, besides seeing the super-producer of Reign in Blood chilling in a state of Zen bliss, we do hear West speaking to Swift and workshopping the portion of the song where he says him and Taylor might still have sex. In the slightly awkward footage, Swift thanks West for running the line by her. "Relationships are more important than punchlines," says West in the clip. If this were an episode of The People Vs. OJ, that would be the thrilling cliffhanger, but social media drama doesn't play by the same rules.
Taylor Swift fires back
Hours later, Swift posted the above Instagram photo of a Note, a favorite move of celebrities looking to get something off their chests while also seeming down-to-Earth and relatable. In it, she carefully pivots away from the notion that she was shocked by the song and instead emphasizes that she didn't know about the word "bitch" in the line, which, in her defense, is not discussed in the clip.
"Where is the video of Kanye telling me that he was going to call me 'that bitch' in his song?" she asks in the note. "It doesn't exist because it never happened. You don't get to control someone else's emotional response to being called 'that bitch' in front of the entire world."
She goes on to link this Snapchat video as a part in a string of events that she sees herself as an unwilling participant in, dating all the way back to the Beyonce "Single Ladies" incident at the VMA's. "Being falsely painted as a liar when I was never given the full story or played any part of the song is character assassination," she writes. "I would very much like to be excluded from this narrative, one that I have never asked to be a part of, since 2009."
But here's where things get really complicated! As others have said, it's clear Swift made the screenshot after searching through her notes. Also, as New York Magazine points out, if you zoom in near the search section, you can see the outlines of the words "because it doesn't exist," which could be the title of a draft of a similar note she had saved on her phone, suggesting there were a few different contingency plans already in place for how this controversy could play out.
Everybody else weighs in as the internet burns down
Incidents like this don't take place in a vacuum. Instead, they spread outward, and quickly other celebrities were caught in the crossfire -- or, in some cases, jumping in front of bullets for no damn reason. Things got ugly quickly.
As you see above Selena Gomez took the classic "What about the starving children?" approach. This one was pretty popular with Swift supporters, who apparently just want to be done with this whole conversation. Noted Kim Kardashian critic Chloë Grace Moretz fired off a similar Tweet.
But then quickly got called out -- in a pretty bizarre and uncool fashion -- by Kim's sister Khloe: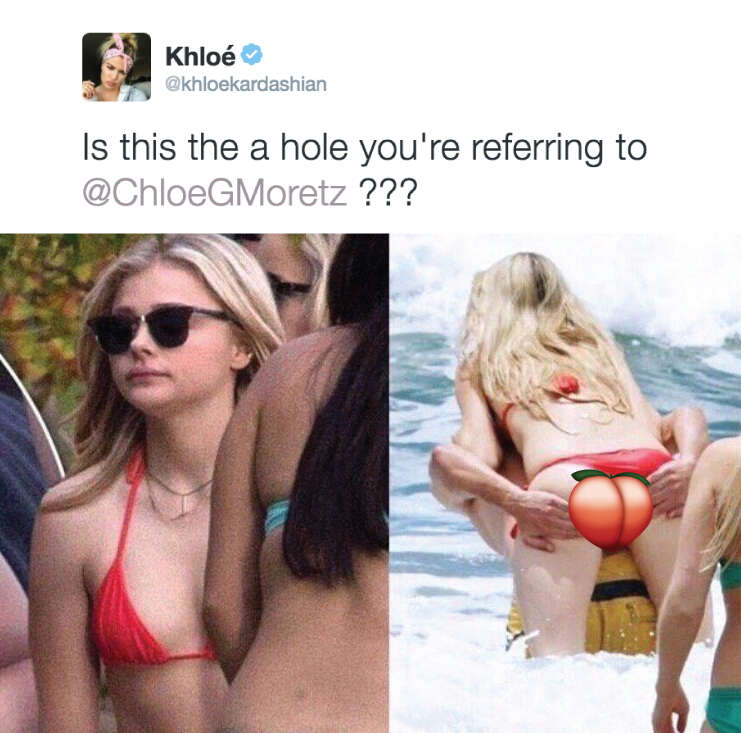 And then there's Katy Perry, a longtime Swift enemy who was a bystander in last week's equally contentious Calvin Harris and Taylor Swift dust-up, using the incident to do a little self-promotion because, hey, why not?
The whole thing got so out of control, that the only person making any real sense was Justin Bieber.
Less hate. More love. Thank you, Bieber.
Sign up here for our daily Thrillist email, and get your fix of the best in food/drink/fun.