'The King of Queens' and Kevin James Are Funnier Than You Remember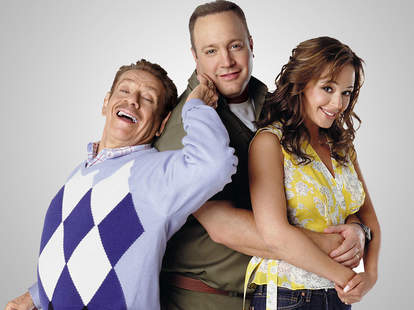 Critics agree: Kevin James' new sitcom is not very good. Kevin Can Wait, the 51-year-old comedian's return to CBS after a nine-year period riding his Paul Blart Segway across American movie screens, has received the type of middling reviews that you'd accept for a show with a pun on the star's name for a title.
"Kevin Can Wait is neither as bad as you may have feared nor as good as you may have hoped," writes Newsday. Taking a more aggressive approach, Vulture proclaims, "Kevin Can Wait Is Exactly As Awful As You Imagined." None of this is surprising. The show will probably be a hit. That's the Kevin James way.
For more than 10 years, James has starred in a string of financially successful movies -- Paul Blart: Mall Cop, Grown Ups, Zookeeper, Here Comes the Boom -- that were savaged by critics upon their release. The only live-action film he's appeared in that received a "fresh" rating on Rotten Tomatoes was the Will Smith romantic comedy Hitch, which sits at a barely fresh 69%. Like his frequent collaborator Adam Sandler, James has built a loyal fanbase that will not be deterred by negative reviews. 
But it wasn't always that way: when James first rose to national prominence via his starring role in the CBS sitcom The King of Queens, which aired for nine seasons from 1998 to 2007, he was not a divisive figure. He wasn't a critical darling, but the early reviews of his show tended to be affectionate, encouraging, and respectful, focusing on his character Doug Heffernan's blue-collar wit and his chemistry with co-star Leah Remini, who played his long-suffering wife, Carrie. In fact, Entertainment Weekly's positive review of the show was glowing, referring to it as "a near-perfect synthesis of Seinfeld and Raymond, recombining many of the best elements of each show into something wholly, delightfully new."
It's hard to imagine a critic writing that rapturously about a James vehicle now, but going back and rewatching episodes of The King of Queens, I think that review got it mostly right. The King of Queens was a funny, serviceable sitcom, the type of show you got sucked into because you forgot to turn the TV off on your way to the fridge. It had Jerry Stiller doing Frank Costanza. It had Patton Oswalt occasionally standing very still. It had that very funny string of episodes where Doug's delivery company went on strike. In a pre-streaming TV world, it was the type of show you just watched because it was on, then eventually said, "Hey, this is actually pretty good!"
Though King of Queens justifiably gets lumped in with other "Ugly Guy, Hot Wife" sitcoms of the early '00s, like Still Standing, Yes, Dear, and The George Lopez Show, it had a better handle on how to twist classic sitcom premises than many of its schlubby contemporaries. An episode like the Season 5 standout "Flash Photography," where Doug uses a disposable camera to take a picture of his penis wearing a top hat and almost ends a friend's marriage, took the "wedding episode" to the type of dark place shows like You're the Worst or It's Always Sunny in Philadelphia now specialize in. The show never announced itself as experimental or form-breaking -- and the braying laugh track might be a stylistic road block for younger viewers raised on single-camera shows -- but it was quietly, reliably funny. 
So, if the show was well-liked, why doesn't TheKing of Queens have a cultural footprint online? Unlike Friends, Seinfeld, or even Fraiser, you won't find GIF-filled lists about "Why Doug and Carrie's Relationship Was Serious Relationship Goals" or thinkpieces about "How Deacon Subverted Deliveryman Stereotypes." Unlike other shows that have emerged as nostalgia touchstones for millennials, TheKing of Queens is not available on any of the popular streaming platforms. (Though most episodes are available on YouTube.) It never went off the rails to the point that people started writing articles about how crazy it was. No one is making a documentary about exporting it to other countries. The King of Queens sits in sitcom purgatory, totally forgotten despite its long-running status, decent reviews, and its star's continued success.
With the premiere of Kevin Can Wait tonight, are we headed for a widespread King of Queens re-appraisal? Are you ready for the Jamesaissance? Yes, that's unlikely to happen, though I have vague hopes for his new show, which was created by James, Queens writer Rock Reuben, and Drew Carey Show creator Bruce Helford, mostly due to a moment in the trailer for Kevin Can Wait that gets at the heart of what makes James an appealing comic actor. James receives a Gyro-Bowl as a retirement gift from his once again way more attractive wife (Childrens Hospital's Erinn Hayes), pours ketchup into it, and tests out the bowl by dancing around his kitchen, pretending he's in a fishing boat. It's not going to win any awards, but I laughed.
James excels at goofy yet graceful physical comedy. His little Gyro-Bowl shimmy is the same type of move that made his work as a shy accountant who learns to dance in Hitch so effective. It's why his old stand-up material, like his 2001 special Sweat the Small Stuff, generally holds up pretty well. It's why people still pause on King of Queens reruns in syndication. Though James has turned into something of a critical punching bag, we shouldn't totally give up on him yet.
Sign up here for our daily Thrillist email, and get your fix of the best in food/drink/fun.
Dan Jackson is a staff writer at Thrillist Entertainment, and he apparently really likes Kevin James. He's on Twitter @danielvjackson.