My God, Cartoon Jon Snow in This 'Call of Duty' Trailer
In Infinite Warfare, the 13th -- thirteenth! -- installment of the popular first-person shooter series Call of Duty, humans take their warmongering tooooo spaaaaace. OK, not the biggest leap for a video game series to make, but the big hook is the talent Activision rounded up to play the main characters in the game. Kit Harington makes his video game debut as the combat simulator's order-barking villain, who appears as a CG version of the Game of Thrones actor. Also in the game: UFC's Conor McGregor as "Captain Bradley Fillion," who does not sound Irish or punchy enough to be a Conor McGregor character, but we'll run with it.
For reference, here's Kit Harington before CG artists painted over his motions for the game: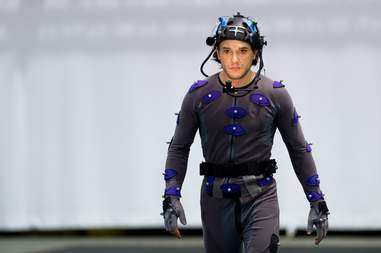 Activision
And here's the final production in action:
According to Activision, Infinite Warfare sports three unique game modes: "Campaign returns to the gritty, large-scale war roots of the franchise, while boldly looking ahead. Multiplayer delivers the future of warfare, with many new gameplay innovations. And the cooperative Zombies mode takes players on a wild ride through a new storyline with unique gameplay features and mechanics."
Besides finally answering the question, "What would Kit Harington look like if he appeared in the movie TRON," the above trailer teases the epically scaled Infinite Warfare story. Whether you make any sense of it, or just spend hours and hours gunning through the universe, is entirely up to you. But Jon Snow finally knows something, and it's how to kill you, so watch out.
Sign up here for our daily Thrillist email, and get your fix of the best in food/drink/fun.
Matt Patches is a Senior Editor at Thrillist. He previously wrote for Grantland, Esquire.com, and Vulture. Find him on Twitter @misterpatches.