Kitty's New Album 'Rose Gold' Showcases How Far She's Come Since Her Days as a Viral Rapper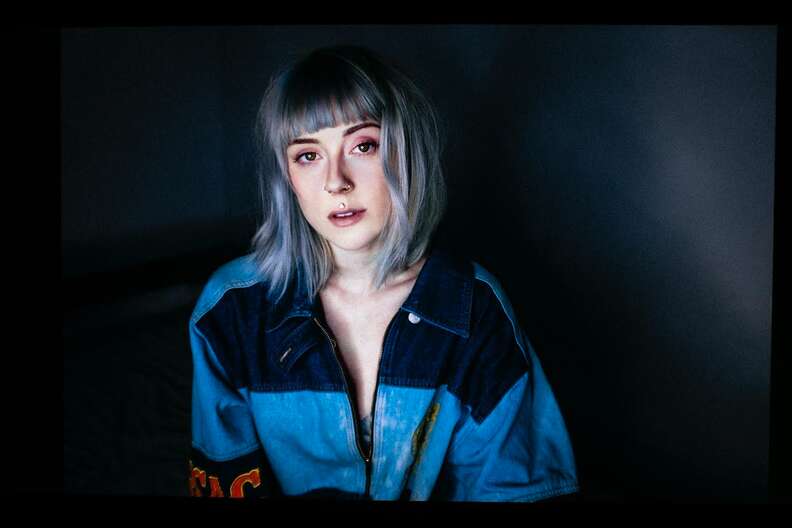 Kitty

| Sam Ray
Kitty

| Sam Ray
Any millennial who spent their high school and middle school years scanning the music forums and Tumblr blogs of the early 2010s more than likely remembers running into the music of Kitty Pryde. After years of being relegated to a passing fad after the popularity of her 2012 track "Okay Cupid," the former internet phenom, who now simply goes by Kitty, has spent ample time experimenting outside the formula of anxiety-ridden cloud rap anthems that launched her career -- and a genre of self-made bedroom producers that followed -- in the first place.
What started out as a silly hobby making songs back in high school quickly made the rounds across the web. Pretty soon, she found herself in an unwanted spotlight, everyone eagerly awaiting her next move. To distance herself from her stint as an internet firebrand, she's been keeping busy by trying her hand at a range of different musical styles at her own pace in a retreat away from the venom of online. In the past few years, she's continued with more solo work while also jumpstarting a bunch of new collaborations with artists like indie rappers DVS and Sprightly along the way.
Kitty's last full-length solo album, Miami Garden Club (2017), was a fully independent venture that sprang from a successful Kickstarter campaign she had launched back in August 2015. The album sounded similar to '80s synthpop, while still maintaining her cloud rap roots. Diehard fans and new listeners all came out in support of it. She's stepped up to the mic as the vocalist for indie rock outfit American Pleasure Club (formerly called Teen Suicide) and even contributed vocals for Ricky Eat Acid -- the respective band and solo project of her husband and frequent collaborator Sam Ray. Kitty's most recent project saw her and Ray forming the Pom-Poms, a rowdy rave-pop duo that hit the ground running by releasing a debut self-titled EP in September 2018. On top of all of this, she's explored new avenues by scoring games for a range of indie games.
Now, she's going back to the basics -- writing and producing entirely on her own -- on her latest solo outing, Rose Gold, out April 5. Thrillist recently hit up Kitty to talk about her newly released album, what she's been up to all these years, and her musical past and future.
Thrillist: Where'd the idea for Rose Gold come from? Compared to Miami Garden Club and The Pom-Poms EP, it seems like you're trying to keep the same vibe going while also experimenting a bit more.
Kitty: Some of the songs on this album I started a really long time ago. This is a confusing, convoluted story, but when I was working on Miami Garden Club, basically everything went wrong. The people that I was working on producing it with just didn't work out and I moved out of LA. I was just going through a lot of stuff.
I spent all of that time that I was in limbo learning more about production. That was my only interest at the time. I started writing all these new songs and then none of them were ready in time to put on my last album. That's a whole other story, but a lot of them, I just kept with me and changed and remade. This is like a collection of stuff that I've made since then. I've been going through my computer and picking out a random file that I've started two years ago and being like, "Wait, this is cool. I should finish this," and then doing it. I had to learn to play keyboard better to be in my band and do a good job, so there's a lot of keyboard stuff. I think it's more dimensional than my last album because of that.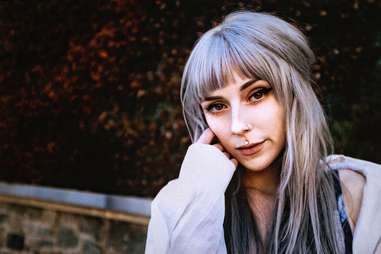 How were the problems you had to deal with making MGC different from the ones you might've run into on past projects?
Kitty: When I first started making music when I went viral, I didn't spend time working at it before that happened. I had no idea what I was doing. I literally just made a song as a joke when I was like 17 and then I got all these people talking about it and I was like, "Well, maybe I can do this." I never had that dream to be a musician at all. I had no idea what I was doing. I didn't really consider it an art. I honestly kind of thought it was just a joke. It was silly to me that people paid attention to it. It was just like, "This is fun. Listen to my fun new songs, guys. It's hilarious, right?" The more that I got out of it, the more that I wanted out of it. Then I was like, "Why do I have to make rap songs? I don't." I could make whatever songs I want, so I started doing that.
A lot of people were like, "Wow, Kitty's done making fun songs, so fuck this," and stopped listening altogether. When I moved forward from that and started getting really into like the artistic side and taking it seriously, I kept doing it. It kind of happened at the same time that music changed. The way that music is marketed and happens on the internet is really, really different. It wasn't so much like, "Oh, this is a funny viral thing." It was people trying to constantly manufacture that.
By the time I moved to LA and thinking maybe I'd get a record deal or something, everybody was telling me, "You've already done this. You've had your viral 15 seconds. You're done now, that's enough." I was like, "Well, I don't want to stop." I did the Kickstarter so maybe I could just keep doing this on my own. That just was a mess because I didn't know what the hell I was doing. I was so trusting and I trusted all these idiots and people took advantage of it. It was hard to even do what I had set out to do in the first place and I got really, really disillusioned by that. I was like, "This is a waste of my life. What the hell am I doing with my time?" I could've been doing any other career that wouldn't make me feel bad about myself always and I chose to just continually fuck this up. I had to put out my album because of the Kickstarter. I had to finish, I had to do it, but I didn't love it.
It was really important to me, but it wasn't an album that I listened to and was like, "Wow, I'm so proud of myself for making this." I was kind of starting to think I was never gonna have that feeling. It would make me sad because I see my husband finish his music and he's like, "This is so tight, I'm not even gonna show anyone. I'm just happy I made it," and I'm like, "What the hell are you talking about?" Now I can just do all of it for myself exactly how I want to. Now I finally have that feeling.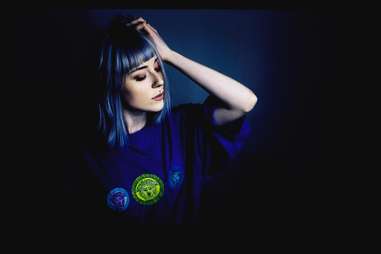 Do you think you benefited from the experience of going viral and then falling off?
Kitty: I mean, I definitely benefited from it happening. It's kind of hard to explain now. I live in Baltimore. I don't hang out with music people anymore, really. From the people I do talk to, it's so hard to get anyone to pay attention to anything. I definitely benefited from the fact that I got grandfathered into getting a bunch of Twitter followers because then, when I put something else out, they're interested.
Nowadays, you can have a viral video like I did and everyone will talk about it, and then the next day, [there'll be] literally nothing. You don't get fans from it. No one ever thinks about it again. I've definitely benefited from the fact that I got in before everybody's attention spans dropped, but I don't know if that fall-off was very helpful for me at all. If that had kept going, I'd probably be a little bit more successful. I think it sucks, but it's just part of the deal.
I look at the new crop of bedroom pop artists like Clairo or Cuco and it looks like they're filling in the niche you carved out. Do you see any similarities between your path and theirs?
Kitty: A lot of the people that I know or just hear about -- because everybody is constantly talking about each other to me because I don't live in LA, so I don't know anyone -- makes me feel like I don't even believe anymore when I see someone do the same thing that I did. It's rude. It's a negative way to look at it, but I'm just kind of like, "How do I even know?" Now that I've seen this other side of things, how do I know that this person actually sat in their room and made this? I know people who've been making things in their rooms for, like, 15 years and they have a thousand people that will listen to them regularly and that's just how it's been. They just don't know what else to do because everybody gets called into meetings and gets cool opportunities that fall through.
It seems like you've gone back to your roots of just making music for the sake of making music.
Kitty: Oh, yeah. I think about the way people go to art school or some liberal arts college and they have this whole thing where they're like, "I'm an artist and I'm gonna be an artist," and then they have this existential breakdown where they have to figure out what art means and what it means to be an artist. I never had that when I was younger because I didn't think that anything I did was art. I was just like, "This is just a fun hobby." Ever since my whole terrible Miami Garden Club experience, I was like, "Wait, I have to make a decision now. Am I gonna put myself through that shit again or am I just gonna do something else?"
I decided to do something else. I started scoring video games. It was a blessing that fell into my lap that I got to work on this video game and then got more jobs working on video games. I was like, "Hell yeah, this is my job now. I can do this. I have a career." As I decided to do that, that was when I was like, "Wait, but I still want to make this other song that's a pop song, and I want to sing it. I guess I could do that." I did, and that's literally how my new album got made.
Which games have you scored?
Kitty: The first one that I did is called Beasts of Balance. It's an iPad tablet game that also works with a Bluetooth board. The original game was scored by Disasterpeace, and then when [the developers] went to make the sequel, he wasn't available anymore, so they were like, "Let's ask Kitty if she'll do it," and I was so honored to replace Disasterpeace. I also did songs for this other game which is an iPhone game called Spin Rhythm, which is really tight. I'm proud of that one too. And then another one called Rainswept that I don't think is out yet, but it's an RPG.
How does scoring games differ from making a full song with vocals and melody?
Kitty: Well, I kind of still get to do that. It depends on the game. The thing about music that makes me feel the most self-conscious is my lyrics and my voice. I'm just incapable of writing something that isn't extremely personal, so every time I release a song that's telling a secret, I feel really embarrassed about it. When I started working on games I was like, "Wait, I can just put it all into this and I don't have to think about the emotion." I can separate myself from it entirely. That makes it so much more fun because it's not emotionally draining.
How does listening back to your old music today make you feel?
Kitty: Oh, I think it sucks. I hate it. It's so stupid. First of all, it sounds bad, production-wise, and now I'm just a nerd about that. I'm like, "Ugh, I can't believe I allowed this." Also, the things I was saying are just so dumb. I'm like, "Oh god, I can't believe I ever did that."
It's like looking back at all old Twitter and Facebook posts when you were in high school.
Kitty: Yes, it's exactly like that! Because I was in high school.
Even then, you can sometimes look back fondly on it, in a funny way, once you look past the cringe, right?
Kitty: Oh yeah, definitely. I always think about it and I'm like, "I can't believe I did this shit." If I could go back and time and not do it, I would still do it, because obviously it's made my entire life what it is now. I'm happy about it but I'm still like, "Goddamn it."
Between your solo projects, The Pom-Poms and other work you've done, there's a distinct sound throughout each of them. When you approach a new project, how do make sure each one stands out from the rest?
Kitty: Sam and I's life is just like, we live in the suburbs and we spend all of our time making music and then learning more about making music. We listen to so many different types of things that sometimes we're just like, "Damn dude, I want to make like a nu-metal song and scream it. Let's do that!" So we'll do it because it's fun and then we'll be like, "Wait, we should put this out, but all of our fans are gonna hate it." We can't put it out as Kitty or else they're gonna be like, "Where's the rap beat?" We just made a new band, so that's how the Pom-Poms happened. That's also kind of why I'm part of American Pleasure Club now because we started writing songs with instruments with a four-piece band and I was like, "Oh, this is a good song. We should put this out. We might as well put it out as a band." Now we have everything that we want to release. We actually have four projects, because we have Kitty, the Pom-Poms, American Pleasure Club, and Ricky Eat Acid. We just figure out what song a project fits and then put it out that way.
Is there anything you haven't done yet that you want to try?
Kitty: We put out this really hard metal song a few months ago, as American Pleasure Club, and then we decided that we wanted to just make a bunch of really hard metal songs now. So we're probably gonna have to start a new band for that.
What music have you been listening to lately?
Kitty: I don't pay very close attention to new music because I'm a big pop fan. That's my main shit and it always has been. I feel like pop music is not my thing at the moment. I just listen to shit from like the '80s and the '90s. I like to try and find the equivalent of me from like the '90s who no one really listened to but they just made a bunch of music anyway and it was good. Not to be self-deprecating there, but it's just fun to find underground shit.