Rian Johnson's Must-See 'Knives Out' Is a Twisty Whodunnit With a Nasty Streak
Daniel Craig, Lakeith Stanfield, and Noah Segan

| Lionsgate
Daniel Craig, Lakeith Stanfield, and Noah Segan

| Lionsgate
You can never tell what writer-director Rian Johnson is scheming. His 2005 debut, Brick, was a high-school mystery turned on its head. 2012's Looper played around with time travel in ways only quantum physicists could think up. And The Last Jedi picked apart, flipped around and molded the entire Star Wars series into something totally new. So, to say that we expect a lot from Johnson's new movie, a classic Agatha Christie-style whodunnit, is an understatement.
The good news: Knives Out slices through every expectation put before it, spinning a twisty, twisted yarn of greed, fear, family betrayal, and murder. The movie, which premiered at the Toronto International Film Festival, brings together the filthy-rich members of the Thrombey dynasty at their gorgeous, amazing ancestral home deep in the woods to celebrate the 85th birthday of patriarch Harlan (Christopher Plummer). Everyone's there: Harlan's children and grandchildren, their spouses, and Harlan's nurse (Ana de Armas), and all of them seem to have had some sort of altercation with Harlan mere hours before he was found dead of an apparent suicide.
When detectives show up to sort everything out, they bring along consultant Benoit Blanc (Daniel Craig), an inspector made famous by his ability to sniff the truth out of every crime he's been hired to solve, and he can tell immediately that something about this whole situation just doesn't add up.
I really don't want to reveal too much more than that, since a film like this hinges on your inability to see what's coming next. What you think is going on is actually revealed a little sooner than you might expect, before everything is turned inside out by the end. A whodunnit becomes a how-do-they-get-out-of-this-one becomes a whodunnit all over again, and it's such fun to watch a writer-director like Johnson get to play with all the familiar, cozy tropes before throwing everything out the third-story window.
One of the film's best scenes comes right at the beginning in the form of a series of intercut interviews with the surviving family members about where they were the night of the "suicide" and what they had been saying to each other. It's swiftly revealed that all is not so serene in the Thrombey household: Harlan's murder-mystery-novel publishing empire had been torn out of the clutching hands of one of his failsons, another family member had been using him to fund her daughter's private-school education, another had been funneling family money into his own business. It's yet another of this year's genre movies that treats rich people like aliens, stepping in to examine all their interpersonal problems before pulling back out to show you how ridiculous it all sounds.
Toni Collette's mermaid-haired Gwyneth Paltrow parody invokes chakras and peddles healing remedies from her website that's definitely not Goop.com. There's an entire hysterical political conversation over the dinner table that's definitely not about the current President of the United States. And, given Johnson's experience with the denizens of the Internet, it's probably no coincidence that Jaeden Martell (It's Bill Denbrough) plays an "alt-right Internet troll" whose nose is perpetually buried in his phone.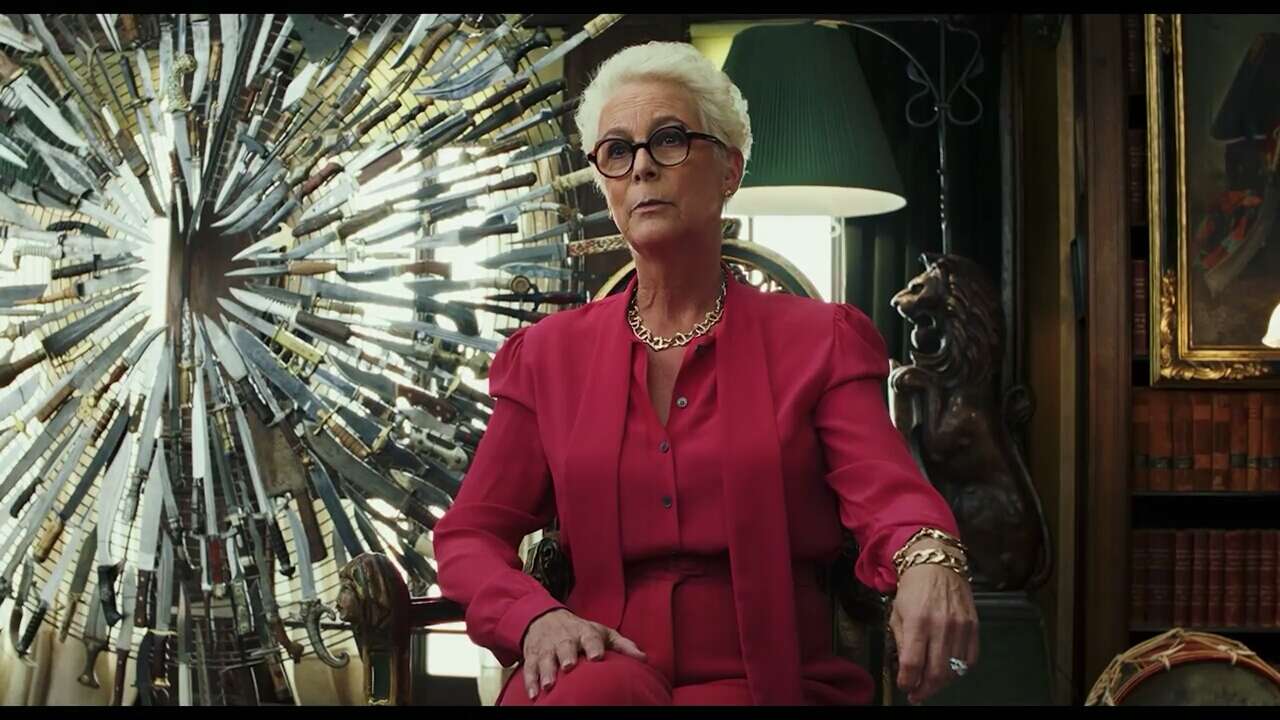 What's most fun is watching this nearly unbelievable cast make many, many meals out of the nasties they get to play and the scenes they compete to steal. Jamie Lee Curtis and Don Johnson constantly look down their noses at the other Thrombey siblings, Michael Shannon sinks deep into his character's thankless career as his dad's publisher, and Chris Evans plays Captain America's evil twin, tossing out swears every chance he gets and sauntering around this massive country house in an ever-changing chorus line of cozy sweaters. (There are so many sweaters in this movie, and each is better than the last. It's the perfect late fall thriller.)
The real standouts, though, are Craig as Detective Blanc a.k.a. Kentucky Fried Columbo, drawling, "What's the cheese?" and spouting monologues about donut holes, and de Armas as Marta, Harlan Thrombey's nurse whom Blanc shanghais into being his Watson for the weekend, since Marta can't tell a lie without throwing up from the strain. Craig is so freewheeling and fun, and de Armas gets so much more to do here (you probably remember her as artificial intelligence hologram Joi from 2017's Blade Runner 2049), and is genuinely the movie's not-so-secret star.
It's such fun watching these characters square up against each other, manipulating and scheming while also trying to solve a murder mystery, and it's so gratifying that, for once, a great big studio tentpole with an unbelievable ensemble cast is a wholly original piece. Not a single gamepiece in Knives Out is left untouched, not a stone unturned, all leading up to a final shot that is, if you'll pardon me, nothing less than killer.
Sign up here for our daily Thrillist email and subscribe here for our YouTube channel to get your fix of the best in food/drink/fun.
Emma Stefansky is a staff entertainment writer at Thrillist. Follow her on Twitter @stefabsky.