How SyFy's New Series 'Krypton' Ties Into the Superman Mythos
"The story of El isn't how we died, but how we lived."
That fateful line is spoken in the opening minutes of SyFy's new series, Krypton, a Superman origin story that tells the history of the famously destroyed planet. The show, which premiered this week, plays around with the Superman mythos as we know it, raising the stakes and using preconceived comic knowledge to subvert expectations left and right. After watching the first five episodes, starting with tonight's premiere, we can firmly say: Krypton is more Game of Thrones bloodsport than the sweetly sleek heroics of its CW counterparts, for better and worse.
But how much do you have to know about comics to feel comfortable getting into Krypton? Not much, really. A general working knowledge of Superman lore might be helpful, but the show works overtime to establish its characters and their connection to our red-caped hero. And though the story technically takes place generations before Superman's birth, his figure looms large over Krypton's Season 1 plot.
Here's a guide to everything going on in Krypton, including its characters, its ties to other DC properties, and the famous faces you can expect to show up.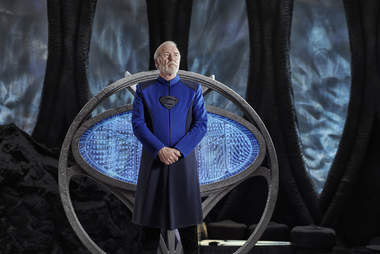 SyFy
Who are the main characters and actors in Krypton?
Set almost 200 years before the events commonly associated with Superman's lore (namely
Krypton
's destruction), the series centers on Seg-El (Cameron Cuffe), grandfather of Superman and father of Jor-El (played by Marlon Brando in the old Superman films and Russell Crowe in
Man of Steel
). The House of El is in turmoil after Seg's grandfather, Val-El (
Game of Thrones
' Ian McElhinney), a scientist, stands trial in the capital city of Kandor for leading a rebellion against its stiff society. The reason for his insurrection isn't revealed until later in the season, but the trial's implications are large for the Els, who are disgraced for his actions.
An adult Seg gets wrapped up in an underground crime ring to make ends meet, but after saving some Kandorian officials from a bomb, chief magistrate Daron-Vex (Elliot Cowan) offers him a chance to marry his daughter Nyssa (Wallis Day) and restore faith in the House of El. But this return to grace is complicated by a few things: Seg is having a secret affair with Sagitarian private Lyta-Zod (Black Mirror's Georgina Campbell), and a time traveler named Adam Strange (Shaun Sipos) shows up to warn him about a future plot to destroy Krypton to prevent the birth of Seg's grandson.
There's a lot going on in the first handful of episodes that we've seen: family corruption, societal oligarchies, master plots from well-known baddie Brainiac (Blake Ritson), and a few major twists that open the door for comic nonconformity. This ain't your grandpa's Superman origin story.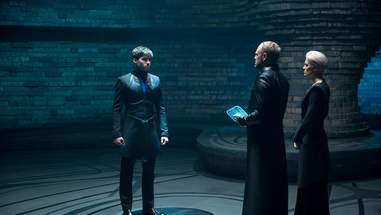 SyFy
How does the show connect to the DC movies and TV shows?
Though developed by David S. Goyer, screenwriter of
Man of Steel
and
Batman v. Superman: Dawn of Justice
, Krypton isn't technically set in the DC Extended Universe, although, according to
Screenrant
, earlier trailers included since-edited scenes that directly tied the series to the films. (The El family emblem, for instance, used to match the logo seen in the movies.)
Krypton is also separate from The CW's "Arrowverse" shows -- Arrow, Supergirl, The Flash, and Legends of Tomorrow -- which are also based on DC characters and have featured Superman in select episodes.
Showrunner Cameron Welsh told Digital Spy that the series is instead "adjacent" to both properties. "It's not part of the Arrowverse, and it's not really part of the DCEU," he admitted. "It's not going to feel like something completely different, or like it doesn't belong. It does [belong]. But by virtue of the fact that it's set on an alien planet and it's set 200 years ago, it's going to feel different in that sense."
Instead of fitting into those pre-existing worlds, the look of the show is more influenced by series like Game of Thrones, and the storytelling borrows beats from movies like J.J. Abrams' 2009 Star Trek and even Rogue One, in that it introduces time travel to set up new possibilities and focuses on characters whose fates are seemingly determined. Welsh himself admitted to the touchstones: "The world of Krypton will feel a lot more like Rogue One – it's a little bit less slick, a touch darker."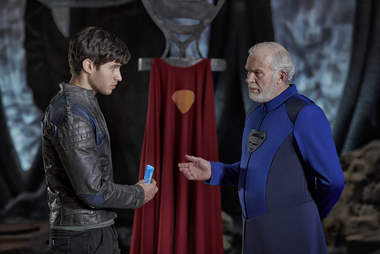 SyFy
How does it tie into the Superman story?
Superman's famous cape gets a cameo in the pilot, and there are plenty of winks and nods to the comics. Adam Strange, the Tigers-cap-wearing time traveler, is straight out of the digests, but don't confuse him with Marvel's Doctor Strange; Adam Strange predates that character by a few years. We also eventually meet the aforementioned Braniac, and because of the time travel element, Welsh has teased that we'll eventually see other DC characters like Doomsday, Hawkwoman, and Booster Gold.
The mysterious Voice of Rao, the many-faced golden masked guy, is also tangentially related to the comics. In Krypton, the characters worship the prophet of sun god Rao. In the comics, Rao is indeed the red supergiant that Krypton revolved around. In Neil Gaiman's Sandman series, Rao appears as the personification of the Kryptonian sun; in the New Krypton comic story arc, Rao is a chaotic being who created the universe and later inspires zealots, much like Krytpon; and in DC's The New 52 run, Rao is a physical being who serves as a main villain.
But though Krypton tosses in Easter eggs here and there, it largely eschews conformity when it comes to its comic ties. That's an exciting direction for the series, which tells us straight out the gate that it's going boldly in its own direction. Seg's moral dilemma is the most interesting facet of the series: will he accept Krypton's destruction to insure his future grandson's existence, or try to prevent it? That's the hook that keeps Krypton fresh and moving, and different than anything else going on in the DC universe.
Sign up here for our daily Thrillist email and subscribe here for our YouTube channel to get your fix of the best in food/drink/fun.
Lindsey Romain is a pop culture writer living in Chicago. Follow her on Twitter @lindseyromain.