Lakeith Stanfield Isn't Worried About the 'Death Note' Haters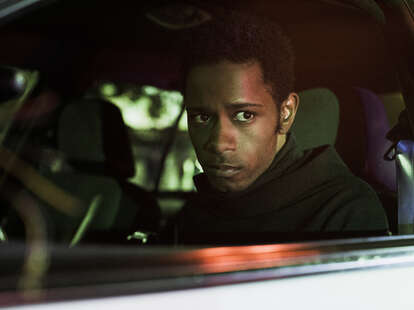 To watch Lakeith Stanfield onscreen is to enter an altered state. Whether he's playing a boy-genius detective in Netflix's bonkers anime adaptation Death Note, a man jailed for a crime he didn't commit in the powerful ripped-from-the-headlines docudrama Crown Heights, or a brilliant stoner philosopher in Donald Glover's groundbreaking FX comedy Atlanta, he leaves you discombobulated. Few young actors are as gifted at making you question your own reality. Entering his orbit for an interview isn't that different: He takes you on a trip.
Mere blocks away from Trump Tower in Midtown Manhattan, where protests battling the political reality of the moment have been a near-constant presence, the 26-year-old fidgets in a room in the Essex Hotel, likely weary from a week of press and a busy year. In addition to starring in Death Note and Crown Heights, he's also had scene-stealing roles in Netflix's romantic comedy The Incredible Jessica James, Brad Pitt's dark military satire War Machine, and Jordan Peele's box-office conquering social thriller Get Out. Somewhere between all of that, he carved out time to appear in a Jay-Z video. "I don't even know exactly where we're at," he says at one point in our conversation. "I'm not too familiar with New York."
Born in San Bernardino, California, Stanfield got into acting as a teenager and scored his breakthrough role in 2013's Short Term 12 as a troubled teenager alongside future Oscar winner Brie Larson. His thoughtful performance earned him rave reviews, further acting opportunities in movies like Selma, Dope, Snowden, and Straight Outta Compton, and a reputation as a "method" performer. "He's very focused," says his Death Note director Adam Wingard. "I really respected that and I gave him his space. He goes off and goes in the corner, and comes in ready to go."
That combination of fierce introspection and off-kilter humor was on display during our interview, which covered his Death Note role, the challenges of Crown Heights, and a surreal possible future for his Atlanta character, Darius. Stanfield's corner of the universe -- both private and playful -- is a place to get lost in.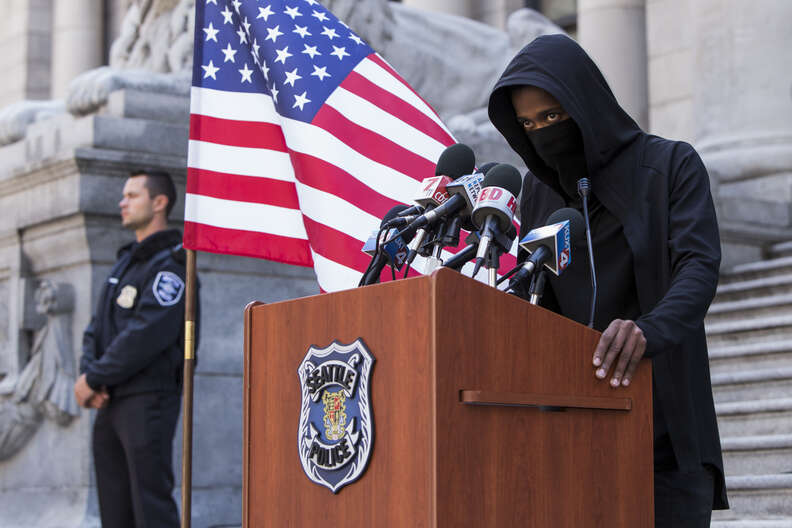 Thrillist: L is such a cool part because you get to be this master detective. What drew you to that role?
Lakeith Stanfield: I really appreciated the character in the original manga and anime story, so I wanted to be a part of bringing justice to the role. I fell in love with the original and that's what made me want to take on the part.
Were you already familiar with the anime series?
Stanfield: I wasn't familiar. I came to it having found about it through the script.
It's such a physical part. You do a lot of crouching and eating candies. Were those elements that you drew from the original series?
Stanfield: Yes, I tried to remain as true as I could to the original concept. But I realized we were doing something that would be a departure from that so I took that into consideration as well.
Were you concerned about fan response to your performance or what people's perception of the character might be?
Stanfield: No. Since I was such a big fan of the original, I wanted to pay homage to that original rendition. That was my main thing. I had watched all the Japanese films so I knew that there were versions out there already that were pretty similar so I was excited at the idea of going in a different direction, but I just wanted to make sure I retained some of the original things that I loved about L. That was what it really was. My infatuation with the original work caused me to want to give to that.
I felt as though I couldn't be concerned about what people may think. I would have liked if they appreciate the overall work, but I couldn't bring in other outside perceptions, otherwise I wouldn't be able to do what I was doing. There's always going to be something that someone doesn't agree with or doesn't like just by virtue of looking the way I look in comparison to the role, as well as others in the film. That's going to present issues itself. There are certain things you can't change. So you just do what you can to be of service to the work.
Was it hard knowing that other performers had done the same role before?
Stanfield: No. It felt completely fresh to me. Those were different expressions of it that I appreciate. This to me was something completely different. It represented an opportunity.
On the other hand, in Crown Heights you play a real person and you're dramatizing his life story. Does that add an extra weight to a role like that?
Stanfield: If there's a "weight" to it, I think that can be determined by the audience. As far as the way I felt about playing the character, it was similar to how I feel about going into anything, which is that by the time I touch down on the set I can't really have many inhibitions. I have to understand what needs to be done or what I figure needs to be done and roll through with that. If I go into it with too many questions as far as what I'll bring to the role, than I risk being contrived. So I try not to think about that. I just focus in and go.
At what point did you get involved with that project?
Stanfield: [Crown Heights director] Matt Ruskin reached out and wondered if I'd be interested in this story. I think he just had a good eye because I kind of look like a little bit like Colin Warner, so when he sent it to me I realized it was a story I wasn't aware of and that I should be aware of it -- and that maybe other people should be, too. That drew me in and made me want to be a part of it.
At what point did you meet the real Colin?
Stanfield: Probably a couple weeks before we started shooting. I hung out with him.
Did that inform your performance?
Stanfield: Maybe in some way. I imagine everything I come into contact with at some point influences something. But not consciously because I didn't really want to mimic him or do anything that he did in particular, or try to be him. What I wanted to do was try to be the character within the confines of the story. Because the story is not his actual life. It's a story representing his life. So I wanted to represent that character within the confines of that story and use what I knew, but not try to be him. If that makes sense. I wasn't trying to mimic him. I was trying to listen to his story, gain information, and then work that into the confines of the narrative.
Did you do a lot of additional research for the part?
Stanfield: Oh yeah, we did a lot. There was a lot of court transcripts, a lot of hearing transcripts. We worked with a vocal coach who actually appears in the film. We went through pages and pages of stuff through the case. I watched all his interviews and the documentary that Matt had made and read books, visited prisons. Also, [Colin] invited me to his house and his family invited me to a shrine in the corner of their dining area and they blessed me to move forward. That made me feel reassured as well, like, "OK, now we're going."
It's interesting that both Death Note and Crown Heights are coming out at the same time because they're very different. When you're choosing roles, are you looking to work in different genres or is it just a case where if the role speaks to you it speaks to you?
Stanfield: That's it. If it speaks to me, it speaks to me. I think that's what it is. We've got many different shades and sides to ourselves so whatever I feel is jumping at the time, I will move accordingly.
In this year, you were in Get Out, one of the biggest movies of the year, and last year you were in Atlanta, one of the most acclaimed shows on TV. Has that changed how you move through the world?
Stanfield: Oh yeah. Recognition is happening. It's a new chapter. It's pretty interesting, and nice that I can be a part of things that people adore for pretty cool reasons. It isn't anything I have to be ashamed about, which is nice. I'm not out here acting a fool, and that's a gift because I just want to work like the next person. When I first started I could've easily done something that I could be humiliated about, so I'm grateful that the things that I've done I could be proud of.
Have you been offered things where you were like, "This isn't for me," and didn't go for it?
Stanfield: Sure, totally. We all are. That's just part of the game. There are going to be a bunch of things where people perceive you as a certain thing and they want to kowtow to that. It's just part of life, really. People think a million things about you before you even open your mouth, and that's just part of it. Totally.
Going forward now are there certain types of roles you're looking to play?
Stanfield: Obviously there are things that excite me more than others. But the thing about taking roles is I don't really necessarily go out looking for the role I really want to play next. If that's what I want to do then I attempt to create my own content. But what I do is I will uncover a nice cool new story because there are brilliant people creating these characters and stories. And it will tell me that should be my next move. It speaks to me in a way where I'm like, "OK, that's the one." I didn't even have knowledge of it before. And I guess that's always in a state of transition as I grow and experience more things. What I'm interested in evolves.
Having worked with Jordan Peele on Get Out and Donald Glover on Atlanta, do you ever think of generating your own material like that?
Stanfield: I think what they're doing is great. It's amazing. But I always wanted to create my own content since before I started. These guys serve as really great friends to hang around and watch what they've done and gain knowledge from them. It's a really beautiful thing and a great gift to me.
What forms do you think that might take going forward?
Stanfield: I do, but don't know what form they'll actually take. Yeah, I guess you'll have to stay tuned.
For Atlanta in particular, have you gotten scripts for the second season yet?
Stanfield: If we got scripts, I wouldn't tell you. But, no, we haven't. [laughs]
I read that the writing staff is already working on Season Two, so do they give you hints?
Stanfield: They're so smart, man. They're so smart. They keep us on our toes. We never really know what's coming or going. It keeps us in the moment of it all. Also, they're always picking up new information. Something may happen in the news today that may end up in the Atlanta universe. Their tentacles are so vast that it's hard to say. Really, who knows?
That's what watching the show is like.
Stanfield: Yeah, it directly translates because that's their style. But they're very raw and they pay attention to real things and so they might be watching this interview right now. [looks around room] Make sure the cameras aren't watching.
Do you have ideas for where you want your character to go?
Stanfield: I want Darius to get pregnant. That'd be awesome.
It would work in the show.
Stanfield: Totally.
There's an invisible car. Now Darius is pregnant.
Stanfield: Darius pregnant. 2018. That's my vote.
It could be a mystery. Who is the father?
Stanfield: Maybe Darius is the father and the mother. He's a mother-father.
This interview has been edited and condensed for clarity.
Sign up here for our daily Thrillist email and subscribe here for our YouTube channel to get your fix of the best in food/drink/fun.