Why You Need to Get Into Lana Del Rey Right Now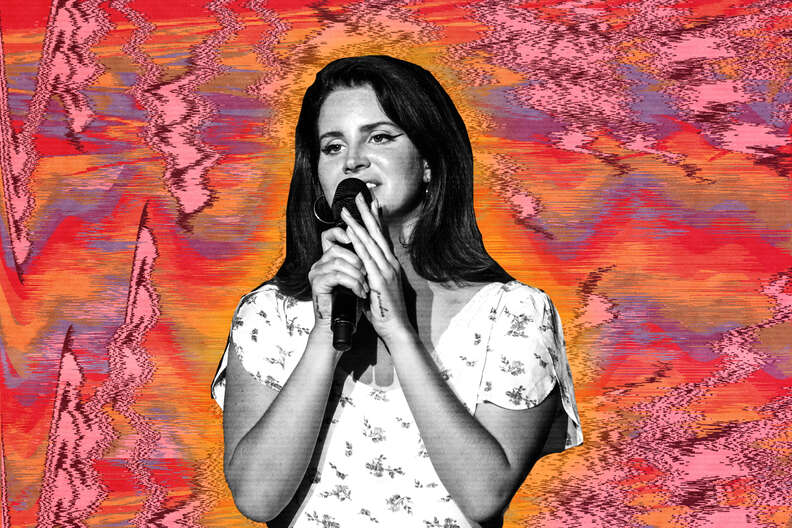 Frannie Jiranek/Thrillist
If anyone was born in the wrong era, it was Lana Del Rey. The singer with an Old Hollywood voice and decadent '60s Bel Air starlet style was meant to be sharing the stage with Sinatra and starring opposite Elvis in genre flicks. But alas, she's an alternative pop star who's headlining festivals in the 2010s. It's like she was displaced into our world when her vision of America -- a bewildered place of possibility that's just as enamored with the open road as it is icons -- is long gone. This is unfortunate for her, of course, but lucky for everybody else who gets to bask in her poetic musings and grasp the American dreamscape she's relaying.
This doesn't necessarily make her an accessible pop star, though. Her music rarely gets radio play -- aside from when "Summertime Sadness" was literally unavoidable -- and it tends to veer in the opposite direction of the rest of the pop landscape, both lyrically and in its sound. It's drenched in pastiche and revolves around "sad girl" lyricism more than anything else. She's also inadvertently become the sort of mysterious icon that she jockeyed into her inscrutable persona.
But now more than ever, there's no better time to get into Lana. She may never move away from her love for the past or novelty nostalgia tracks, but she's never sounded more current than on her stunning new album, Norman Fucking Rockwell! It's like her dream for America is more present than ever, and her extended hand on its cover is an invitation to come aboard her sailboat for a voyage to her version of the future. She's been stunning critics and her devout fanbase for years, but now, as we enter what's basically become the Lana-ssaince, you'd only be doing a disservice to yourself by refusing to hop aboard the S.S. LDR. It's time to immerse yourself in her body of work.
So, who is Lana Del Rey?
Lana Del Rey was born Elizabeth Grant in 1985 and grew up in upstate New York. She didn't begin donning those flower crowns or start collaborating with the likes of Stevie Nicks overnight, like some pop mavens do these days. While living with relatives on Long Island after high school, she'd make the trip into New York City to play gigs under a variety of names, and she began to pursue her dream while studying at Fordham University and working in youth outreach programs. She ultimately landed her first record deal after being discovered via a songwriting competition.
She used the funds from the contract to make home for herself in a New Jersey trailer park, where she spent time writing as Lana Del Rey, and scored big when her tracks "Video Games" and "Blue Jeans" went viral on YouTube. She then signed a joint deal with Interscope and Polydor to release her first official LP, Born to Die. The rest is history: That record has now spent 322 whopping weeks on the Billboard 200.
If you didn't catch the initial Born to Die wave, or any of her excellent releases since then, you may remember her entrance into the general pop cultural consciousness with her 2012 Saturday Night Live performance, which she got a lot of flack for at the time, some calling it one of the worst performances on the show ever. Unfazed, she's been LDR-ing hard since then, with five records to her name and several soundtrack themes. She knows as well as I do that her ethereal plane of existence is the one to get on.
But, like... what's her deal?
Passive fans or anyone who has yet to dip into the Lana-verse might see her more as a caricature instead of the artist that she is. Yes, she looks like a spitting image of Priscilla Presley at times. Yes, she's gotten a reputation for making a Lolita of herself. And, yes, she's made headlines for attempting to hex President Trump. It all might seem like fodder for Tumblr users, the core audience that latched onto her when she debuted, but it's genuine to who she is and her artistry -- and it casts the perfect mythos around her.
If that very mystery of her mid-century aesthetic has made you shy away from getting into her music, it's important to know that LDR isn't just an elaborate and meticulously crafted stage presence. LDR and Elizabeth Grant are largely one in the same, and have become even more synonymous over time. Originally, as much of Born to Die and her music videos illustrate, LDR was a persona loosely based on Grant's own past: NYC's own "Queen of Coney Island" who struggled with addiction before setting off cross-country for a glamorous life in Los Angeles, where she settled into the Hollywood sign. (It's the fantasy she deserves.) It's all extremely seductive, like a character out of a Sofia Coppola film.
The kitsch is integral to LDR, but over time, she's stripped back the Valencia filter that floats around her aura and opened up her bleeding heart even more. So, naturally, the conversations about her have shifted to focus on the songwriting, the thing that's always been the most magical thing about her. She's a dreamy yet earnest visionary who's in tune with herself, in her devotion to romance and sadness, as well as life's fuckery, just as much as she's attuned to the past. Even in her songwriting, she belongs in another era; she could've been one of the Beats.
What's Lana Del Rey's best music?
The easiest point of entry is absolutely her debut Born to Die. Not only is it an introduction to her character, it's the most traditional pop record of her discography, playing with hip-hop sounds in a dramatic swagger. Its overt sexual tones blended with soaring sounds and her girlish alto voice will equally make you want to write a confessional poem to the one and sit on the sidewalk, scoping out new lovers while tying knots in cherry stems to bide the time. Not only does the record feature fan favorites like "National Anthem" and "Born to Die" that proved her prowess, it includes what remains one of her all-time bests, "Video Games," a song that may be based in simplicity but plays like the film reel of a classic romance -- the core of her music still.
Aside from Born to Die, her sophomore record, Ultraviolence, which strips back the theatrics for a sultry effort full of ballads based in pain and lost love, is still one of her strongest. And while there are stand-out gems throughout her records, including the Paradise EP track "Ride," Honeymoon song "Terrence Loves You," and Lust For Life's "Love," this year's Normal Fucking Rockwell! is a testament to her growth, and the artist she's always been. Here, she's a defiant writer and experimentally psyched-out, as if she knows her beloved America is going down in flames and she's desperate for her feature film vision of it to replace what's real so we're left with more than embers. It even includes maybe her best song ever, "Hope Is a Dangerous Thing for a Woman Like Me to Have - But I Have It," where her lustrous voice sears over a stripped-down track. It's piercingly intimate and somewhat sly. Like "Video Games," this song and record are an amalgamation of what makes LDR a timeless creative.
Aside from the vibe that is Lana Del Rey, it can be intimidating to dive head-first -- like a "swimming pool, glimmering darling" -- into her discography, made up of 89 tracks. Her sound doesn't fit any genre label, unless you'd count cinematic as one. But once you do give her a listen, you'll find what she's known all along, like she sings on the Norman Fucking Rockwell! song "The Greatest": "The culture is lit," and she's always been the one having "a ball."
Why should I care about Lana Del Rey?
After listening to her records, you should be able to catch onto the fact that Lana Del Rey is one of the best songwriters of our time, and a force for good. You might even call her a poet, first and foremost, because her words read more like an entry from one of her inspirations, Sylvia Plath, than they do a pop song. (Scroll through her Instagram, and you'll find plenty of typewritten stanzas.) It's a style that put a point of reference on what's been dubbed "sad girl" culture, or a kind of inexplicable melancholy, full of feminine intricacies that many young women experience, more than any other major artist before. She doesn't intend to glorify this pain, but rather her songs have become a sincere vehicle of understanding for many.
It's also this very style, both lyrically and sonically, that has been the greatest touchstone for younger artists like Lorde and Billie Eilish, who rose to fame after her. Eilish, for example, cites LDR as one of her inspirations, and you can certainly hear it in her death-fascinated and antisocially inclined brand of pop.
Lana's undoubtedly already a cultural icon -- having reclaimed flower crowns and taken the heart-shaped shades off Lolita's face to make them her own -- but she's destined to become one of the greatest icons future generations will continue to be perplexed by, or maybe beloved wholesale. On the Paradise EP song "Body Electric" she sings, "Elvis is my daddy, Marilyn's my mother, Jesus is my bestest friend" -- and it feels inevitable that someday one of her ingenues is likely going to be singing a tribute track for her, plugging her name into a lyric where a mid-century star would've been.
Sadie Bell is the entertainment editorial assistant at Thrillist. She tweets about music and how much she loves Lana Del Rey at @mssadiebell.