To Become a Real-Life Lara Croft Model, She Had to Look the Part and Play By the Rules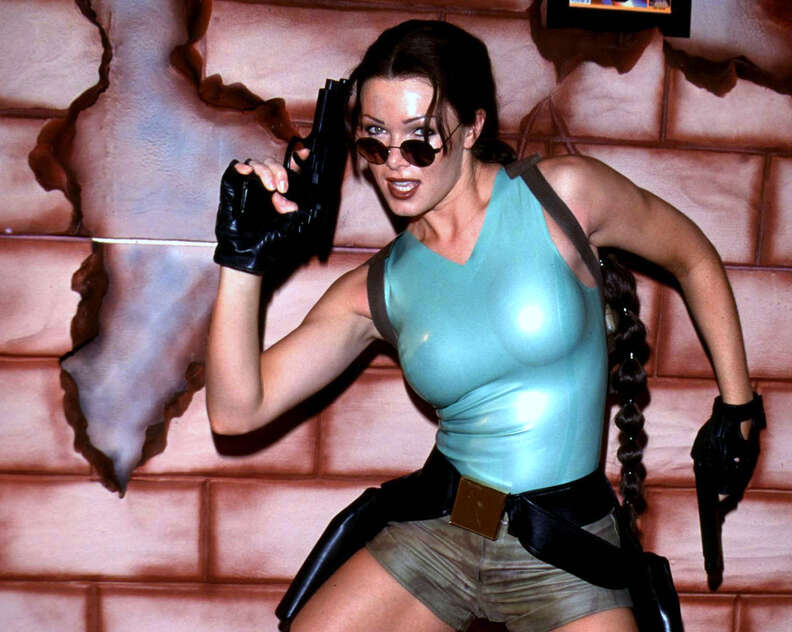 Nell McAndrew as Lara Croft at the 1999 International Toy Fair

| Evan Agostini/Getty Images
Nell McAndrew as Lara Croft at the 1999 International Toy Fair

| Evan Agostini/Getty Images
Nell McAndrew was a 20-something model living in London in the late 1990s when her agent told her to grab a dark wig and head to an audition. The growing gaming industry wasn't on McAndrew's radar, but soon she would inhabit the role of a video-game icon: Lara Croft, the heroine of Tomb Raider.
Lara was a 3-D avatar cast from the Indiana Jones mold. McAndrew, suited up and brandishing two pistols, would realize her in the flesh. But unlike Angelina Jolie or Alicia Vikander, the Oscar winner currently playing the adventuring heiress in the latest Tomb Raider adaptation, McAndrew was not hired to bring Lara Croft to life on-screen. Rather, the Brit would wield Lara's signature weapons for Eidos Interactive, appearing at expos and department stores, providing a living, breathing, tour-able counterpart for the digital dream girl.
"Everybody was just lovely," McAndrew tells Thrillist. "There would be families. There would be lots of males -- mainly males. But lots of females as well. I just didn't realize just how popular the game was until I actually saw the crowds." The phenomenon was real, and energized. "People proposed to me."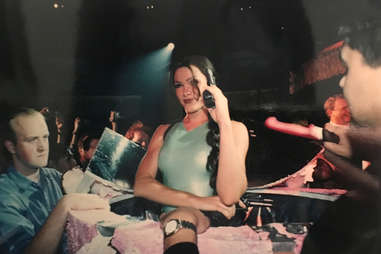 McAndrew was not the only stand-in. In 2012, the number of women who have "played" Lara over the years earned the franchise a spot in the Guinness Book of World Records for "most real-life stand-ins." Nathalie Cook is credited as the first Lara model in 1996; Rhona Mitra, an actress who appeared on The Strain, is perhaps the most famous. McAndrew took on the role in 1998, as part of the Tomb Raider III press bonanza. Her reign proved controversial, thanks to a Playboy shoot that turned into a legal battle for Eidos.
For Eidos, the models were an extension of a vast marketing operation. Even in animated form, Lara hawked soft drinks and appeared on magazine covers. But as integral as the human Laras are to her legacy, the game's creators did not welcome them when they were introduced. "I think it was one of the things that riled up [designer] Toby [Gard] and all of us, when the marketing got ahold of her and used her as a glamour model," developer Gavin Rummery told Entertainment Weekly. "That's just not the character in the games. She's not that kind of girl."
Though Gard insists he never intended for Lara to be drool fodder -- despite how Eidos positioned her in the popular imagination -- he still gave her a Jessica Rabbit body with a tiny waist and giant chest. "The idea was to create a female character who was a heroine, you know, cool, collected, in control, that sort of thing," he told Gamasutra in 1998. He added: "I know you could argue that Lara with her comic-book style over-the top figure is exploitative, but I don't agree."
The history of Lara is fraught with discussions over just what "kind of girl" she is, and reignite whenever Lara seems to have evolved. In the new film -- which echoes the 2013 game reboot -- Vikander's Lara is a bike courier, defined more by her developed abs and upper arm strength than her breasts and bare legs. She trades shorts for pants and guns for a bow and arrow.
Lara inevitably brings up complicated conversations about objectification and representation, but for McAndrew, embodying the character was simply a positive experience. "Part of the physique of Lara Croft is obviously that she trains hard as well because she's athletic," she says. "So in a way, it's good that I've always enjoyed exercising and training, because that helped get me that job looking back."
She also traveled the world at a young age and was treated like a pop star at events where she was greeted by throngs of fans. On the road with Tomb Raider III, McAndrew as "Lara" posed on Bondi Beach and in front of Milan's famous cathedral. She flew to Nashville for photo opportunities, flanked by Elvis impersonators. Occasionally, buff security guys followed her around to ensure her safety around adoring fans. "He [was] there to make sure everything's OK," McAndrew says, "but also, I think, to create that kind of image as well of what they wanted to achieve." In photos she's held on to over the years, McAndrew appears in a signature outfit, surrounded by hordes of (mostly) dudes dying to see her strike the classic Lara Croft pose.
She doesn't remember ever feeling "threatened or uncomfortable," however she often was very hot: A rubber costume doesn't mix with large groups and bright lights. "I did sweat a lot," she says.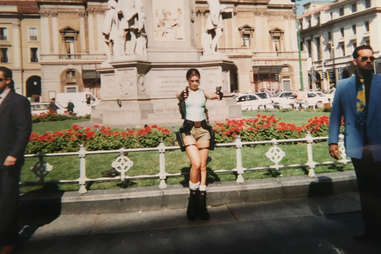 Transforming into Lara didn't require much preparation. Once squeezing into the custom-made outfit (with the aid of talcum powder), McAndrew would assume Lara's no-nonsense demeanor -- or at least attempt to do so. "It definitely wasn't a smiley role as such even though I probably smiled far too much," she remembers. "When you meet people in real life and you interact with people, it's just a natural thing to do."
Eidos tasked McAndrew with embodying Lara, though she wasn't supposed to speak. Part of her contract, she says, detailed that she wouldn't do interviews as the character. "Obviously, Lara Croft didn't have a Yorkshire accent," she says with her thick regional inflections. The rules changed around 2006 when Karima Adebibe became, according to CNN Money, "the first Lara model that has been allowed to speak publicly." McAndrew saw her ultimate goal as to project toughness in her biker boots: "You were there to look strong and powerful and that's what it was about."
McAndrew never assumed she was going to be Lara for more than a year, and the Playboy offer was another chance to go someplace new -- in this case, Bora Bora. Eidos wasn't on her mind when she chose to accept the gig. She was more concerned about telling her parents.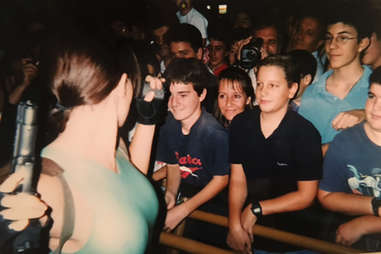 Still, Eidos wasn't happy that its brand was associated with the famously scandalous magazine, and the company tried to block the it from using the Tomb Raider name and logo to advertise McAndrew's shoot. According to The Guardian, it argued that Playboy would have "tarnished" Lara's "squeaky-clean image," which now reads as plain old corporate hypocrisy. Eidos knew that its customers lusted after Lara -- there was no overlooking the long-rumored "nude code" -- and capitalized on that. But add actual female anatomy? That crosses an undefined line. Playboy's counter was that only helping Eidos out with its "honest use" of Lara. The court ruled in favor of Eidos.
Today, Wikipedia and aggregated historical reports perpetuate that McAndrew was fired over of Playboy, the model doesn't remember being upset by the circumstances or ever being explicitly told by Eidos that her position was terminated. "I think it was just blown out of proportion," she says. "I think they were planning on using other people in the future anyway because that's what they always did."
Back in her Lara days, McAndrew had one request: that she have access to training facilities so she could stay in shape. Though she's been on British reality TV and worked as a presenter, now her public identity is as a fitness guru. She's appeared in workout videos and co-written Nell McAndrew's Guide to Running. Her Instagram is filled with videos of her performing impressive gym feats. She's hasn't really kept up with Lara and didn't know much about the new film, but when we described it to her she liked what she heard. "I've not seen any trailers or anything to be able to say I know what the storyline is or anything like that," she says. "But if she's being portrayed as being more athletic I think that's even better. That's brilliant."
Sign up here for our daily Thrillist email and subscribe here for our YouTube channel to get your fix of the best in food/drink/fun.
Esther Zuckerman is a writer based in New York City. Her work has appeared on
Vanity Fair
,
Marie Claire
, The AV Club, and
Entertainment Weekly
. Find her on Twitter: @ezwrites.