'Pulp Fiction' Producer Lawrence Bender on Trading Bullets for Ballet With 'Flesh and Bone'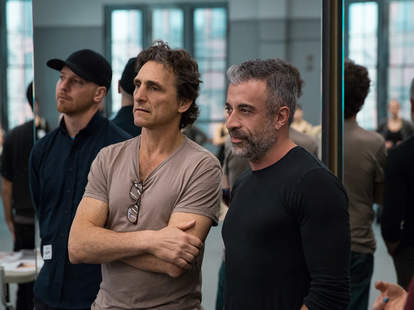 Lawrence Bender (center) on the set of <em>Flesh and Bone</em> |&nbsp;Starz Entertainment, LLC
Veteran Hollywood producer Lawrence Bender is so closely associated with Quentin Tarantino -- he was the producer on Reservoir Dogs, Pulp Fiction, Jackie Brown, Kill Bill, and Inglourious Basterds -- that it might seem odd to see him listed as executive producer on a downbeat ballet TV drama. But Flesh and Bone, which premieres this Sunday night on Starz, is a natural fit for Bender, who spent his pre-Hollywood formative years as a dancer in both his native Maine and New York City. Several days prior to Flesh and Bone's premium-cable plié, we caught up with Bender to talk about dance, dance, and more dance (and, OK, Quentin Tarantino).
How does one go from Pulp Fiction to an eight-episode dance drama on Starz? 
It's my passion. When I was in school, I was getting my degree in civil engineering [and] I was dating a girl who was a dancer. She told me they needed guys, so I went and checked out the dance department. And it became my first passion, the first thing I really fell in love with. I joined the Ralph Robinson Ballet company, and then went to New York and became a dancer. I thought I'd die before I did anything else. So of course I got injured. I probably started too late, and who knows if I was talented enough, but I loved it, and I did it.
 
What precipitated the shift to Hollywood?
At first I became an actor, and of course that didn't work out either. I kept failing. But when acting wasn't working out, I started working on movie sets, and I quickly figured out that what I would love to do -- what I'd be good at -- was producing. When I thought about it, I already had all the training I needed. It's one foot in the world of the creative, the ethereal, the poetic, and one foot in the world of the structured world of engineering. So I've done that for more than 25 years. But the dance world still has such a grip on me.
 
And tucked away in the middle of all these Tarantino projects is Dirty Dancing: Havana Nights
Back in the early '90s, I was tango dancing, and I was just getting good, and we were going to go on tour. But that's right around when Quentin wrote Pulp Fiction, so I had to choose: Do Pulp Fiction or go on tour. Obviously, I made my choice, but when I came back, I started salsa dancing. Then I started to look at how to do that on film. I had a script about a young girl and the Cuban revolution. I took it to Harvey Weinstein and said, "Look, what if we take all the politics out and put dance in instead?" And they loved the idea.
 
Flesh and Bone is about the seamier side of the dance world
The image people see is not what lies beneath. On the outside, it's beautiful and ethereal, but below the surface, there's darkness. It's brutal and painful. Watching Flesh and Bone, you'll see there's violence, there's grit. Your toes are bleeding, you can fall, you can get hurt. And then there's the competition. The creative director, the head of the company, he's God. There's so much stress, so much pressure. How does that impact a simple, young dancer who's never been exposed to that?
 
Does creator Moira Walley-Beckett have the same bravado as someone like Tarantino? 
You know, she brings some grit to the work, but she also brings this emotional core. And the cinematic style to the visuals fits right in with the rest of my work. Moira obviously had a very specific take on it, and we're kindred, in a way. It was funny, because when you say, "The producer from Pulp Fiction and a writer from Breaking Bad teamed up," people already have these very specific notions of what that will look like. We kind of liked it. She and Quentin are very different, obviously, in their approach and their style of writing, but neither of them are afraid to go there. There are only so many people in this world like Quentin. I'm not sure I want to compare the two, but she's in it 100 percent. She went places that I would never be able to go that make people uncomfortable. It's her vision.
 
Do you think something like Flesh and Bone would have been doable on the small screen even a few years ago?
Maybe not, but things are different now. It's a really exciting time to be in TV. In the last four or five years, things have changed dramatically. The storytelling has changed. There's more room for darkness, for exploring uncharted territory.
 
And it has to be asked: There's been talk about the progress of Kill Bill 3...
Oh, I never really can talk about that. It's all Quentin. I don't know. We never know anything until one day he just says, "The script is done. Let's go!"
Sign up here for our daily Thrillist email, and get your fix of the best in food/drink/fun.
Sona Charaipotra is a journalist who's written for everyone from the New York Times to TeenVogue. She's the co-author of the YA dance drama Tiny Pretty Things, and co-founder of CAKE Literary. Find her on the web at SonaCharaipotra.com, or on Twitter @Sona_C.