Courtroom dramas have given us so much. Jack Nicholson yelling at Tom Cruise. Henry Fonda brandishing a switchblade. And so many years later, John Hawkes brandishing a dildo. But they've also given us the idea that just about anyone -- even Joe Pesci in a burgundy suit -- can walk into a courtroom and argue the hell out of a case. To set the record straight, we asked our lawyer, Dave Ugelow, to review a few courtroom classics, plus a more recent McConaissance pick, for veracity. The verdict: Joe Pesci actually gets off pretty easy, but Elle Woods' antics would not hold up in a court of law.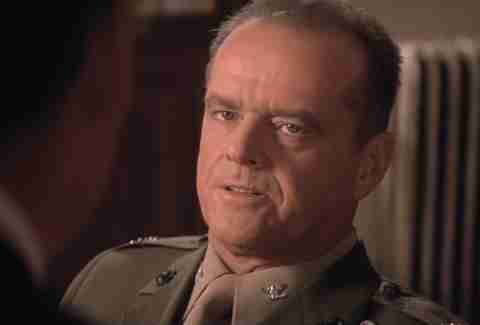 A Few Good Men
Dave says: "They do a reasonably good job with the courtroom procedure, and it's an interesting look into the legal environment on a military base.
"It's probably pretty rare for a witness to confess in open court like Colonel Jessup does, and I'm sure there are other inaccuracies that a JAG lawyer could point out. Fairly accurate depiction, though."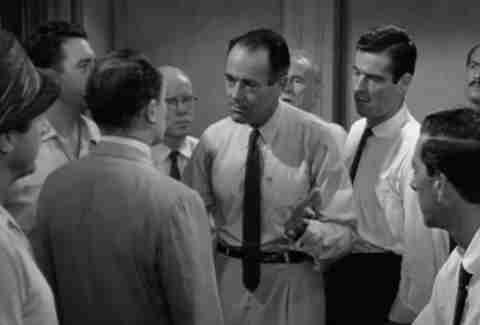 12 Angry Men
Dave says: "Great job portraying the jury deliberation process. Lawyers can be incompetent and jurors often need to weigh the different facts presented in the case. The defense attorney does seem a bit too incompetent -- some of the questions raised by the jurors would almost certainly have been brought up during trial by almost any inexperienced attorney -- but other than that, this one is solid."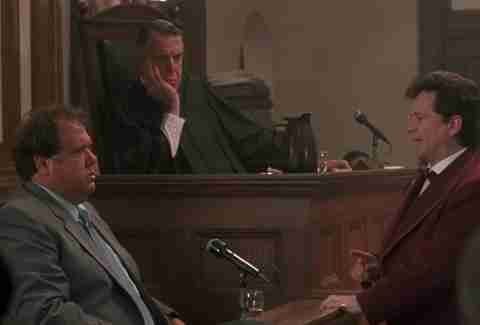 My Cousin Vinny
Dave says: "The courtroom procedure seems pretty accurate, and Vinny actually spends much of the movie reading books and preparing for trial. This one also has some of the best New York accents in any film. And I guarantee every single defense attorney wants to open a case with, 'Everything that guy just said is bullshit.'
"Vinny probably can't represent both 'yutes' in the same case because that would be a conflict. Also, it seems strange that a judge couldn't easily obtain a lawyer's trial record. Overall, though, it works well."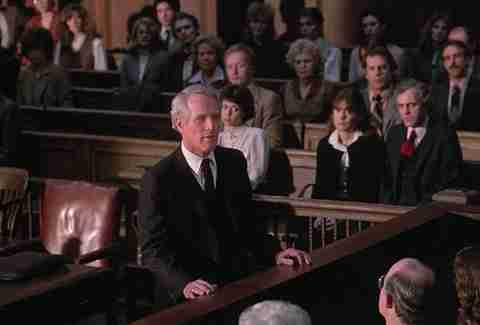 The Verdict
Dave says: "Big law firms have teams to lawyers that prepare for cases like this. They coach witnesses, pore over depositions and case law, and bury the other side under mountains of paperwork. But there is zero chance that the lead attorney in a massive, complex medical malpractice case against a hospital backed by the Archdiocese, and two famous doctors, has time to hang out at bars and pick up women while preparing for trial."
The Lincoln Lawyer
Dave says: "This movie focuses on a really interesting ethical issue -- a lawyer represents a client who has confessed to a prior crime, but the attorney can't disclose the confession because it's protected under attorney-client privilege. This could happen, and it would be incredibly tough to resolve. Also, Haller spends a solid portion of his down time drinking whiskey, and that's reasonably accurate.
"Lawyers enjoy their drinks, but there's just no way anyone can drink that much while running a trial. I don't think there's a single scene showing Haller reading or preparing paperwork for trial. Also, he somehow maintains an office in his car, and lies to a judge about a witness ("Mr. Green") in order to shakedown his client. And the film's proposed solution to the ethical problem facing Haller goes a bit beyond the realm of reasonable and legal."
Legally Blonde
Dave says: "Apparently, Elle aced her LSAT, and applied to Harvard Law. Whatever, I guess I'll buy it. But that video essay she sent to the Harvard admissions board?! Insane. If you go into this movie expecting an accurate depiction of law school, legal internships, or courtroom procedure, you'll be pretty disappointed. I hated it when I first saw it, and I hate it more now that I've experienced some of this."
Sign up here for our daily Thrillist email, and get your fix of the best in food/drink/fun.
Kristin Hunt writes regularly for Thrillist, and the closing argument from The Verdict still destroys her. Follow her to the witness stand at @kristin_hunt.