The Shocking Revelations of HBO's Michael Jackson Documentary 'Leaving Neverland'
Michael Jackson and Wade Robson

| HBO
Michael Jackson and Wade Robson

| HBO
Michael Jackson loved popcorn. That's one of the many small, mundane details revealed early on in Leaving Neverland, director Dan Reed's two-part examination of Wade Robson and James Safechuck's allegations of sexual abuse against the King of Pop. The popcorn factoid, which might call to mind the image of Jackson chewing on the snack in the groundbreaking "Thriller" video or in the popular reaction GIF often deployed online, emerges in the middle of one alleged victim's anecdote about watching the 1987 kiddie sci-fi adventure Batteries Not Included with Jackson during a play date. You see, in addition to popcorn, Michael Jackson loved movies. Soon, the story takes a much darker turn.
Despite its hopeful title, Leaving Neverland makes the concept of escape feel unattainable. For Robson and Safechuck, two adult men now attempting to reckon with childhood memories of abuse and trauma, a true sense of closure remains out of reach; for their families, particularly Robson and Safechuck's mothers, who both appear in the documentary and detail the way Jackson became a part of their lives, the emotional wreckage appears insurmountable. The act of physically leaving the Neverland Ranch, the stretch of California property Jackson purchased in 1988 and turned into a child-like fantasy world complete with theme park and zoo, is not enough.
Like Netflix's recent true-crime hit Abducted in Plain Sight and Lifetime's widely discussed Surviving R. Kelly, HBO's Leaving Neverland is a work that centers the alleged victims of a crime, allowing them to tell their stories and bear witness to the camera as a form of testimonial. Due to the four-hour length of Reed's film, which premiered at the Sundance Film Festival earlier this year and now airs over two nights on HBO (part two airs tonight), some might conclude that this is a wide-ranging look at Jackson's personal, professional, and creative life. Instead, Reed's film is hyper-focused on Robson and Safechuck, and strips away all of the cultural, social, and political context of Jackson's legacy. Beyond the occasional message on an answering machine or archival video clip, we rarely hear Jackson's distinct, famous voice.
That approach can make Leaving Neverland claustrophobic and draining, but it also makes it powerful. The two stories of how the two boys entered Jackson's personal orbit share the same broad outline: Robson, who was born to a middle-class family in Australia, was discovered as a young dancer in a competition and invited to join Jackson onstage during a concert, eventually moving to Los Angeles to pursue a career in the entertainment industry; Safechuck, who lived in California and worked as a child actor, was cast in a Pepsi commercial featuring Jackson and eventually befriended the singer. In both cases, Jackson first earned the trust of the boys' families by inviting them out to his Ranch for friendly sleepovers, where he showered them with attention, affection, and gifts. Later, according to the two men, Jackson would sexually assault them repeatedly over the course of years.
To severely understate the matter, the legal specifics surrounding Jackson's alleged crimes are complicated. In 1993, when the family of 13-year-old Jordan Chandler alleged that Jackson molested their child, Robson and Safechuck were called on to defend Jackson, which they did. (The case was later settled out of court for $23 million.) Over a decade later in the mid-'00s, Robson, who by then was a successful choreographer for artists like *NSYNC and Britney Spears, again testified in Jackson's defense, along with fellow celebrity-Jackson-friend Macaulay Culkin, against charges that Jackson molested 13-year-old Gavin Arvizo. In that case, Jackson was found innocent.
For some viewers, there might be a sense of déjà vu to this latest controversial documentary: That second trial can partially be traced back to public criticism over Jackson's odd behavior in another documentary, 2003's Living With Michael Jackson, which was built around an extended interview between the artist and British journalist Martin Bashir. Amidst much speculation about Jackson's plastic surgery and his spending habits, the special featured an interview with Arvizo, who appeared next to Jackson. Throughout both these trials, Jackson and his legal team argued that he was completely innocent and unjustly persecuted, a position he held up until his death in 2009 at the age of 50. Unsurprisingly, Jackson's estate has sued HBO in advance of Leaving Neverland and is currently seeking $100 million in damages; they've also offered up their own counter-programing options for fans. (Those fans have been especially active online in recent days to defend their hero.)
The chronological, straight-forward style of Leaving Neverland feels like a self-conscious attempt to carefully strip the story of its lurid, tabloid qualities. (Living With Michael Jackson is often best remembered for its gauzy, sensationalistic aesthetic.) In the second half, brief clips from TMZ and YouTube are presented in a garish, disruptive manner that's offset by the rest of the movie's more removed, sterile tone. The tasteful aerial shots of California exteriors, framed as if filmed by from God's eye (or Google Earth) view, and the dramatic string-drenched music cues are repetitive, but they're not exactly overbearing. The relative austerity of Reed's filmmaking choices blends into how Robson and Safechuck construct their own narratives on camera: Both describe their alleged abuse in a graphic, clinical manner that's shocking for its matter-of-fact delivery.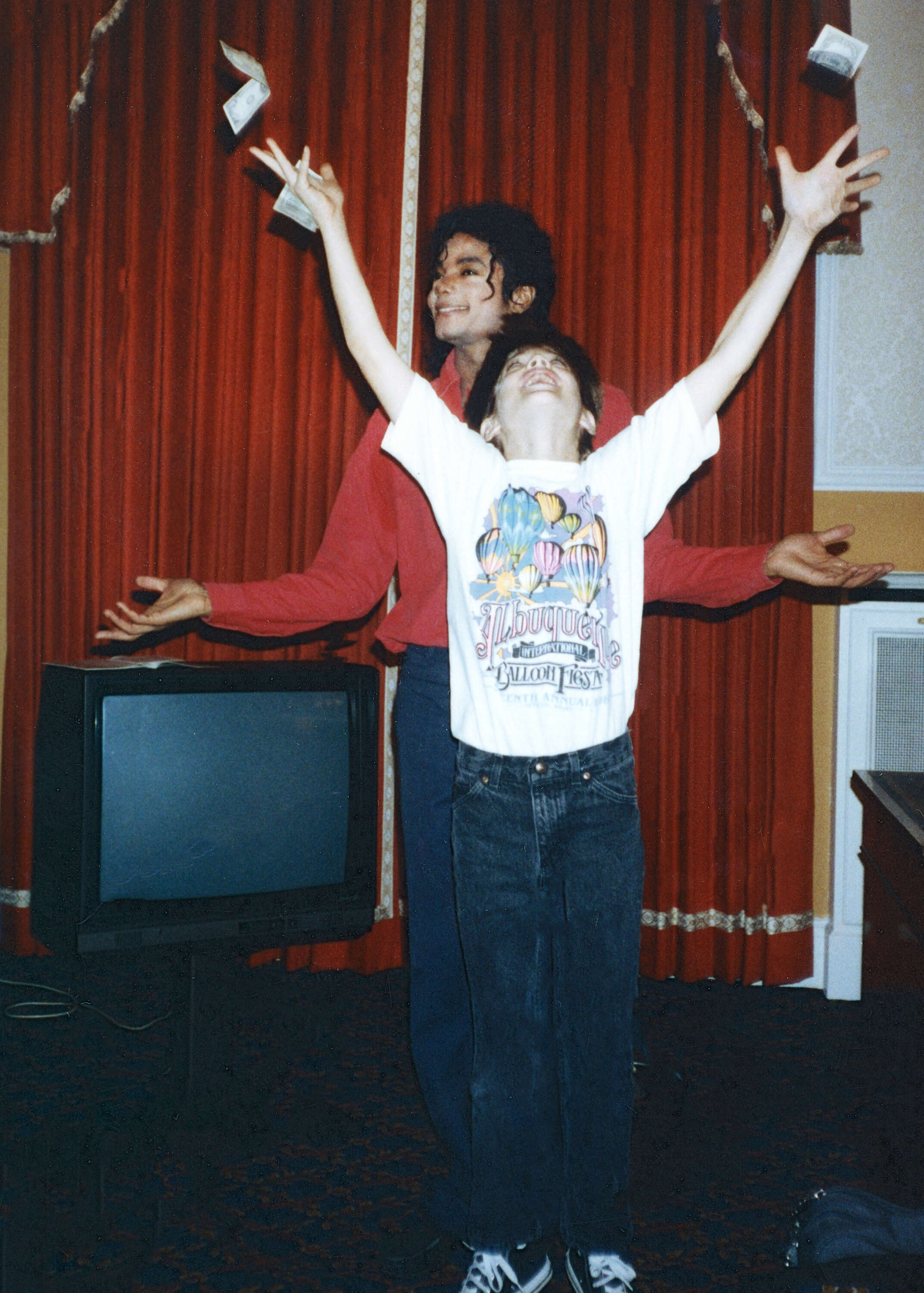 While the first half of the documentary details the alleged abuse, the second half more directly addresses the way childhood trauma gets reconfigured in adult life. As Robson and Safechuck grow older, each marrying and having children, their relationship to the past intensifies as they struggle to work out the contradictions of their history with Jackson. "I still loved him deeply," says Robson at one point in the second part as he describes wanting to have a more adult relationship with Jackson, who he still considered a mentor and foundational figure in his life. "Maybe I could be the friend that he could have an honest conversation with, the one person he could be real with."
That desire to be a part of Jackson's powerful orbit, a world of unimaginable wealth and fame, is a topic Leaving Neverland carefully and methodically picks at. There are blindspots inherent to Reed's approach and some issues are never touched on -- in a thoughtful essay for Slate, the writer Jason King argues the film "refuses to grapple with" the racial dimensions of its story -- but the documentary has a keen understanding of the particular allure of stardom in the late 20th century, particularly in the bracing, difficult interviews with the mothers. "He could be anywhere in the world and he wanted to be with us," says Safechuck's mother, Stephanie, when discussing the intimate bond Jackson formed with her family. "I got lost in it."
Leaving Neverland pinpoints the way individuals and families can get lost in a culture that worships celebrity. An icon on the level of Elvis Presley or the Beatles, Jackson was a popular musician who essentially became the omnipresent wallpaper of the MTV era, a creative force who innovated and perfected every field he touched. More than the single or the album, Michael Jackson's grand canvas was the music video, broadcast daily in the early years of cable television and eventually debuting on prime-time network TV -- the perfect audio-visual medium to capture an artist capable of singing and dancing with so much grace, generating spectacle with his every move and utterance. By inviting these families into his life, Jackson offered them a chance to occupy an often inaccessible grid of modern American life: the sphere of the album poster, the soda commercial, and the big-budget video. Along with the popcorn and the movies, he provided proximity to celebrity, but what did he ask for in return? Leaving Neverland provides an answer to that question without flinching.