LeBron James Laces Up for 'Space Jam 2'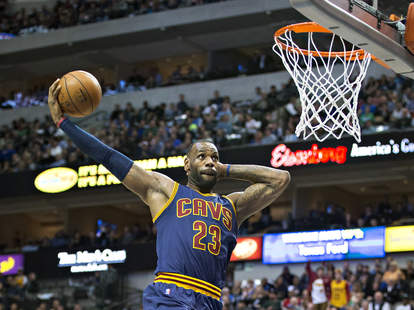 Ever since bursting on to the NBA scene in 2003, Cleveland Cavaliers forward LeBron James has been embroiled in a fantasy battle with Michael Jordan. Which All-Star is the better player? Who could defeat who in a one-on-one match? The answers will never surface -- both James and Jordan seem content with being (1) incredible ball players, (2) millionaires, and (3) living legends -- yet we still find ourselves pitting stats against stats, narratives against narratives, wall posters against wall posters.
A recent Hollywood development won't quell the debate: James is officially set to take over for Jordan in a sequel to 1996's Space Jam, a movie with all sorts of insane, '90s-specific behind-the-scenes stories. Commence saving money for LeBron's answer to the Air Jordan XI Space Jam shoe.
The Hollywood Reporter adds that joining James for this lofty, nostalgic pursuit is Justin Lin, director of Fast & Furious, Fast Five, and Furious 6, who also took the reins from J.J. Abrams for this summer's Star Trek Beyond. Lin was 25 when Space Jam hit theaters, meaning he either gave a hard pass to the Looney Toons vehicle or was that hardcore Jordan fan who sat in the back on opening day so he didn't seem like a weirdo around all those kids. Whatever the case, he believes James can fly. 
And he should believe it. Not only are James' moves worthy of Bugs Bunny and Daffy Duck, his acting ain't too shabby, either. The athlete recently co-starred -- and stole the show -- in Amy Schumer and Judd Apatow's Trainwreck. If Space Jam 2 involves Lola Bunny's attempt to shake alcoholism and find true love in the world, James will have his game face on.
There's no word on when James and Lin will squeeze Space Jam into their busy schedules, but don't expect them to sit on the bench for too long; knowing full well how many millennials will shell out for Space Jam memorabilia, the Air Jordan XI is being reissued this December. Great, now we have to save up for two Space Jam-related shoes. Maybe we'll settle for this Taz "No Fear" decal on eBay.
Sign up here for our daily Thrillist email, and get your fix of the best in food/drink/fun.
Matt Patches is Thrillist's Entertainment Editor. He previously wrote for Grantland, Esquire.com, Vulture, The Hollywood Reporter, and The Guardian. He'll defend Shaq's movies (maybe). Find him on Twitter @misterpatches.