Nickelodeon Is Remaking 'Legends of the Hidden Temple'... As a Movie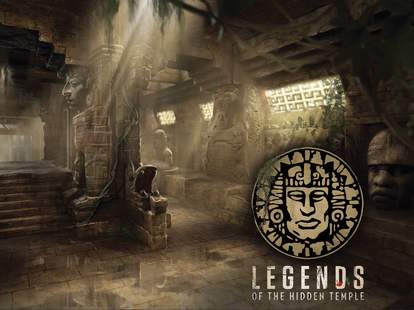 Kids of the 1970s settled for Bozo the Clown's low-rent bucket game. Kids of the 1980s dreamed of landing a spot on Double Dare so they could claw their way through an oversized stack of slime-filled pancakes. But kids of 1990s had refined tastes; if they were going to break a sweat to earn a Super Nintendo and a pair of moon shoes, they were going to do it while barreling through Legends of the Hidden Temple's foam jungle set. 
Hidden Temple was an easy object of desire for millennial youngsters. The show was an Indiana Jones movie... but real. And now the network hopes every greying fan of the show will tune in when they turn it in to an actual movie.
According to a press release from Nick, Legends of the Hidden Temple will soon return to television, not as an updated game show, but an "action-adventure TV movie." The original series pitted six teams against one another in a three-tiered competition. First, players raced across a moat tricked out with obstacles. Next, a listening comprehension quiz (sneaky, American educators!) delivered by a talking statue named Olmec. The last leg of the race was a run through the "Hidden Temple," a duplex version of those "Escape the Room" challenges.
The one-off movie will "follow three siblings who break away from a lackluster temple tour in a jungle, finding themselves immersed in a real-life mission comprised of obstacles that they must complete in order to escape alive." Yes, Olmec will be there. Yes, the characters will walk "The Steps of Knowledge." Yes, there will cameos by green monkeys and blue barracudas. Yes, it'll be designed for kids but you'll tune in because you are weak to the powers of your own childhood. Nick is counting on it.
The revival is part of Nick's remake-palooza, which includes the recent launch of the all-'90s show network The Splat, a pair of Hey Arnold! TV specials, an Avengers-style movie that will team every Nicktoon character up for one epic showdown (yes, really). And like these projects, Legends of the Hidden Temple will bridge the '90s and 2010s generation gap through casting. Isabela Moner, current Nick sitcom star and inevitable earworm generator, will lead the Mayan adventure. The role will require serious research on Moner's part; the actress was born in 2001, six years after the game show ended its run.
Hopefully she'll have a better time with The Shrine of the Silver Monkey. That bugger was tough.
Sign up here for our daily Thrillist email, and get your fix of the best in food/drink/fun.
Matt Patches is Thrillist's Entertainment Editor. He previously wrote for Grantland, Esquire.com, Vulture, The Hollywood Reporter, and The Guardian. He always rooted for the Silver Parrots. Find him on Twitter @misterpatches.