The Best of Leslie Jones' Hilarious Olympics Tweets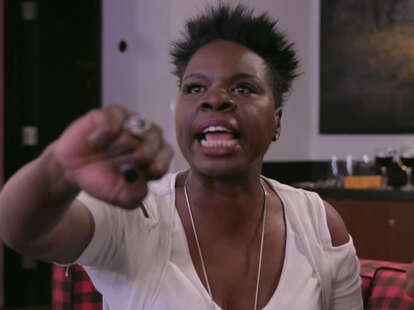 RIO 2016! It's a showcase for the triumph of the human spirit, opportunity for the world's top athletes to have all the sex, and a possible looming health disaster of epic proportions. High jump over here for all of Thrillist's coverage of the games, and the games beyond the games.
Can't stop watching all the action coming out of the Rio 2016 Olympics? Neither can Leslie Jones -- and thankfully for us, she's narrating all the action over Twitter.
When we say all the action, we mean all the action: Jones has four screens running at a time, accompanied by a steady stream of commentary. Think Game of Jones meets dudes in Speedos. Broadcast sponsor NBC got such a kick out of Jones' amateur sportscasting that the network invited her to Rio to join the big leagues. Later this week, she'll be dropping knowledge in person, sans a few F-bombs.
Before she goes pro, check out Leslie's medal-worthy commentary -- there are simply too many gems to count:
Sign up here for our daily Thrillist email, and get your fix of the best in food/drink/fun.
Lauren Leibowitz is Thrillist's Entertainment Editor. Find her on Twitter @lleibowitzz.