Every Christmas Movie Coming to Lifetime in 2019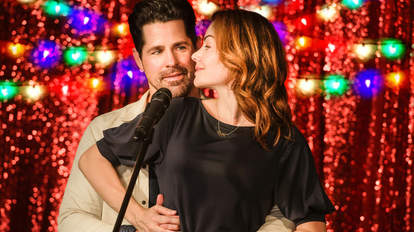 Like Netflix and Hallmark, Lifetime has its own roster of original Christmas movies. They're just as formulaic and romantic as those on Hallmark, but who doesn't love a story about a big-city gal falling for her townie high school sweet heart once again? So be sure to schedule your DVR for everything coming to Lifetime this holiday season, too. All premiere times are 8pm ET unless noted otherwise. 
 
'The Magical Christmas Shoes'

| Lifetime
The Magical Christmas Shoes
Date: November 22
Enchanted shoes help a woman get in touch with the holiday spirit and find love. 
Twinkle All the Way
Date: November 23
A single mother commissions a single father who runs a holiday decoration company to help throw a wedding she's planning, and she helps him set up a large Christmas party he's supposed to help throw.
Christmas 9 to 5 
When: November 24
A reporter goes undercover on Black Friday as a sales associate, and meets who she thinks might be her dream boy while on the job. 
A Very Vintage Christmas
When: November 27
A woman who runs an antique shop finds a collection of meaningful trinkets and sets out to find the original owner.
'A Christmas Wish'

| Lifetime
A Christmas Wish
When: November 28
A woman makes a wish that her sister will experience true love for the first time… but is it true love when a new man suddenly comes along? 
Staging Christmas
When: November 29
Soleil Moon Frye plays a woman who stages typically on-the-market homes but takes a job decorating the home of a recent widower for the holidays, as it hopes it'll cheer up his daughter. 
Merry Liddle Christmas
When: November 30
Kelly Rowland plays a successful business woman who tries to keep her home and crazy family together when house is being featured in a "perfect Christmas" video shoot. 
You Light Up My Christmas
When: December 1
A woman whose family owns a giant holiday light factory goes back home and tries to re-light the energy of her once-festive hometown. 
 
'A Storybook Christmas'

| Lifetime
A Storybook Christmas
When: December 6
A career woman who needs to hire help in order to give her niece a great Christmas unintentionally hires a manny that she develops feelings for. 
Christmas Unleashed
When: December 7
When a woman's dog runs away on Christmas Eve, she asks her ex-boyfriend to help find the pup, uniting them once agian. 
Mistletoe & Menorahs
When: December 7 at 6pm ET
The executive of a toy company needs to quickly learn about Hanukkah in order to please a potential client, so she gets a rundown on the holiday from a co-worker's friend who coincidentally needs help learning about Christmas to impress his girlfriend's family. 
Grounded for Christmas
When: December 8
When flights are cancelled around Christmas, a pilot and her co-pilot who she doesn't get along with find lodging at her family home where she makes him pretend to be her boyfriend. 
Christmas Stars
When: December 13
Real-life country star J.T. Hodges plays a songwriter who teams up with a rising singer looking for a shot at a record deal.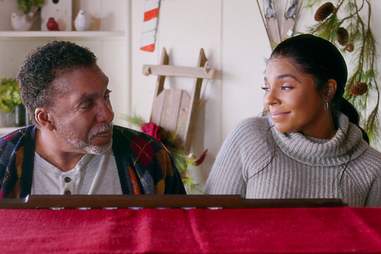 'A Christmas Winter Song'

| Lifetime
A Christmas Winter Song
When: December 14
A woman meets and helps out a homeless former jazz musician around the holidays, even setting out to reconnect him with his daughter who he's fallen out of contact with. 
Matchmaker Christmas
When: December 14 at 6pm ET
When a book publisher's boss asks her for help finding a date for their annual Christmas party, she's thrown off when her ex turns out to be a newly published author her boss is now interested in. 
Rediscovering Christmas
When: December 15
Invited back to her Connecticut town to decorate their annual Christmas Eve dance, a woman clashes with the man whose grandparents founded the event years ago. 
The Christmas Temp
When: December 20
A struggling artist turns to a temp agency to get work around the holidays, and may fall for their HR representative in the process. 
Christmas Hotel
When: December 21
While the employee of a fancy hotel chain in NYC is hoping to get promoted to manage their new hotel in Rome, she instead gets sent to the mountain town she grew up in where a new unit is opening there. 
Christmas Love Letter
When: December 21 at 6pm ET
A relationship advice columnist gets an unsigned love letter in the mail around Christmas and goes out looking for who may have sent it to her. 
A Date by Christmas Eve
When: December 22
This Lifetime original is sort of like Black Mirror-lite, as it follows an app called The Nice List that mystically teaches anyone you swipe to be on "the naughty list" a life lesson IRL.