Lil Peep Documentary 'Everybody's Everything' Is a Perfect Tribute to the Cult Rapper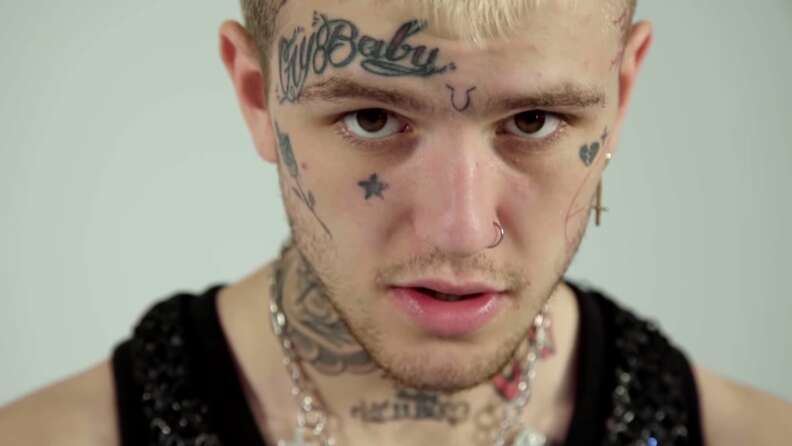 Gunpowder & Sky
Gunpowder & Sky
Lil Peep, nee Gustav Elijah Åhr, was a big deal among certain music circles, yet unknown entirely to others until his death via an accidental overdose of fentanyl and Xanax on November 15, 2017, not long after his 21st birthday. Achieving the true definition of 'cult status,' Lil Peep left behind a career on the verge of a major breakout and a legion of fans clamoring for some sense of clarity. With the recent posthumous release of the three-song Goth Angel Sinner EP and a new documentary, now streaming on Netflix, Everybody's Everything -- which Peep's own mother, Liza Womack, and family friend Terrance Malick executive produced -- Lil Peep's star isn't fading. In fact, it has only increased in intensity.
Peep's music is the perfect blend of honesty and sexy, catchy yet cataclysmic; you'll listen once and carry lines with you forever. His music is more than just catchy choruses and delicate hooks; his music blends the gamut of genres -- emo to trap, alternative to pop-punk -- to create a fusion that had never been heard before. In tracks like "Crybaby" and "Star Shopping," Peep sung about suicide and loneliness, love and heartache, with a candor that might have come off as cliche and heavy-handed if attempted by another artist. Instead, his voice has an infectious, sing-song quality, even when he's rapping and the emotional resonance that is undeniable.
Everybody's Everything, which premiered at SXSW 2019, aims to shed light on Peep's life as well the dual personalities that encapsulate the enigmatic music figure: the fashionable and party-ready "Lil Peep" persona and the honest and heartwarming Gus. In three short years, Lil Peep went from a SoundCloud rapper posting his own tracks from his bedroom in Long Island to a member of the rap collective Goth Boi Clique, to a burgeoning star touring overseas as a headliner to sold-out crowds in cities like Paris and Berlin as well as major cities in the United States.
It was clear from his music and public persona that Peep battled with personal demons, depression and substance abuse. His music wasn't him posturing; it came from a very real and very dark place. He wanted to be accepted by his peers, just as much as he never wanted to lead a friend astray, leave a friend hanging or behind. It began to consume him; people demanded more than he could give. Thrillist spoke with the directors of Everybody's Everything, Sebastian Jones -- who was an editor on Malick's gorgeous new movie A Hidden Life, and worked on Voyage of Time and Song to Song in other capacities -- and Ramez Silyan, about the task of documenting the life and career of Lil Peep, as well as producing a tribute befitting of one of music's most dearly departed geniuses.
Thrillist: It's remarkable just how much detail, as well as just how much of Lil Peep's life was caught on camera. It's a real example of the way we live now with social media. How did you go about parsing Lil Peep's vastly documented life?
Sebastian Jones: We had a team of people: Ramez and Liza Womack at the forefront, collecting as much footage of Gus as possible. Liza was able to deliver what felt like an endless amount of Gus before Peep, and Ramez was in touch with everyone from the Peep-era about offering any footage they had. We were lucky that everyone felt so strongly and kindly about Gus that they didn't have any hesitation with handing over footage. The tough part was deciding what to include, and it was about a six-month editing process of chipping away at the film to keep what editor Kyle Seaquist and I felt was essential in capturing Gus's amazing character. We could probably still be editing to this day, but at a certain point, we recognized this is the best film we think we can make about Gus given what we have.
Ramez Silyan: Gathering all the material was a huge challenge in itself. Throughout Gus' career, he seemingly always had a camera on him. From tour videographers like myself, [or videographers] Rayn or Wiggy, to dozens of photographers and videographers who crossed paths with him -- it was endless.
There's a wealth of amazing interviews online, too, including a great No Jumper interview. How did you go about choosing what made it into the documentary?
Jones: On a creative level, it was a question of what supports the thesis of Everybody's Everything. We worked with what we had, but it was all in service to that core idea.
Who didn't support the thesis of Everybody's Everything?
Jones: It wasn't a question of who but what was being said, or shown, to build on the core idea: Gus wanting to be "everybody's everything."
Terrence Malick's name is attached as producer. How did his influence and expertise inform the documentary?
Jones: As a friend of the Womack family, Terrence Malick acted as a sort of facilitator for the film -- to ensure that everything ran smoothly. I worked with Terrence for several years, so he's like a mentor to me and it was wonderful to work with him again in this new way.
The documentary paints an abstract picture of a shy kid growing up with an abusive father, culminating in divorce; the kid languishes for a period of time only to skyrocket to fame. Despite his short life, there could have been any number of ways to document his slice of musical history. Why did you choose to focus on his youth for nearly the same amount of screen-time as his musical career?
Jones: You're certainly right that there are a number of ways we could've documented Gus's impact on music. Given his abrupt and sudden death, it quickly became clear that -- outside of the fans that really know his work -- the greater world was ready to write Gus off as SoundCloud rapper who died to soon.
But he was so much more than that, and felt it was important to show people that he was this amazing human first. He lived for 21 years, and his career spanned roughly three, so I would make the argument that we could've easily spent more time on his youth given that ratio.
I noticed that Gus's brother wasn't interviewed. Was there any reason why?
Jones: Oskar chose to help behind the scenes rather than to be in the spotlight.
Was there anyone else you wanted to interview for the documentary that didn't make it in?
Jones: Mrs. Hartman[, his high school English teacher]. She helped him a lot in high school, [and acted] like a mentor to him and fostered his creativity. She worked together with Liza to make sure Gus got his high school diploma and also conspired with Liza to assign him an essay so that he could apply to college.
Peep's grandfather snail-mailed him letters frequently. They were a mixture of updates and checking in, musings and inspirational guidance. The letters anchor the documentary, acting as emotional notes that guide our hazy descent. How did you come about using the letters as a spine for the documentary?
Jones: Not long before we visited Peep's grandfather at his home in Cambridge in May of last year, Liza started sharing these beautiful letters that he had written to Gus over the years, and she had saved. Terry informed us about these as well and told us how special they were. When we saw them, it was undeniable and everything sort of came together from there.
Silyan: They just carried this immense wisdom. It was clear that the letters meant a lot to Gus, so it made sense to use them in such a way.
In addition to the documentary's emphasis on Peep's childhood, there's a focus on fame and its hurdles. Care to discuss what you discovered during the interviewing of the entire cast of characters -- the differences in how each event was told; who claimed to know Peep better than the others, and so forth?
Jones: What became clear is that everyone we spoke to had very strong opinions on all aspects of Peep's life, whether they were there for it or not. We were fortunate enough to speak to so many people and have a team of people doing their own research, that we were able to parse out what felt most true. The documentary is a reflection of that.
The documentary examines the ill-fated tour that culminated with Peep's death. He was struggling, overworked, drugs and behavior normalized -- yet the documentary does point at a specific omission: that long gap in time between people in his crew discovering his unresponsive body. How did you go about tackling such a sensitive topic?
Jones: It's extremely sensitive and there are, of course, still a lot of questions swirling around what exactly happened that day. We felt that the way it was edited together in that brief section of the film covers that day in a way that is factual without getting into extreme detail. If we did, the film would've taken a true-crime sort of turn, and taken away from the goal of making a film about him as this person that tried to be everybody's everything. We wanted to celebrate his life.
Let's end it on a sentimental question: What do you think Peep would be doing if he were still with us?
Jones: I think he would be continuing to make music with people he loved and constantly evolving and pushing towards new horizons.
Silyan: He'd most likely be surprising me. He constantly defied my expectations and broke boundaries... shifting and changing as people tried to catch up to him. His foray into fashion would have grown, he would have delved into acting, kept using his voice to speak up in what he believed in, and, of course, his music would have continued to blow me away.
This interview has been edited and condensed.
Michael J Seidlinger is a contributor to Thrillist.